STEPHEN IS WELCOMED HOME
by Charles Robey
(Trussville AL, USA)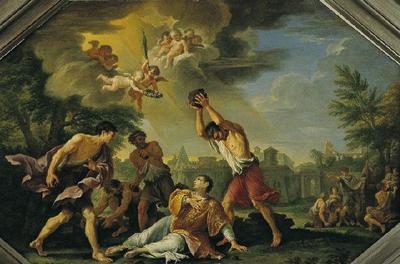 Welcome Home My Son
"But he, being full of the Holy Spirit, gazed into heaven and saw the glory of God, and Jesus standing at the right hand of God, and said, "Look! I see the heavens opened and the Son of Man standing at the right hand of God!" (Acts 7:55-56)

What a wonderful testimony. The perfect picture of the love of God, Jesus standing at the right hand of God (Acts 7:55). Jesus' priestly work of offering a sacrifice for sin was finished on the cross; He is therefore sometimes pictured as seated at the right hand of God (Hebrews 1:3). But His priestly work of sustaining His people continues (as here with Stephen); therefore, He is portrayed as standing to minister (Revelation 2:1).

In other words, Jesus stood up, from His usual sitting position, in honor of and to greet Stephen and welcome him into glory. What a powerful testimony to Stephen. You see, Stephen had held his position of Deacon with honor, full of God's grace and power (Acts 6:8). In fact He and his fellow deacon Philip were the only non-apostles in the New Testament, who were said to have performed miracles. And as a deacon, who cared for the sick believers, he most likely performed the miracle of healing. Steven was also an accomplished public speaker, with which he was well know.

These unusual talents eventually lead to His death, by stoning. No one could stand against his wisdom and God's Holy Spirit, with which he spoke (Acts 6:10). Not even the so-called religious leaders of that day. And as he was dying, Stephen prayed that the Lord would forgiver those who stoned him (Acts 7:60). What an amendment to His faith (Philippians 1:21).

Yes, Stephen was a mighty man of God. And Satan felt he had gained a victory. But this victory was short lived. For one of the religious counter-parts who witnessed the stoning, a man named Saul (Paul), was mightily used of God in spreading the gospel throughout the known world. You see, God will always break the Devils power and turn his evil into good (Genesis 50:20).

What about you, beloved. Most of us probably will never die the death of a martyr, but Jesus still calls us to die to self, by serving others (Romans 6:11). This doctrine of "dying to self" is not new, It is found throughout the New Testament. It expresses the true essence of the Christian, of taking up their cross and following Christ (John 3:3–7).

Authors Post Script

There is a well respected Elder of our church, who always stands to greet one of us parishioners, and I deeply admire him for taking this posture. The scripture doesn't explain why Jesus was standing to greet Stephen. Here's my take on this gesture. Our Lord had compassion for Stephen and loved him (2 Cor 1:3). And our Lord honored Stephen for his dedication (Psalm 116:15).