Stephens Sermon Part 1c of 7
by John Lowe
(Laurens SC, USA)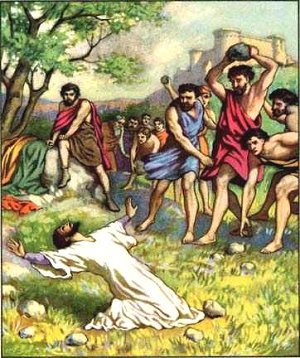 And dwelt in Charan.
According to the Jewish writers, he dwelt there for five years, since during that period he didn't receive a signal to proceed any further.

And from thence, when his father was dead.
His father died in Haran, or Charan, as it says here (Genesis 11:31, 3210). It was after the death of Terah his father, that Abraham received another call, and left Charan for the land of promise.

He removed him into this land, wherein ye now dwell.
He removed himself or as another version says, "God removed him"; or as we would say, he traveled from Charan to the land of Canaan (Genesis 12:519); and He went there by the order of God, and under His direction and protection. And yet, upon his arrival, he was not given his inheritance; he was a stranger and sojourner there. He did not receive the field mentioned in verse 16 by a divine donation, but bought it himself. Nevertheless, God promised that he would give it to him for a possession—a promise which Abraham firmly believed that God would fulfil for him and for his seed after him, even though he had no child, and, humanly speaking, it was not likely he ever would have one: but his faith triumphed over all these difficulties, and he confidently trusted in the power, and love, and faithfulness of God to make His word good.

5 And he gave him none inheritance in it, no, not so much as to set his foot on: yet he promised that he would give it to him for a possession, and to his seed after him, when as yet he had no child.

And he gave him none inheritance in it.
This was a great trial for Abraham's faith; to leave his home, family, friends, and his fields and vineyards and go to another land which was promised to him and his; but when he got there, none of it was his to enjoy, not a single part of it. Abraham led a wandering life; and this passage means that he did not receive a permanent possession or residence in that land. The only land which he owned was the field which he "purchased" from the children of Heth for a burial place, and since it was obtained by "purchase," and not by the direct gift of God, and since it was not used for a "residence," it is said that God gave him no "inheritance." It is mentioned in order to show his great faith, that he would remain there without having a permanent residence himself, with only the prospect that his children, at some distant period, would inherit it (see Hebrews 11:8-16).

Abraham and his seed would live in an unsettled state for many ages after he was called out of Ur of the Chaldees. God did indeed promise that he would give it to him for a possession, and to his seed after him, but much must occur before the promise would come to fruition:
1. It would be many years before he would have a child by Sarah.
2. He was a stranger and a sojourner in that land, and God gave him no inheritance in it, no, not so much as a place to set his foot on; he was always on the move, and could call nothing his own.
3. His posterity did not come into the possession of it for a long time: After four hundred years they shall come and serve me in this place, and not till then (v. 7).
4. They must undergo a great deal of hardship and difficulty before they are put into possession of that land: they shall be brought into bondage, and poorly treated in a strange land; and this was not because they were being punished for any particular sin, as their wandering in the wilderness was; but God had appointed both the captivity in Egypt and the wandering in the wilderness, and so it must be. And at the end of four hundred years, counting from the birth of Isaac, that nation to whom they shall be in bondage will I judge, saith God. Now this teaches us three things:
a. That God knows everything before it happens. When Abraham had neither an inheritance nor an heir, he was told he would have both, the one, a land of promise, and the other, a child of promise, which he received by faith.
b. That God's promises, though they may be slow to follow, are sure to be fulfilled according to His timetable, though perhaps not as soon as we would prefer.
c. That though the people of God may be in distress and trouble for a time, God will at the exact right time both rescue them and deal with those who afflicted them; for there is a God that judgeth in the earth

No, not so much as to set his foot on.
None of this new land belonged to him, and that was never more evident than when Sarah his wife died, and he was forced to buy a piece of ground to bury her in. It could not be said to be given him by the Lord, since he bought it with his money.

Not so much as to set his foot on is a common expression, denoting in an emphatic manner that he had no land (Deuteronomy 2:520). The promise of the possession was certain, and belonged to Abraham, although it was his posterity that enjoyed it a great while after his death.

Yet he promised that he would give it to him for a possession, and to his seed after him, when as yet he had no child.
This was another test of Abraham's faith, that he would have a whole country promised to him and his seed, yet he had no seed given to him (Genesis 12:721), and due to his and Sarah's age there was no human probability that he would have any posterity Genesis 15:2, 322; Genesis 18:11, 1223). This aspect of Abraham's life is revealed to us for an example and pattern for our lives, and as a strong instance of his faith; "who against hope believed in hope" (Romans 4:1824).

Both Abraham and Jacob had small parcels of land in Canaan; but they had to purchase them. The promise is evidently equivalent to saying that it would be conferred on the family of Abraham, or the family of which he was the father, without affirming that "he" would himself personally possess it. It is true, however, that Abraham himself afterward dwelt many years in that land as his home (Genesis 13).

6 And God spake on this wise, That his seed should sojourn in a strange land; and that they should bring them into bondage, and entreat them evil four hundred years.

And God spake on this wise.
"And God spake on this wise" or "And God said to Abraham" probably refers to that which is recorded in Genesis 15:13, 14—". . . Know for certain that your descendants will be strangers in a country not their own, and they will be enslaved and mistreated four hundred years. But I will punish the nation they serve as slaves, and afterward they will come out with great possessions."

That his seed should sojourn in a strange land.
His seed is Abraham's posterity; his descendants.

"Should sojourn" means that they would have a "temporary residence there," as opposed to having a fixed, permanent home, and the term is applied to travelers and foreigners.

"In a strange land" denotes a land belonging to someone else (Hebrews 11:925); a land in which he had no inheritance, and had not yet become the possession of his seed; for as the writer to the Hebrews says, he dwelt in tents with Isaac and Jacob. Abraham and his descendants were strangers in a land that was not theirs; first in the land of Canaan, and then in Egypt (though the obvious reference here is to the latter); which was possessed by the native people of those lands.

Stephen reminds the religious rulers of the miserable and reproachful state of their fathers while in bondage in Egypt; and explained from their own Scriptures that their servitude and oppression at the hand of the Egyptians didn't happen by chance; because it was predicted long before by the prophet of God. This lesson in Jewish history should have had a greater impact on the council than it did; to curb their arrogance, and to teach them modesty, and to express the grace of God, because God had always cared for that nation. This is a remarkable benefit of the Jewish nation, that God wonderfully restored them after four Hundred years in captivity. And they were kept safe under the guardianship of God, before the temple was built, or the external ceremonies of the law were instituted.

And that they should bring them into bondage.
The seed of Abraham went into bondage (were slaves) in Egypt; and it was a very hard bondage, at least most of it was. Bondage is of itself hard and bitter; but when the taskmasters are cruel, it seems almost intolerable. Therefore, the mind of the godly man must have been severely wound, when he heard that his seed would serve men who would treat them cruelly. Moreover, this was no small trial; because a people who had been promised the inheritance of the land of Canaan were now in bondage in a strange country. The must have thought that God had forgotten his former promise, when He tells Abraham that his seed shall endure miserable bondage? He said, at first, that he will give his seed the land. But as of yet, he had no seed; and he was too old and no longer hoped for children. But when does He promise that he will give the land? After his death. And by the way, He says, that seed must first be carried away to another place, where they will serve strangers. And for how long? Four hundred years. Doesn't it seem like He had changed His mind and may not do what he had promised?