Stephen's Sermon Part 1d of 7
by John Lowe
(Laurens SC, USA)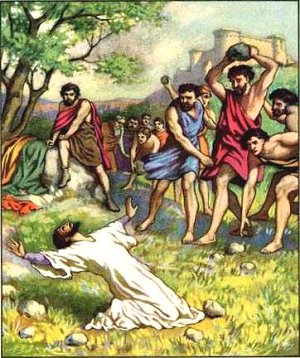 And entreat them evil four hundred years.
"And entreat them evil" means "And oppress or afflict them."
There has been a great deal of confusion over what is meant by this four hundred years, because some say that is how long they were in Egypt; but the actual time from their going down into Egypt, to their coming up out of it, was two hundred and ten years. The four hundred years should be calculated as follows:
• From the birth of Isaac to the birth of Jacob, sixty years, Genesis 25:2626.
• From the birth of Jacob to his entering into Egypt, one hundred and thirty years, Genesis 47:927.
• from Jacob entering into Egypt to the children of Israel coming out of Egypt, two hundred and ten years
• 60 + 130 + 210 = 400 years.

This calculation shows that the sojourning and evil treatment of Abraham's seed are not to be confined to land of Egypt, but must include the time they spent in other lands, where they were during this time frame, though their sojourn in Egypt was the longest and most severe, and is what is especially spoken of in the Scripture. All this period was a period of "promise," not of "possession."

Notice that Exodus 12:40 adds to the confusion: "Now the length of time the Israelite people lived in Egypt was 430 years." Paul also says in Galatians 3:1728 that it was 430 years from the time when the promise was given to Abraham to the time when the Law was given on Mount Sinai (which was the same year they left Egypt). But the additional 30 years is easily explained once you know that there were 30 years between the time the promise (or calling of Abraham) was given to Abraham to the birth of Isaac. Notice also what it says in Genesis 15:13: "Then the LORD said to him, 'Know for certain that your descendants will be strangers in a country not their own, and they will be enslaved and mistreated four hundred years.'" God did not say this while they were down in Egypt, but 220 years before they went into Egypt; and he didn't say they would be "enslaved and mistreated" in Egypt," but "in a country not their own." And when Isaac was born, Abraham was a sojourner in the land of the Philistines.

Abraham was a wanderer, moving from place to place and he was occasionally in Egypt; and since Egypt was so pre-eminent in all their troubles, it was natural to speak of all their oppressions as having occurred in that country. They would speak of their sufferings as having been endured in Egypt, because their afflictions there were so much more prominent than before.
7 And the nation to whom they shall be in bondage will I judge, said God: and after that shall they come forth, and serve me in this place.

And the nation to whom they shall be in bondage.
"And the nation" refers to Egypt, to whom they were in bondage for four hundred years.

Will I judge, said God.
The word "judge," in the Bible, often means to "execute judgment (that is, to punish)" as well as to pronounce it (John 18:3129; Also see John 3:17; John 8:50; John 12:47; Acts 24:6; 1 Corinthians 5:13). It has this meaning here. God considered their oppressive acts deserving of His indignation, and He made that clear in the ten plagues (described in Exodus 7:19-12:30) which He placed upon them, and in their drowning in the Red Sea. This judgment is connected with the deliverance of the people. God does punish the wicked Egyptians for their cruelty and tyranny, but He does it for His people's sake, whom He took into His guardianship, so that it may be seen that He is the deliverer of His Church. Therefore, whenever we are mistreated by the wicked, we can take comfort in the knowledge that God is the Judge of the world, and He will not let our injuries go unpunished. Every man may think to himself, "Since I am under God's care and protection, who is the Judge of the world, and has the right and authority to punish those who injure me, those who trouble me now, shall not escape his hand of reckoning. Didn't God say that vengeance is His (Romans 12:1930)? God promises that he will take revenge for us; therefore, when we take revenge ourselves we are putting ourselves in His place. And let us never forget that God is moved by love to revenge injuries done to His children, as it says in the Psalm, "Hurt not mine anointed, and be not troublesome to my prophets."
And after that, they shall come forth, and serve me in this place.

"After that" refers to the four hundred years of being in a strange land and a long time in bondage. After that, they will come out of the land of Egypt, and their hard bondage there; and they will come out due to the judgments executed upon the Egyptians. And they will come out to serve God. Here, the promise to Abraham (Ge 15:1631), and the promise made to Moses (Ex 3:1232), are combined; Stephen's object being merely to give a rapid summary of the principal facts.

"Shall serve me" means "shall worship me, or be regarded as my people."

"In this place" means "in the land of Canaan"; though these words are not to be found in Genesis 15:13, what comes closest to them is in Exodus 3:12: "Ye shall serve God upon this mountain"; meaning Mount Horeb, where Moses was then, and from where the law was given afterwards. When making quotations, the practice was to quote the sense only, or to connect two or more promises relating to the same thing.

With this brief history, Stephen shows that their deliverance came before the temple and the worship of the law; and so it follows, that the grace of God was not tied to ceremonies. Nevertheless, Stephen notes that with their deliverance, that God chose both a peculiar people and a peculiar place for the true worship of his name.

8 And he gave him the covenant of circumcision: and so Abraham begat Isaac, and circumcised him the eighth day; and Isaac begat Jacob; and Jacob begat the twelve patriarchs.

And he gave him the covenant of circumcision.
"And he gave him" means that God appointed or commanded this—thecovenant of circumcision (Genesis 17:9-1333). It was after his call and the promise of Christ. (See Ge 17:1-14) The covenant of Christ was for everyone; circumcision was only for the Jews.

The word "covenant" signifies "a compact or agreement between two or more persons," usually associated with seals, pledges, or sanctions. In Genesis 17:734, and elsewhere, it is said that God would establish his "covenant" with Abraham; that is, he made him certain definite promises, joined with pledges and seals, etc. The idea of a strict "compact" or "agreement" between God and man, as between "equal parties"; is not found in the Bible. The word is commonly used, as here, to denote "a promise on the part of God," attended with pledges, and demanding on the part of man, in order to avail himself of its benefits, a specified course of conduct. The "covenant" is, therefore, another name for denoting two things on the part of God:
1. A "command," which man is not at liberty to reject, as he would be if it were a literal covenant; and,
2. A "promise," which is to be fulfilled only upon the other party or parties meeting the condition of obedience. The covenant with Abraham was simply a "promise" to give him the land, and to make him a great nation, etc. It was never proposed to Abraham with the supposition that he was at liberty to reject it, or to refuse to comply with its conditions. Circumcision was appointed as the mark or indication that Abraham and those others having this mark were the persons included in the gracious purpose and promise. It served to separate them as a special people; a people whose unique characteristic it was that they obeyed and served the God who had made the promise to Abraham. The phrase "covenant of circumcision" means, therefore, the covenant or promise which God made to Abraham, of which circumcision was the distinguishing "mark" or "sign."

It says, "He gave him the covenant of circumcision," which means He instituted the rite of circumcision, as a sign of that covenant which He had made with him and his posterity.

When Stephen confessed that circumcision is the covenant of God, he cleared himself of the crime of which he was accused; but, in addition, he showed that the Jews were wrong if they placed the beginning of their salvation in the "covenant of circumcision." Because, if Abraham was called, and the land and redemption promised to his seed before he was circumcised, it appears that the promise does not depend upon circumcision. Paul used the same argument in the 4th chapter to the Romans (Romans 4:1135). Since Abraham obtained righteousness, and pleased God before he was circumcised, Paul established as a fact that circumcision is not the cause of righteousness. Therefore we see that Stephen framed his argument very well, showing that although circumcision was given by God, so that it might be a sign of grace, yet the adoption was before it both in order and in time. But we don't need to spend any more time on this subject. The main thing to take from this discussion of circumcision is that God promised those things to Abraham before He confirmed them by circumcision, so that we may know that the signs are vain and worthless, unless they are preceded by the Word of God. Let us also note, that there is a profitable doctrine contained in the word covenant, which is, that God makes His covenant with us in the sacraments, in order that He may declare His love for us; which if it is true, they are not only works of external profession among men, but inwardly they gave great force before God, to confirm the faith.