Stephen's Sermon Part 1g of 7
by John Lowe
(Laurens SC, USA)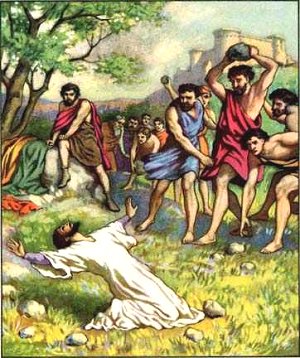 SCRIPTURE
1 And Saul, yet breathing out threatenings and slaughter against the disciples of the Lord, went unto the high priest
2 And the high priest arose, and said unto him, Answerest thou nothing? what is it which these witness against thee?
3 And set up false witnesses, which said, This man ceaseth not to speak blasphemous words against this holy place, and the law: For we have heard him say, that this Jesus of Nazareth shall destroy this place, and shall change the customs which Moses delivered us.
4 And cast him out of the city, and stoned him: and the witnesses laid down their clothes at a young man's feet, whose name was Saul.
5 And Saul was consenting unto his death. And at that time there was a great persecution against the church which was at Jerusalem; and they were all scattered abroad throughout the regions of Judaea and Samaria, except the apostles.
6 And when the blood of thy martyr Stephen was shed, I also was standing by, and consenting unto his death, and kept the raiment of them that slew him.
7 Then they suborned men, which said, We have heard him speak blasphemous words against Moses, and against God.
8 And ye said, Behold, the LORD our God hath shewed us his glory and his greatness, and we have heard his voice out of the midst of the fire: we have seen this day that God doth talk with man, and he liveth
9 The LORD had said to Abram, "Leave your country, your people and your father's household and go to the land I will show you.
10 Terah took his son Abram, his grandson Lot, son of Haran, and his daughter-in-law Sarai, the wife of his son Abram, and together they set out from Ur of the Chaldeans to go to Canaan. But when they came to Haran, they settled there. Terah lived 205 years, and he died in Haran.
11 He also said to him, "I am the LORD, who brought you out of Ur of the Chaldeans to give you this land to take possession of it."
12 Understand, then, that those who believe are children of Abraham.
13 Now then, my son, do what I say: Flee at once to my brother Laban in Haran.
14 By faith Abraham, when called to go to a place he would later receive as his inheritance, obeyed and went, even though he did not know where he was going. By faith he made his home in the promised land like a stranger in a foreign country; he lived in tents, as did Isaac and Jacob, who were heirs with him of the same promise.
15 In the same way, any of you who does not give up everything he has cannot be my disciple.
16 Peter answered him, "We have left everything to follow you! What then will there be for us?"
17 And everyone who has left houses or brothers or sisters or father or mother or children or fields for my sake will receive a hundred times as much and will inherit eternal life.
18 Whoever believes and is baptized will be saved, but whoever does not believe will be condemned.
19 He took his wife Sarai, his nephew Lot, all the possessions they had accumulated and the people they had acquired in Haran, and they set out for the land of Canaan, and they arrived there.
20 Do not provoke them to war, for I will not give you any of their land, not even enough to put your foot on. I have given Esau the hill country of Seir as his own.
21 The LORD appeared to Abram and said, "To your offspring I will give this land." So he built an altar there to the LORD, who had appeared to him.
22 But Abram said, "O Sovereign LORD, what can you give me since I remain childless and the one who will inherit my estate is Eliezer of Damascus?" And Abram said, "You have given me no children; so a servant in my household will be my heir."
23 Abraham and Sarah were already old and well advanced in years, and Sarah was past the age of childbearing. So Sarah laughed to herself as she thought, "After I am worn out and my master is old, will I now have this pleasure?"
24 Against all hope, Abraham in hope believed and so became the father of many nations, just as it had been said to him, "So shall your offspring be."
25 By faith he made his home in the promised land like a stranger in a foreign country; he lived in tents, as did Isaac and Jacob, who were heirs with
him of the same promise.
26
After this, his brother came out, with his hand grasping Esau's heel; so he was named Jacob. Isaac was sixty years old when Rebekah gave birth to them.
27
And Jacob said to Pharaoh, "The years of my pilgrimage are a hundred and thirty. My years have been few and difficult, and they do not equal the years of the pilgrimage of my fathers."
28
What I mean is this: The law, introduced 430 years later, does not set aside the covenant previously established by God and thus do away with the promise.
29
Pilate said, "Take him yourselves and judge him by your own law." "But we have no right to execute anyone," the Jews objected.
30
Dearly beloved, avenge not yourselves, but rather give place unto wrath: for it is written, Vengeance is mine; I will repay, saith the Lord.
31
But in the fourth generation they shall come hither again: for the iniquity of the Amorites is not yet full.
32
And he said, Certainly I will be with thee; and this shall be a token unto thee, that I have sent thee: When thou hast brought forth the people out of Egypt, ye shall serve God upon this mountain.
33
And God said unto Abraham, Thou shalt keep my covenant therefore, thou, and thy seed after thee in their generations. This is my covenant, which ye shall keep, between me and you and thy seed after thee; Every man child among you shall be circumcised. And ye shall circumcise the flesh of your foreskin; and it shall be a token of the covenant betwixt me and you. And he that is eight days old shall be circumcised among you, every man child in your generations, he that is born in the house, or bought with money of any stranger, which is not of thy seed. He that is born in thy house, and he that is bought with thy money, must needs be circumcised: and my covenant shall be in your flesh for an everlasting covenant.
34
And I will establish my covenant between me and thee and thy seed after thee in their generations for an everlasting covenant, to be a God unto thee, and to thy seed after thee.
35
And he received the sign of circumcision, a seal of the righteousness that he had by faith while he was still uncircumcised. So then, he is the father of all who believe but have not been circumcised, in order that righteousness might be credited to them.
36
For the generations to come every male among you who is eight days old must be circumcised, including those born in your household or bought with money from a foreigner—those who are not your offspring.
37
His brothers were jealous of him, but his father kept the matter in mind.
38
The LORD Almighty has revealed this in my hearing: "Till your dying day this sin will not be atoned for," says the Lord, the LORD Almighty.
39
The king sent and released him, the ruler of peoples set him free. He made him master of his household, ruler over all he possessed, to instruct his princes as he pleased and teach his elders wisdom.
40
But his bow remained steady, his strong arms stayed limber, because of the hand of the Mighty One of Jacob, because of the Shepherd, the Rock of Israel,
41
You shall be in charge of my palace, and all my people are to submit to your orders. Only with respect to the throne will I be greater than you."
42
And the seven years of famine began, just as Joseph had said. There was famine in all the other lands, but in the whole land of Egypt there was food.
43
When Jacob learned that there was grain in Egypt, he said to his sons, "Why do you just keep looking at each other?" He continued, "I have heard that there is grain in Egypt. Go down there and buy some for us, so that we may live and not die."
44
Then she told him this story: "That Hebrew slave you brought us came to me to make sport of me.
45
Now a young Hebrew was there with us, a servant of the captain of the guard. We told him our dreams, and he interpreted them for us, giving each man the interpretation of his dream.
46
With the two sons who had been born to Joseph in Egypt, the members of Jacob's family, which went to Egypt, were seventy in all.
47
All those who went to Egypt with Jacob--those who were his direct descendants, not counting his sons' wives—numbered sixty-six persons.
48
You shall live in the region of Goshen and be near me—you, your children and grandchildren, your flocks and herds, and all you have.
49
Your forefathers who went down into Egypt were seventy in all, and now the LORD your God has made you as numerous as the stars in the sky