Stephens Sermon Part 2c of 7
by John Lowe
(Laurens SC, USA)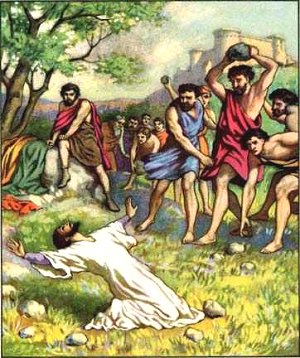 And nourished him for her own son.

You would think she would take the child to the king's palace, but that's not the case, and again the Bible has the details.

Miriam, Moses' sister, saw the whole thing, and realizing that Pharaoh's daughter wanted to take care of the child, she offered to find a Hebrew nurse, to nurse the child for her; to which she agreed. Then Miriam brought her own and the child's mother to the princes, who agreed to nurse him for a wage. She nursed him for her; and when he was grown, she brought Moses to her, and she adopted him for her son (Exodus 2:6-1017). Hebrews 11:24 appears to confirm that she did adopt him: "By faith Moses, when he had grown up, refused to be known as the son of Pharaoh's daughter." It is implied in this that he was educated by her. An adopted son in the family of Pharaoh would be favored with all the advantages which the land could furnish for an education.
22 And Moses was learned in all the wisdom of the Egyptians, and was mighty in words and in deeds.

And Moses was learned in all the wisdom of the Egyptians.
He was brought up as the son of Pharaoh's daughter (Hebrews 11:2418) and as a member of the royal family, he would have the best education money could buy. We know from the research done by the Egyptologists that in Moses' day there were great universities for the education of all who were expected to engage in public employment. The passage does not express the fact that Moses was distinguished for "learning," but only that he was thoroughly "educated," or that pains were taken to make him so.

"In all the wisdom," suggests that his education was diverse and included all the areas of study offered at the time; but the learning of the Egyptians, who were, at that time the most intelligent and best educated people in the universe, was confined chiefly to astrology, the interpretation of dreams, medicine, philosophy, hieroglyphics, arithmetic, geometry, and every branch of music, the Assyrian language, and their sacred science or traditional doctrines of religion. Since Moses received his education at Pharaoh's court, he had the opportunity of improving himself with the best books, tutors, and conversation, in all the arts and sciences. Their learning is mentioned frequently in the Scriptures (1 Kings 4:3019; Isaiah 19:11-1220). Their knowledge is equally celebrated in the pagan world. It is known that science was carried from Egypt to Phoenicia, and from there to Greece; and many of the Grecian philosophers traveled to Egypt in pursuit of knowledge.
Herodotus himself frankly concedes that the Greeks derived very much of their knowledge from Egypt.

Although he stammered and couldn't speak clearly, he spoke good sense, and everything he said commanded agreement, and carried its own evidence and force of reason along with it.

And was mighty in words.
"And was mighty," suggests he was powerful, or distinguished. This means that he was an important and well-known person in Egypt before he brought the children of Israel out of Egypt. It may also indicate that in addition to his learning, he was blessed with a commanding personality, and that he was apt to attempt influencing others in great and weighty matters. He had a command of language, and a large vocabulary, and could speak properly and could speak on any subject. His one fault seems to be that he was slow of speech (Exodus 4:1021), and might have stuttered when speaking, yet he had good diction, and a masculine style of delivery.

When it is said that he was "mighty in words," it may mean that he was mighty in his communications to Pharaoh, though his words were spoken by his brother Aaron. Aaron took his place, and "Moses" addressed Pharaoh through him, when he delivered the message recorded in Exodus 4:11-1622.

And in deeds.
"And in deeds" probably refers to unrecorded events in his early life. Josephus tells of an incident involving Moses as the general of an Egyptian army, when he defeated the Ethiopians, who had invaded Egypt, driving them back into their own country, and taking Saba their capital. But this, like many other tales of the historian, lacks tangible evidence. Deeds may also refer to the miracles recorded in Exodus 7, which had to be performed before Pharaoh allowed the children of Israel to leave Egypt.
23 And when he was full forty years old, it came into his heart to visit his brethren the children of Israel.

And when he was full forty years old.
Scripture is silent about the age of Moses at this time; it only says, "It came to pass in those days when Moses was grown" (Exodus 2:11); but Steven simply states the viewpoint of Jewish tradition. In verses 23, 30, and 36 of this chapter the life of Moses is represented as embracing three periods, of forty years each—"forty" years in the palace of Pharaoh, forty years in Midian, and he served Israel for forty years. The Jewish writers say the same; and his age at death of
one hundred twenty years (Deuteronomy 34:7
23
), also agrees with it.
It came into his heart to visit his brethren.
It is very likely that Moses knew the children of Israel were his brethren, partly because it was common knowledge in Pharaoh's court, and partly from the sign of circumcision, but chiefly from divine revelation. For years he had lived a courtly and military life as a prince of Egypt, and had taken no notice of the oppression of the Israelites; but now the Lord placed in his heart a burning desire to visit them, and observe their circumstances; and though he could not openly exercise his authority on their behalf, yet Philo the Jew says that he urged the officers to be lenient with them. And he comforted and encouraged the Israelites to bear their burdens with patience and faithfulness, and not give up hope; suggesting, that things would turn around, and would change for the better in time. It appears from verse 25 that he had in mind delivering them from their oppressive bondage, which increased his desire to know his brethren better. This desire seems to have been infused early into his mind by the Spirit of God; and the effect of this desire was manifested in his refusing to be called the son of Pharaoh's daughter (Hebrews 11:2418), and thereby renouncing all right to the Egyptian crown, choosing rather to endure hardship with the people of God rather than enjoy the pleasures of sin for a season.
24 And seeing one of them suffer wrong, he defended him, and avenged him that was oppressed, and smote the Egyptian:
And seeing one of them suffer wrong.
"One of them" refers to "one of his brethren" or another Hebrew, as it is reported in Exodus 2:11—"One day, after Moses had grown up, he went out to where his own people were and watched them at their hard labor. He saw an Egyptian beating a Hebrew, one of his own people." The wrong or injury was that the Egyptian, probably one of the taskmasters, was smiting the Hebrew. Moses didn't come upon this scene by chance, but since God had appointed him to be the deliverer of his people, He may have caused this conflict in order to give him a demonstration of Egyptian persecution and to make a beginning of his deliverance.
He defended him, and avenged him that was oppressed.
He was moved with compassion for the poor man who was vainly attempting to shield himself from the blows of the officer, and with just indignation at the wrong-doer "He defended him," which implies that he took his part, and shielded him from the insults and blows of the officer, and "avenged" or retaliated for the hurt done to the Hebrew.
Stephen makes it clear that Moses did not react recklessly, but did that which seemed to come naturally to him as the appointed deliverer of his people, knowing he was called for that purpose.
And smote the Egyptian.
"And smote the Egyptian" means that he killed him; whether he used his fists or his sword is unknown. Exodus 2:12 says, "Glancing this way and that and seeing no one, he killed the Egyptian and hid him in the sand." The fact that he looked around to see if there were any witnesses and saw no one indicates that he thought he would get away with it. It would be unlawful for Moses to slay the Egyptian, regardless of how wicked he had been, if the Lord had not put the sword in his hand, according to the merit of his calling. With this incident, Stephen meant to show that Moses was even then the minister of deliverance of his people, according to the covenant made with Abraham.
25 For he supposed his brethren would have understood how that God by his hand would deliver them: but they understood not.
For he supposed his brethren would have understood him.
Moses may have thought that since the Holy Spirit had revealed to him that he was chosen to be their deliverer, that the same Spirit would have enlightened his brethren in a similar way. He may also have felt that the act of justice which he had just performed in behalf of his oppressed countryman would be enough to show them that he was now ready to lead them and deliver them from Egyptian cruelty.
How that God by his hand would deliver them.
The Hebrews knew that God had promised to visit them in their affliction and deliver them, therefore Moses didn't believe his brethren would report that he killed the Egyptian, but instead look upon it as the beginning of God's fulfilling His pledge to deliver them, and that he would be the instrument their deliverance.
But they understood not.
Either they did not understand him, or they did not understand that he was to be their deliverer, or that his killing of the Egyptian was a sign that their deliverance was near. This furnishes Stephen with another example of Israel's slowness to see God at work in their lives and to respond in obedience to His acts of love.