Stephen's Sermon Part 2d of 8
by John Lowe
(Laurens SC, USA)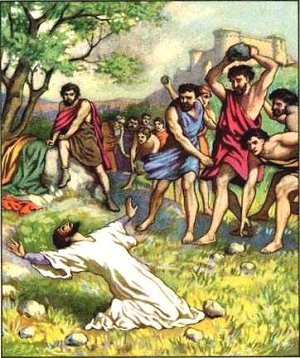 26 And the next day he shewed himself unto them as they strove, and would have set them at one again, saying, Sirs, ye are brethren; why do ye wrong one to another?


And the next day he showed himself to them, as they strove.
"And the next day" means that this particular incident occurred the day after he killed the Egyptian (Exodus 2:13-1524). Stephen explains that Moses returned to the Hebrew camp, where he saw two Hebrew men in a heated argument with one another. He was upset by the spectacle, so he approached the men in hope of mediating the matter, and let them know who he was.

And would have set them at one again.
He wanted to resolve the matter and make peace between them, which meant he must first determine who was in the wrong, and next convince that one to see things as they really are. Then hopefully they would make peace and be good friends again.
Saying, sirs, ye are brethren.

This is very much like what Abraham said to Lot, when there was a conflict between their herdsmen (Genesis 13:825). The two men were brethren both by belonging to the same nation and by professing the same religion. Perhaps Moses put on an air of majesty and authority, which he could legitimately do as a prince of Egypt, in order to determine the nature of their squabble—"Ye are brethren"—You belong not only to the same nation, but you are brethren and companions in hardship, and should not, therefore, argue with each other. One of the saddest scenes in the world is where those who are poor, and suffering, and oppressed, add to all their other misfortunes quarrels and fighting among themselves. Yet it is from this group that disputes and lawsuits usually arise. The scolding (or, lecture) which Moses directs to the contending Jews might be applied to the whole human family considering the disputes and wars of today's nations: "Ye are 'brethren,' and members of the same great family, and why do you contend with each other?" It is very difficult to regain a friend that you have offended (Proverbs 18:1926).

Why do ye wrong one to another?
Why do you call each other insulting names, or assault one another; or make threats, and raise your hand as if to strike a blow. Moses may have observed that (as in most conflicts) there was fault on both sides; and therefore, in order to make peace and restore their friendship, there must be a mutual reduction of hostilities and arrogance.

When Moses was Israel's deliverer out of Egypt, he slew the Egyptians at the Red Sea, and delivered Israel out of their hands; but, when he was Israel's judge and lawgiver, he ruled them with the golden scepter, not the iron rod; he did not kill them when they fought with one another, but gave them excellent laws and statutes, and fairly decided their complaints and the appeals made to him (Ex. 18:1627).

27 But he that did his neighbour wrong thrust him away, saying, Who made thee a ruler and a judge over us?

But he that did his neighbour wrong.
The Jews say the man who spoke was the same person whom Moses had defended the day before. He appears to have been filled with rage and emotion, and that he rejected all interference, and all attempts at making peace. It is usually the man who is in the wrong that is unwilling to be reconciled; moreover, when we find a man that regards the pleas of his friends as offensive interference, when he becomes increasingly angry when we urge him to make peace, it is usually a strong indication that he is aware that he has been at fault. If we wish to reconcile the parties, we should go first to the man that has been injured. In the controversy between God and man, it is the "sinner" who has done the wrong that is unwilling to be reconciled, and not God.

Thrust him away.
The man who was most in the wrong, pushed him away, because he could not bear the scolding, even though it was a just and gentle.

From them.
When he made a move to part them.

Saying, who made thee a ruler and a judge over us?
If the man who spoke was the same man Moses had rescued from the Egyptian the day before, he was being very disrespectful, since Moses did not attempt to judge him, but only to encourage him to make peace with his brother Jew.Essentially, he said to Moses, "What right do you have to interfere in this matter?" This is not an unusual response, when a man attempts to prevent quarrels.

28 Wilt thou kill me, as thou diddest the Egyptian yesterday?

Moses thought that no one had seen him kill the Egyptian, but when he heard him say, "Are you going to kill me as you did the Egyptian," he knew he was mistaken (Exodus 2:1228); that is, unless this was the same man he had defended or that man had made the incident public. But how he knew Moses did it is not revealed, so
we can only speculate. The words were very viciously flung at Moses, as if he purposely intended to publish the affair, and to put Moses' life in danger. It must have caused Moses to fear for his life, since he immediately fled into the land of Midian, and made no further attempts to deliver Israel until forty years later.
29 Then fled Moses at this saying, and was a stranger in the land of Madian, where he begat two sons.
Then fled Moses at this saying.
The incident was soon carried to Pharaoh's court, and when it was told to Pharaoh he wanted to kill Moses (Exodus 2:15
29
). The Jews tell a very wonderful story about what happened next. They say, "Moses was arrested and put in prison, and delivered into the hands of an executioner to be put to death; but God wrought a miracle for him; he made his neck as hard as a pillar of marble, and the sword upon striking Moses' neck ricocheted and cut the neck of the executioner, and he died; and God sent Michael, the prince, in the likeness of the executioner, who took Moses by the hand, and led him out of Egypt, and left him at the borders of it, the distance of three days' journey." But the truth of the matter is just as Stephen relates; he fled as soon as he heard the above words, because he knew his life was in great danger.
And was a stranger in the land of Midian.
"Was a stranger" implies he became a sojourner; one who had a temporary dwelling in the land and did not expect to make that his permanent dwelling. The location of Madian (Midian) is unknown, but several sites have been proposed for it, such as:
1. Josephus says, "It lay near the Red sea, and took its name from one of the sons of Abraham by Keturah."
2. Philo the Jew says, "It was on the borders of Arabia."
3. Jerom says, "It was near Arnon and Areopolis, the ruins of which only were shown in his days."
4. "This would seem," says Gesenius, "to have been a tract of country extending from the eastern shore of the Elanitic Gulf to the region of Moab on the one hand, and to the vicinity of Mount Sinai on the other. The people were nomadic in their habits, and moved often from place to place."
"The land of Midian" was most likely a part of Arabia. This was to a great extent a desert region, an unknown land, and Moses expected to be safe from Pharaoh there. Here he sojourned for many years with Jethro the priest of that place.
Where he begat two sons.
While living in Midian, two sons were born to him by Zipporah, Jethro's daughter; their names were Gershom and Eliezer (Exodus 18:1-3
30
).
30 And when forty years were expired, there appeared to him in the wilderness of mount Sina an angel of the Lord in a flame of fire in a bush.
Stephen continues with his abbreviated story of Moses; let those proud men of the Sanhedrin judge whether these are the words of a man that was a blasphemer of Moses or not; nothing could be spoken more honorably of him than what is said here.
And when forty years were expired.
"Forty years were expired" (or, had passed), since Moses had fled from Pharaoh's wrath. He spent those years shepherding Jethro's flock in Midian. According to the Jewish writers, and tradition, "he was forty years in Pharaoh's court, and forty years in Midian; so that he was now fourscore years of age (80 years)." His age is not specifically mentioned by Moses; it is said, however, to have been after the king of Egypt had died (Exodus 2:23
31
); and this tradition is not improbable.
There appeared to him in the wilderness of Mount Sinai.
There appears to be some disagreement concerning the name of this mountain, which I wish to share with you:
1. Here Stephen calls it Mount Sinai. Josephus calls this mountain by the same name as Stephen does, when he is reciting the same history.
2. Jerome made this comment: "Horeb is the Mount of God in the land of Midian, by Mount Sinai, above Arabia, in the desert, to which is joined the mountain and desert of the Saracens, called Pharan: but to me it seems, that the same mountain was called by two names, sometimes Sinai, and sometimes Horeb.
3. Some think the same mountain had two peaks, and one peak went by one name, and the other peak by another name; or one side of the mountain was called Horeb, due to its being dry and desolate; and the other Sinai, because of the bushes and brambles which grew upon it. Some say the stones of this mountain, when broken, had the resemblance of bramble bushes in them.
4. R. Eliezer says "From the day the heavens and the earth were created, the name of this mountain was called Horeb; but after the holy blessed God appeared to Moses out of the midst of the bush, from the name of the bush "(Seneh)", Horeb was called Sinai.''