Stephen's Sermon Part 2f of 8
by John Lowe
(Laurens SC, USA)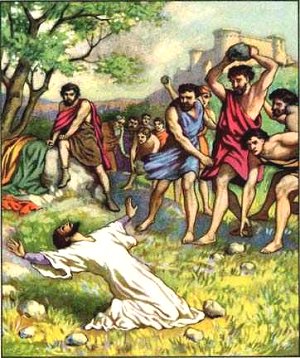 Then Moses trembled.
Moses was afraid. This might seem to be ridiculous, that a voice full of consolation terrifies Moses instead of making him glad; but it was proper for Moses to be terrified in the presence of God, since that might create within him an attitude of great reverence. It wasn't only the voice of God that assailed his mind, but his majesty, which he saw in the sign of the burning bush. And would it really be peculiar for a man to be afraid when he sees God; and especially, let's remember that men's minds are prepared for fear and reverence by miracles, signs, and wonders as in Exodus 20:2240. In Hebrews we are given the account of Moses trembling and quaking at the same mount, when the law was given (Hebrews 12:2141).

But someone will ask, "Why is Moses so afraid now, when he was not afraid to draw near before?" I would answer, that the nearer we draw unto God, the more of his glory will appear, and the more afraid we become, and rightly so. And God made Moses afraid so that he would be obedient to him. This fear was a preparation for the great boldness Moses would need for what came next: "Put off thy shoes from thy feet"; he is told to do this as a sign of reverence prior to him receiving the command of God (Exodus 3:642).

And durst not behold.
The Lord orders Moses not to look at either "the sight" of the burning bush, or Him; that is, God.

33 Then said the Lord to him, Put off thy shoes from thy feet: for the place where thou standest is holy ground.

Then said the Lord to him.
"Then said the Lord to him," that is, to Moses, who through curiosity had come to close to the burning bush and the presence of God. In Exodus 3 this is presented in a different order than it is here; it is said "before" God said, "I am the God," etc. (Exodus 3:5-643).

Put off thy shoes from thy feet.
"To put off the shoes"; or sandals, was an act of reverence, humility, and obedience (Joshua 5:1544). The ancients were not permitted to enter a temple or holy place with their shoes on. It was customary for the Jews to remove their shoes whenever they entered any house as a mere matter of civility. "The same custom, growing out of the same feeling," says Prof. Hackett, "is observed among the Eastern nations at the present day." The Arabs and Turks never enter the mosques without taking off their shoes. They demand compliance with this rule from those of a different faith who visit these sacred places. Though, until recently, the Muslims excluded Christians entirely from the mosques, they now permit foreigners to enter some of them, provided they leave their shoes at the door, or exchange them for others which have not been defiled by common use.

For the place where thou standest is holy ground.
The place itself wasn't really holy, but was made holy by the divine presence in it, and it would remain holy only as long as that presence remained. I believe we should enter the sanctuary, the place set apart for divine worship, not only with reverence in our hearts, but with every "external" indication of veneration and adoration. Solemn awe and deep seriousness enhance the sense of worship in the place set apart for the service of God (Ecclesiastes 5:145).

The Lord said, "For the place where thou standest is holy ground" in order to lift up the mind of Moses into heaven, and so that he might not think upon any earthly thing, but listen to and understand what God says to him. So, the place is called holy for Moses' sake only, that he may appropriately address God, fear God, and obey Him. Considering that God does now show himself to us everywhere in Christ, and that in no vague and ambiguous way, but in the full light of perfect truth, we must not only put off our shoes from our feet, but strip ourselves stark-naked of all pride and worldly desires.

34 I have seen, I have seen the affliction of my people which is in Egypt, and I have heard their groaning, and am come down to deliver them. And now come, I will send thee into Egypt.

I have seen, I have seen the affliction of my people.
The repetition of the phrase "I have seen" is a Hebraism denoting the certainty of it, and in this instance, it refers to the perfect and exact knowledge the Lord acquired of the affliction of his people, and how much his heart was affected by it.

Which is in Egypt.
Moses had left his people in Egypt and fled to Midian, where he was living out his life as a shepherd and never expected God would speak to him or use him to lead his people, since he was now an old man

I have heard their groaning.
"Their groaning" refers to their crying out to God, because they were miserable due to the various oppressions and burdens placed upon them, and the cruel treatment of their taskmasters. God has a compassionate regard for the troubles of His church, and the cries of His persecuted people; and their deliverance arises out of His pity and love.

And am come down to deliver them.
"Am come down" are words meant to comply with human comprehension. It means that God was about to deliver them. It does not mean that God is going to move or change His location; God is omnipresent, and He fills all places at all times; but He intends to deliver His people by the effects of His grace and power. For a long time, He did not deliver His people from their affliction, so He might seem to them to be far away, and busy in heaven with something more pressing. Now he declares that the Israelites will recognize that He is close at hand.

And now come, I will send thee into Egypt.
"I will send thee into Egypt," that is, to Pharaoh, the king Egypt (Exodus 3:1046) to command him to let the children of Israel go, and to release them from their bondage. This is a simple summary of what is expressed in much greater detail in Exodus 3:7-10. God knows that once Moses understands that this is His will he will follow Him, accept His guidance, and boldly undertake the deliverance of the people.

35 This Moses whom they refused, saying, Who made thee a ruler and a judge? the same did God send to be a ruler and a deliverer by the hand of the angel which appeared to him in the bush.

This Moses, whom they refused.
It was forty years ago that they refused Moses, therefore, it was probably not "they," but their fathers who did it; but God attributes it to them—God frequently ascribes the sins of the fathers to those of their children who are of the same spirit. Note: God puts honor upon those whom they put contempt upon.
"Whom they refused" refers to the first time he presented himself to them (Exodus 2:13-14), "saying, who made thee a ruler and a judge." Here, again, is a case of "the stone which the builders refused is made the head of the corner" (Psalm 118:22). Stephen may have mentioned this refusal in order to remind them that this was the character of their nation at that time, and to prepare them for the charge which he was about to bring against those whom he addressed—that they were stiff-necked and rebellious (See Acts 7:51-52). Or he may have said it in order that they might understand that the fathers were not delivered because of their godliness, but though they were entirely unworthy of this blessing it was given to them anyway.

Saying, Who made thee a ruler and a judge?
"A ruler" refers to a military leader or a governor.

Stephen, with great oratorical skill, and with his narration of God's marvelous revelation of Himself to Moses has captured their attention, and now he takes them off their guard by showing that their fathers treated Moses just as they had treated Jesus Christ; and how God in the case of Moses had chosen and magnified the very man whom they had scornfully rejected, just as they had exalted Jesus Christ to be a Prince and a Savior, but then turned against Him and crucified Him (Matthew 20:2847).

The same did God send to be a ruler and a deliverer.
"A deliverer" is also a Redeemer—it means one who redeems a captive or a prisoner by paying a "price" or "ransom." It is applied in that respect to the Lord Jesus, who has redeemed or purchased sinners by the price of His blood (Titus 2:1448; Also see 1 Peter 1:18; Hebrews 9:12). It is used here, however, in a more "general" sense to denote "the deliverance," without specifying the manner (Exodus 6:649; Also see Luke 24:21; Luke 1:68; Luke 2:38). Moses was an eminent type of the Messiah; and the redemption of the people of Israel out of the Egyptian bondage, by him, was symbolic of redemption from the bondage of sin, Satan, and the Law by Jesus Christ; and just as Moses had his mission and commission from God, so did Jesus Christ, as Mediator; and just as Moses was despised by his brethren, and yet was made the ruler and deliverer of them, so was Jesus despised by the Jews, yet he was made both Lord and Christ, and exalted to be a Prince and a Saviour.

Some irony is discernible in this verse, since the Jews would have obeyed Moses if he had been a tyrant appointed by Pharaoh to be a judge over them, but they disrespectfully refused him, after he was appointed by God to be their deliverer; therefore, they were wicked; and by rejecting grace, they were unthankful.
Moses did deliver his people and was given the honorable title of "deliverer," but God does not give to man that honor which is owed to Him, nor does He lose any of His authority by when He does it. No doubt, Moses was called a redeemer or deliverer only because he was the minister of God. And therefore, the honor and glory accorded the whole work of deliverance belongs entirely to God. It is often the case that men are given the titles which belong to God, but God himself is not robbed of His honor; but because the work is done by their hands, their reward is the praise of men.