Stephen's Sermon Part 2g of 8
by John Lowe
(Laurens SC, USA)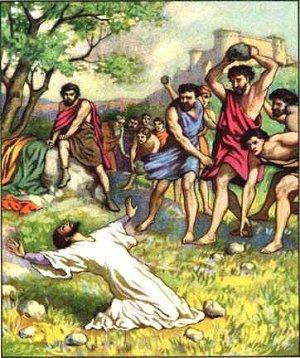 By the hand of the angel which appeared to him in the bush.

"By the hand" means "by the power." Moses was sent "by the power of the angel, which appeared to him in the bush"; and the One said here to be an angel was the second person in the Godhead; the Father sent him by the Son, not as an instrument, but having power and authority over him, to govern, direct, and assist him. In other words, God sent Moses along with Christ to be used by Him to deliver the people of Israel. By this means Moses is made subject to Christ, so that under His control and direction he may obey God. "By the hand of the angel" means to show how very close and intimate that guidance was, since "hand" is used here for "principality." God used the service of Moses in this way—that the power of Christ directed and empowered him. He is doing the same thing today—He uses the ministry of men to whom He gives direction and help.

36 He brought them out, after that he had shewed wonders and signs in the land of Egypt, and in the Red Sea, and in the wilderness forty years.

He brought them out.
The person they had rejected Moses whom they refused, saying, "Who made thee a ruler and a judge, etc.—Here, again, "the stone which the builders refused is made the head of the corner" (Ps 118:22)., and, virtually, delivered into the hands of Pharaoh to be killed, was the person who redeemed them from their Egyptian bondage. Stephen will use this example of Moses so that he can openly say to the council, that the very person, Jesus Christ, whom they had rejected and delivered into the hands of Pilate to be crucified, was the only person by whom they could be delivered out of their spiritual bondage, and made partakers of the heavenly inheritance which comes to all Christ's saints. No doubt they felt that this was the gist of his speech. Stephen made his application with great force. If his hearers failed to see the point, Acts 7:37 makes it clear.

After that, he had shown wonders and signs in the land of Egypt.
He brought them out of Egypt after he had wrought wonders and signs in the land of Egypt, the very last of which convinced Pharaoh to let them go. It was the most severe, taking the life of all the firstborn in the land. Afterwards"wonders and signs" continued at the Red Sea and for forty years of wandering in the
wilderness, whenever they were needed to protect or sustain the children of God. It is clear from this and what he said before that their charge that he blasphemed Moses was groundless. He was so far from that that he appears to admire him as a glorious instrument in the hand of God for the forming of the Old-Testament church. And it doesn't at all detract from his dignity and honor to say that he was only an instrument, and that he is surpassed by Jesus (Acts 2:22
50
), whom he encourages these Jews to accept for who He truly is, and receive from Him redemption from sin, just as the people of Israel were delivered by Moses, though they had refused him at first. Moses did many signs and wonders, such as turning his rod into a serpent, and his rod swallowing up the rods of the Egyptians, and the ten plagues, which were inflicted on Pharaoh, and his people, and the destruction of the Egyptian army by drowning in the Red Sea.
And in the Red Sea.
The destruction of Pharaoh and his army is an incident that anyone who ever attended a Sunday School class has heard about and may know the story, since it is popular with children, along with the stories of Noah's ark, Samson killing the lion, David, and Goliath, etc. If you are a little fuzzy on the Red Sea deliverance, I will remind you that God caused the water to divide, so that the people of Israel went through it as if they were walking on dry ground, but when Pharaoh and his army attempted to do the same thing they were drowned.
The story is found in Exodus 14.
This sea is called the Red Sea, not from the natural color of the water, which is the same as other seas; nor from the way it appears when seen through the rays of the sun, or the shade of the nearby red mountains. The name comes from Erythrus, to whom it formerly belonged, and whose name signifies red. It is called "Suph" in the Hebrew tongue on account of the weeds that grew in it.
And in the wilderness forty years.
There were wonders and miracles wrought in the wilderness for the people, such as providing food for them—manna came daily (except on the Sabbath) along with flesh, in a miraculous manner; water came from a rock; they were preserved from their enemies, when at last they were brought out of the wilderness and into the land of Canaan, by Joshua (See Exodus 16 and 17).