Struggle of a Saved Soul - Page 1 of 4 (series: Lessons on Romans)
by John Lowe
(Woodruff, S.C.)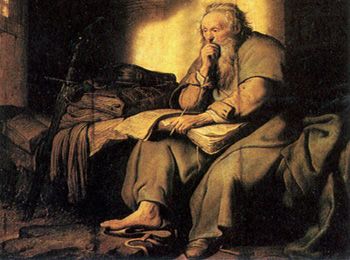 Struggle of a Saved Soul.

Romans 7:15-25


15 For what I am doing, I do not understand. For what I will to do, that I do not practice; but what I hate, that I do.
16 If, then, I do what I will not to do; I agree with the Law that it is good.
17 But now, it is no longer I who do it, but sin that dwells in me.
18 For I know that in me (that is, in my flesh) nothing good dwells; for to will is present with me, but how to perform what is good I do not find.
19 For the good that I will to do, I do not do; but the evil I will not to do, that I practice.
20 Now if I do what I will not to do, it is no longer I who do it, but sin that dwells in me.
21 I find then a Law, that evil is present with me, the one who wills to do well.
22 For I delight in the Law of God according to the inward man.
23 But I see another Law in my members, warring against the Law of my mind, and bringing me into captivity to the Law of sin which is in my members.
24 O wretched men that I am! Who will deliver me from this body of death?
25 I thank God—through Jesus Christ our Lord! So then, with the mind I myself serve the Law of God, but with the flesh the Law of sin.


Introduction
Several interpretations have been suggested for these verses:
1. A reflection of life before conversion.
2. The experience of the saved or unsaved, who seek merely to obey the Law.
3. A picture of the carnal Christian's internal struggle between the spiritual nature's desire to obey God and the fleshly nature's desire to go one's own way.
4. The process of growing sanctification, after conversion.

The latter, #4, seems to me to be the more probable idea. Even though the believer wants to be delivered from the guilt and penalty of sin, he will not be free from the presence of sin until he goes to be with the Lord or Christ returns. The struggle against sin continues throughout life on earth. The difference for the Christian, who has the mind of Christ, is that there is the hope of being rescued from our sins; and the hope of having the power to achieve victory over the sinful nature. Even though the struggle with sin remains while he is on earth, the Christian is no longer condemned before God, but stands righteous before Him.

Paul has exclaimed that the Mosaic Law is Spiritual. If it is holy and good, why can't the Law bring holiness? Paul immediately gives the answer; I am carnal, sold under sin. In this section the apostle continues to speak in the first person singular. He uses the present tense. Here, there is inward tension evident that was not evident in his discussion of the Law (7:1–13). Autobiographically Paul points out that even the believer is constantly beset by the tugs and pulls of a self-seeking and self-centered ego. Paul designates this ego "the flesh." This is no straw man which he sets up, but in fact the anguish of Paul's own soul. He knows to do right and to obey the Law, but in himself he cannot do either.


15 For what I am doing, I do not understand. For what I will to do, that I do not practice; but what I hate, that I do.

For what I am doing, I do not understand. While recognizing that the Law is spiritual, because it is God's Laws, Paul also must admit that he is carnal. As a slave to the power of sin, Paul recognizes that those things he wishes he could do, he cannot do; and conversely, those things he knows he must not do, he finds himself doing. Every morally sensitive person is aware of what Paul means here. Friend, I have been there; and though it pains me, I confess that that is my current situation.

Paul is not attempting to rid himself of the responsibility for his sin. He is aware that in the Christian there are two wills, that of the fleshly, sinful nature which causes him to sin, and that which is born of God which does not commit sin—"Whoever has been 1born of God does not sin, for His seed remains in him; and he cannot sin, because he has been born of God" (I Jn. 3:9).
Now the apostle describes the struggle that goes on in a believer. It is the conflict between the two natures. He describes a man trying to achieve holiness by personal effort, struggling with all his might to fulfill God's "holy and righteous and good" commandments (v.12), only to discover that the more he struggled, the worse his condition became. It was a losing battle, and no wonder, for it is not in the power of fallen human nature to conquer sin and live in
holiness.
Notice the prominence of the first-person pronouns—I, me, my, myself; they occur over forty times in verses 9–25. People who go through this Romans 7 experience have taken an overdose of "Vitamin I." They are looking inside themselves, trying to find victory by their personal strength, which is not possible. People need to know that they have died with Christ and have risen with Him to walk in newness of life. Then, instead of trying to improve the flesh, they will consign it to the grave.
In describing the struggle between the two natures, Paul says, what I am doing, I do not understand. He is a split personality, a Dr. Jekyll and Mr. Hyde. He finds himself indulging in things that he doesn't want to do, and practicing things that he hates
For what I will to do, that I do not practice;--Man is a mystery to himself. New sciences spring up continually to try to explain how he thinks or why he acts as he does, but all of today's accumulated information has brought us no closer to understanding the human problem. The search for understanding may lead some to religion, but religion is not necessarily successful, as Paul's long struggle as a Pharisee had taught him. As long as we live in this life, we will have warfare between the Spirit of God and the flesh.
but what I hate, that I do.—This is the statement of one who is baffled. But he is not ignorant as to what is wrong. The problem is how to overcome what is wrong. Paul is speaking of his personal experience with this problem, and at this place in his life he is a failure at dealing with it. The failure of Paul to achieve his purpose is found in the fact that he is attempting in his own strength that which can be accomplished only in the supernatural power of the Holy Spirit. Eventually, we don't know when, there came a day when there was victory, but Paul did not win it; Christ did. Paul learned that it was a matter of yielding, presenting himself and letting the Spirit of God live the Christian life through him.
______________________________________________________
1
Born of God. This phrase refers to the impossibility of one who has been born of God going on in sin. Some Bible students think that this verse refers to the believer's new nature, and that while the old nature can and does sin, the new nature cannot sin. However, I believe that Paul is speaking of constant or habitual sinful behavior. The believer will sin on occasion or even frequently, but he does not have the sin habit. He does not defiantly continue to commit the same sin over-and-over again.
The reason is that His seed remains in him. There is also considerable disagreement among Bible students as to the meaning of this expression. Some think that this seed refers to the new nature, others to the Holy Spirit, and still others to the word of God. All of these are true, and therefore are possible explanations. I stand with those who believe that the seed refers to the new life which is imparted to the believer at the time of his conversion. Here, then, is a statement that the divine life remains in the believer. He is eternally secure. Rather than being an excuse for the Christian to go out and sin, his eternal security is a guarantee he will not go on sinning. He cannot sin habitually because he has been born of God. The new life of one who is born again, prohibits the possibility of continuance in sin as a lifestyle.
___________________________________________________
16 If, then, I do what I will not to do, I agree with the Law that it is good.
Once again, he is speaking of the Christian struggle, which believers constantly experience due to the conflict between the flesh and the Spirit. The Spirit is not something that everyone naturally has, but it comes to us from regeneration. This occurs the moment we are saved through faith in the Lord Jesus Christ.
Paul agrees (believes) that the Law is
2
good. This verse, as with the previous verse, points to the experience of a believer (In this case it is Paul's personal experience.). He finds himself in agreement with the Law as a result of his disapproval of that which is forbidden by it. The fact that he acts contrary to the Law is no evidence that he has a bad opinion of it. The conflict is not between the Law and the believer; it is between the believer and what the Law condemns. It is by committing acts which his better judgment condemns, that he is taking sides with the Law against himself, because the Law condemns them too. And by agreeing with the Law, he shows that he believes that the Law is good. He knows that the Law is not responsible for his sin, and he longs to honor the Law and to keep it perfectly.
___________________________________________________
2
The Greek word for "good" is "kalos" meaning beautiful, noble, excellent.
____________________________________________________