Subsidence of the Waters - Part 2 (series: Lessons on Genesis)
by John Lowe
(Woodruff, S.C.)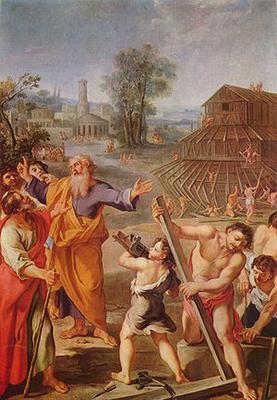 Noah had built a window (hatch?) in the upper deck of the ark (v. 9), and he opened it so that he could survey the world around him. This was on the day the passengers had been on the ark for a full year. Noah saw that the ground was indeed dry, but he didn't make a move out of the ark until the Lord told him to leave. Twenty-six days later, that order came and he obeyed it (Ge. 8.15-187).


Observe, though Noah saw that the ground was dry on the first day of the first month, God would not allow him to go out of the ark until the twenty-seventh day of the second month. God is concerned about what is best for us, not our desires because He knows what is best for us better than we do ourselves. God's covenant with Noah brought provision and protection in the midst of severe judgment. The remnant was preserved and God initiated steps toward reestablishing the created order on earth.

Something that is going to become apparent as we continue to study this wonderful book is that the men going out of the ark are the same type of men that all the sons of Adam were who had provoked the Flood as a judgment of God in the first place. You are going to see that there is not too much improvement in man after the flood; in fact, there is none whatsoever.





"Every living thing . . . in the ark" is a beautiful illustration of Matthew 10.29: "Are not two sparrows sold for a farthing? and one of them shall not fall on the ground without your Father. But the very hairs of your head are all numbered. Fear ye not because ye are of more value than many sparrows.

"And the ark rested in the seventh month" is the seventh month of the year—not of the Flood.

"And the waters decreased continually" means that the water decreased gradually; the period of their return was nearly twice that of their rise.

"Other seven days" may mean that Noah observed the Sabbath during his residence in the ark.




1 For we would not, brethren, have you ignorant of our trouble which came to us
in Asia, that we were pressed out of measure, above strength, insomuch that we despaired even of life.
2
And the waters prevailed upon the earth a hundred and fifty days.
3
In the six hundredth year of Noah's life, in the second month, the seventeenth day of the month, the same day were all the fountains of the great deep broken up, and the windows of heaven were opened.
4
For yet seven days, and I will cause it to rain upon the earth forty days and forty nights . . .
5
And Lamech lived an hundred eighty and two years, and begat a son: And he called his name Noah, saying, This same shall comfort us concerning our work and toil of our hands, because of the ground which the LORD hath cursed.
6
And these are they which ye shall have in abomination among the fowls; they shall not be eaten, they are an abomination: the eagle, and the ossifrage, and the osprey, And the vulture, and the kite after his kind; Every raven after his kind.
7
And God spake unto Noah, saying, Go forth of the ark, thou, and thy wife, and thy sons, and thy sons' wives with thee. Bring forth with thee every living thing that is with thee, of all flesh, both of fowl, and of cattle, and of every creeping thing that creepeth upon the earth; that they may breed abundantly in the earth, and be fruitful, and multiply upon the earth. And Noah went forth, and his sons, and his wife, and his sons' wives with him.
i
Moses took this approach when he interceded for sinful Israel: "Remember Abraham, Isaac, and Israel" (Ex. 32.13); and it was Nehemiah's repeated prayer (Neh. 13.14, 22, 29, 31). To ask God to remember is the same as reminding Him of His promises and claiming those promises for yourself (Ps. 25.6, 7; 105.8, 42; 106.4, 45; 132.1; 136.23). Mary rejoiced in God's remembrance of his mercy (Luke 1.54, 55), and Zecharias sang about the birth of John the Baptist (Luke 1.72, 73). The name Zacharias means "God remembers.
ii
See Genesis 28.15; Deut. 4.31; 31.6; Josh. 1.5; 1 Ki. 8.57; 1 Chron. 28.9, 20; Isa. 42.16; Matt. 28.20; Heb 13.5.