Sympathy Towards Paul - Page 2 (series: Lessons on 2nd Corinthians)
by John Lowe
(Woodruff, S.C.)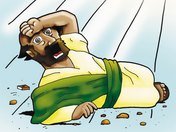 13 Now in return for the same (I speak as to children), you also be open.


Now in return for the same
"Now in return for the same" expresses the idea of reciprocity; that their love for him may be in response to his love for them; that just as you have my heart, I may have yours, and that I have the same room in your heart, as you have in mine. The Vulgate Latin version reads, "having the same recompense"; and the Arabic version renders it, "grant to me the same recompense"; and the Syriac version, "recompense to me my usuries that are with you"; that is, repay (or, compensate) me with affection, let love be returned for love. He is saying, "By way of recompense, open your hearts in the same manner toward me as I have done toward you. It is all the reward or compensation which I ask from you; all the return which I desire. I do not ask for silver or gold, or any earthly possessions. I ask only a return of love, and a devotedness to the cause which I love, and which I endeavor to promote."

I speak as to children
They, the Corinthians, are his spiritual children—"For though you might have ten thousand instructors in Christ, yet you do not have many fathers; for in Christ Jesus I have begotten you through the gospel" (1 Corinthians 4:15). They might have had many tutors, who taught them as children, but Paul was their father who had begotten them in the gospel; that is, converted them. The relationship existing between them requires mutual affection; for as a father should love his children, so children should love their father. Paul uses the same metaphor in other places:
• 1 Thessalonians 2:11: "as you know how we exhorted, and comforted, and charged every one of you, as a father does his own children" Not only in an authoritative, but in an affectionate way, and also with solid wisdom and judgment; for in such a relationship, in a Spiritual sense, did the apostle and his fellow ministers substitute for their fathers.
• 1 Corinthians 4:15: "For though you might have ten thousand instructors in Christ, yet you do not have many fathers; for in Christ Jesus I have begotten you through the gospel." I speak as a
parent addressing his children. I maintain toward you the relationship of a spiritual father, and I have a right to require and expect a return of affection—children would naturally be expected to recompense their parents' love with similar love.
* Romans 10:10: "For with the heart man believes to righteousness; and with the mouth confession is made to salvation."
You also be open
What does he demand of them; that they should love him in return for his love? What they needed in their spiritual life was scope and expansiveness of affection. "Love me as I love you. Give to me the same proofs of affection which I have given you." The idea in this verse is that the only compensation or remuneration which he expected for all the love which he had shown them, and for all his labor and self-denials in their behalf—"But in all things we commend ourselves as ministers of God: in much patience, in tribulations, in needs, in distresses, in stripes, in imprisonments, in tumults, in labors, in sleeplessness, in fastings" (2 Corinthians 6:4-5)—was, that they would love him, and be obedient to the laws of the Gospel requiring them to be separate from the world—"Do not be unequally yoked together with unbelievers. For what fellowship has righteousness with lawlessness? And what communion has light with darkness? And what accord has Christ with Belial? Or what part has a believer with an unbeliever? And what agreement has the temple of God with idols? For you are the temple of the living God. As God has said: 'I will dwell in them And walk among them. I will be their God, And they shall be My people.' Therefore 'Come out from among them And be separate, says the Lord. Do not touch what is unclean, And I will receive you.' 'I will be a Father to you, And you shall be My sons and daughters, Says the Lord Almighty'" (2 Corinthians 6:14-18). One ground of the claim which he had to their affection was, that he sustained toward them the relationship of a father, and that he had a right to require and to expect a return of the love he had for them. Treat me as I have treated you: Be as I am, "Brethren, I urge you to become like me, for I became like you." (Galatians 4:12).