Thanksgiving: Part 2 of 4 (series: Lessons on 2 Co.)
by John Lowe
(Woodruff, S.C.)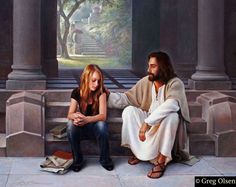 Paul had a difficult letter to write to the Corinthians. Although they had not been hard-pressed by external persecution, the Corinthian church had gone through a lot of internal dissension. Opposing sides were vying for their points of view (1 Cor. 1:10-17), and people were even suing each other (1 Cor. 6:1-7). Instead of focusing on these persistent problems, Paul began his letter by focusing on God and his comfort. God would encourage —and even admonish—the Corinthians through these difficult times. When the troubles passed, and the Corinthians emerged faithful, then they would be able to encourage others who needed the same encouragement.


This is very personal; 'I' and 'me' is better than 'us,' 'our,' and 'we,' in this passage. In 2nd Corinthians these terms are often to be understood of Paul himself; as shown clearly by 2nd Corinthians 7:5. It is God who comforts him when he must face trouble (tribulation). The term tribulation refers to crushing pressure, because in Paul's ministry and life there was always something attempting to weaken him, restrict or confine his ministry, or even take his life. But no matter what confronted him, Paul knew God would strengthen and sustain him And He said to me, "My grace is sufficient for you, for My strength is made perfect in weakness." Therefore most gladly I will rather boast in my infirmities, that the power of Christ may rest upon me. Therefore I take pleasure in infirmities, in reproaches, in needs, in persecutions, in distresses, for Christ's sake. For when I am weak, then I am strong. (2 Cor. 12:9-10). The apostle did not live for himself, but for the church; so, whatever graces God conferred on him, he considered granted not for him alone, but so that he would have a greater ability to help others. Likewise, Jesus' participation in all the afflictions of man uniquely qualified Him to be Man's comforter in all his various afflictions (Isa. 50:4-6; Heb. 4:15). In all Paul's afflictions, he was conscious of God's presence with him. Troubles, Paul said, help Christians shift their perspective from the external and temporal to the internal and eternal (v. 9).

To us, the word comfort usually means consolation in the time of sorrow. But as it is used in the New Testament, it has a wider meaning. It refers to the encouragement and exhortation that come to us from one who is beside us in time of need. There is a practical lesson in this verse for us all. We should remember when we are comforted that we should seek to pass on this comfort to others. We should not avoid the sick room, or the house of death, but rather fly to the side of any who are in need of our encouragement. We are not comforted to be comfortable but to be comforters.

Comfort from God is not an end in itself. Its purpose is that we (believers) may be able to comfort those who are in any trouble. Having humiliated and convicted the Corinthians, God used Paul to return to them with a strengthening message after he himself had received divine strengthening And the Lord said, "Simon, Simon! Indeed, Satan has asked for you, that he may sift you as wheat. But I have prayed for you, that your faith should not fail; and when you have returned to Me, strengthen your brethren." (Luke 22:31-32).

5 For as the sufferings of Christ abound in us, so our consolation also abounds through Christ.

At his conversion, Paul was warned of the sufferings he would face as the apostle to the Gentiles But the Lord said to him, "Go, for he is a chosen vessel of Mine to bear My name before Gentiles, kings, and the children of Israel. For I will show him how many things he must suffer for My name's sake." (Acts 9:15-16). Also, Jesus had warned His disciples that they could expect to suffer as he had Remember the word that I said to you, 'A servant is not greater than his master.' If they persecuted Me, they will also persecute you (John 15:20).. The clause the sufferings of Christ abound in us indicates that he means only sufferings which Christians endure in virtue of their union with Christ (2 Cor. 4:10), and not those due to their own sin. The same union explains why we can share in comfort too.
Paul knew what it meant to suffer, but it was when he was suffering that he experienced God's comfort (vv. 4-5). Paul uniquely described the value of an experience of suffering before relating the experience (vv. 8-10) from which the value came. Paul praised Christ as the source of all comfort, the comfort he wished to pass along to the Corinthians (v. 4). Paul feared he might not survive the difficult experience (v. 8). God's intervention seemed like a resurrection in his life (vv. 9-10). This reinforced Paul's conviction that God's resources alone, not human effort, can produce comfort and refuge.
The apostle declares, so our consolation also abounds through Christ, because he realizes that as the problems increase, so does the consolation (comfort). Both the problems and consolation are measured by the experiences of Christ (cf. Luke 24:26, 46; Phil. 3:10; Col. 1:24; 1 Pet. 1:11). Paul's use of the term abound is significant throughout this epistle (cf. 2 Cor. 4:15; 8:2, 7; 9:8, 12). Abound in us, is, "abound unto us" in the Greek; and the words which follow it in the Greek are more forceful than in the English version; "Even so, through Christ aboundeth also our comfort."

The sufferings of Christ are those He endured, whether by Himself or by His church, with which He considers Himself identified (Matt. 25:40, 45; Acts 9:4; 1 Jn. 4:17-21). Christ calls His people's suffering, His own suffering:
1) Because of the sympathy and mystical union between Him and us (Rom. 8:17; 1 Cor. 4:10).
2) Because they are endured for His sake.
3) Because they tend to bring Him glory (Eph. 4:1; 1 Pe. 4:14, 16).

The sufferings of Christ here cannot mean the Savior's atoning sufferings. These were unique, and no man can share them. But Christians can and do suffer because of their associations with the Lord Jesus. They suffer reproach, rejection, hostility, hatred, denial, betrayal, etc. These are spoken of as the sufferings of Christ because He endured them when He was on earth. He still endures them when the members of His body experience them. In all our affliction He is afflicted (see Isa. 63:9). But Paul's point here is that there is a rich compensation for all these sufferings, namely, there is a corresponding share in the consolation of Christ, and this consolation is abundantly sufficient.

The sufferings (plural) are many; but the consolation (though singular) swallows up them all. Paul said that he could rejoice in the suffering that he had endured for Christ: "I now rejoice in my sufferings for you, and fill up in my flesh what is lacking in the afflictions of Christ, for the sake of His body, which is the church" (Col. 1:24). Paul had been insulted (Acts 13:45); chased out of towns, villages, and cities by angry mobs (Acts 17:8-10); beaten and thrown into dank, dark prisons (Acts 16:22-23); stoned and left for dead (Acts 14:19-20); and he was even the object of murderous plots (Acts 14:5). God's comfort for believers extends to the boundaries of their suffering for Christ. The more they endure righteous suffering, the greater will be their comfort and reward (1 Pe. 4:12-14). Paul knew firsthand that these many sufferings would seem never-ending that I may know Him and the power of His resurrection, and the fellowship of His sufferings, being conformed to His death. (Phil. 3:10), and all genuine believers should expect the same (Matt. 10:18-24). Comfort prevails in this Epistle above that in the first Epistle, since by now the impact of the first Epistle had affected most of the Corinthians and they were very impressed by it.