THE ADORABLE DEPLORABLE
by CharlesRobey
(Trussville, AL USA)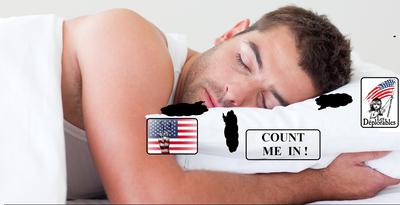 I am a freedom loving American deplorable

I believe our country is still to be adorable
I believe in those who founded this land
I believe them to be a loving Christian band
I believe our Creator gave us an equal right
I believe it to be life, liberty and a will to fight
I believe in the great motto In God We Trust
I believe to all love and honor Him is a must
I believe in God's provincial holy written word
I believe it to always be read and to be heard
I believe in knowing the right from the wrong
I believing in standing up for America's song
I believing in helping neighbors when I can
I believe in lending all a loving helping hand
I believe in the colors that are tried and true
I believe in the old flag of red white and blue
I believe in an honest wage for a work day
I believe in earning my keep for a day's pay
I believe in having equal justice under the law
I believe in having fair and equal rule for all
I believe in free speech to speak my mind
I believe in showing kindness to those I find
I believe in protecting my family and my home
I believe in defending them as they may roam
I believe in shopping when and how I may
I believe our freedom takes the smell away

I am a freedom loving American deplorable
I believe our country is still to be adorable
Whoever stubbornly refuses to accept criticism
will suddenly be destroyed beyond recovery.
When the godly are in authority, the people rejoice.
But when the wicked are in power, they groan.
(Proverbs 29:1-2)
Do remember that old childhood expression, "Sticks and stones may break my bones, but words can never hurt me". It was often times said in order to show that people cannot be hurt by unpleasant things that are said to them.
Having now been around forever and being older than dirt and twice as gritty, I have never before observed such disdain for our country's elected officials. One need only tune to the various news media outlets to confirm my emotional sentiment.
Our society has apparently run amuck. (Jeremiah 17:9) Ever so bold, with certain language, catchphrases, and words towards our officials that I dare repeat. There just seems to be no end to this madness. What is the objective, the goal, and the desire of such psychology? And where will this all end? Peacefully, I pray.
Having grown up at the ending of the great WWII, I can still remember one of my grandpa's favorite sayings when discouraged, " if you can find a better foxhole, then go get in it". To this, I shout a big "Amen".
Yes, I am an adorable deplorable, and very proud of it. How about you?