The Animosity of the Religious Leaders Part 6 of 7
by John Lowe
(Laurens SC, USA)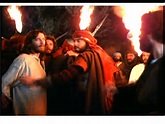 So, what did they conclude? They wanted to let the thing "die a natural death." That meant threatening the apostles and forbidding them to teach or preach in the name of Jesus. This shows how much the enemy fears the witness of the church, for Satan has been trying to silence God's people from the very beginning. Sad to say, he has succeeded with far too many Christians, who have become the "silent witnesses of the church." Even the existential philosopher Albert Camus said, "What the world expects of Christians is that Christians should speak out, loud and clear in such a way that never a doubt, never the slightest doubt, could arise in the heart of the simplest man."



The council did not want the gospel message to spread, and yet that is exactly what happened! From 120 praying men and women in Acts 1, the church increased to more than 3000 on the Day of Pentecost; and now there was more than 5000 in the fellowship. In the days that followed, "believers were the more added to the Lord, multitudes both of men and women" (Acts 5.14; and see 6.1, 7). Satan's attempts to silence the church only led to a stronger witness for the Lord.


The hands of the Sanhedrin were tied by the evidence of the healed man, and by the enthusiasm of the multitude. The Sanhedrin was very unpopular with the Multitudes. They sent Peter and John out of the council room under guard, and in a secret session they decided it was unwise to condemn the apostles to flogging or death, but they did decide that speaking and teaching in the name of Jesus must be prohibited. The seriousness of the decree must not be underestimated, since any future preaching would be considered an act of defiance against the supreme Jewish tribunal. War was declared between the earthly authority of the Sanhedrin and the divine authority of the Name. They deliberately refused to mention the word "Jesus;" they referred to Him as "this Name." They were afraid the apostles might be leaders of one of those messianic movements which had been a continual menace in the first century A. D. Their vested interests were at stake, and in some way, they must quell the movement. The Sanhedrin took no steps whatsoever, to disprove the central assertion of the apostles' preaching—that Jesus had been raised from the dead. The preaching of the apostles could have been easily frustrated had their proclamation of the Resurrection been proved false. The body of Jesus had vanished so completely that the Sanhedrin was simply helpless to refute their message. Perhaps Luke gained this information about what went on behind closed doors from someone like Nicodemus or Paul. Even though Paul was not a Sadducee, he probably would have had access to such information. But if Paul and Nicodemus were not there, which is probably true, there was One who was there who saw and heard everything—and He, the Holy Spirit, revealed those things to Luke, the beloved physician, who wrote down the account of what happened in that closed meeting.


The members of the Sanhedrin finally reached a decision and summoned Peter and John. They had hoped to intimidate the apostles through the threat of severe punishment unless they ceased to mention the name of "Jesus," but instead they were the ones who were afraid, while Peter and John were fearless before them. So, they told Peter and John they were forbidden to speak the name of Jesus and let them go. Here is the devil's work. In verse 12 Peter declared, "There is none other name under heaven given among men, whereby we must be saved." Now, these men command the disciples not to preach any more in that name—the precious name of Jesus. Satan does not mind how loud, how long, or how often a minister preaches, as long as he does not preach Christ—crucified, buried, risen, ascended, and coming again! Satan knows a message without Jesus in it will not cause sinners to be saved nor rob hell of souls.


This story teaches that opposition to Christianity is always:
1. Based on Sadduceeism, is always rooted in rationalism, is always the outcome of materialistic philosophy.
2. Opposition to actual good being done in the world. The business of the church in the world is not the discussion of theories, is not that of indulging in speculations, or formulating philosophies; it is that of seeking and saving that which is lost. It is to find men lying at
the Beautiful Gate, excluded from worship, to put them on their feet, and make them worshippers.
3. Opposition in spite of conclusive evidence. The healed man is here in the world today, healed mentally, spiritually, physically in proportion to his faithfulness to the great spiritual truths he has submitted himself.
Sanhedrin: The Sanhedrin was, at and before the time of Christ, the name for the highest Jewish tribunal, of 71 members, in Jerusalem, and also for the lower tribunals, of 23 members, of which Jerusalem had two. In the New Testament the word sometimes, especially when used in the plural (Mt 10:17; Mark 13:9), means simply "court of justice," i.e. any judicatory (Mt 5:22). But in most cases, it is used to designate the supreme Jewish Court of Justice in Jerusalem, in which the process against our Lord was carried on, and before which the apostles (especially Peter and John, Stephen, and Paul) had to justify themselves (Mt 26:59). There is lack of positive historical information as to the origin of the Sanhedrin. According to Jewish tradition, it was constituted by Moses (Nu 11:16-24) and was reorganized by Ezra immediately after the return from exile. But there is no historical evidence to show that previous to the Greek period there existed an organized aristocratic governing tribunal among the Jews. Its beginning is to be placed at the period in which Asia was convulsed by Alexander the Great and his successors. (International Standard Bible Encyclopedia)
19 But Peter and John answered and said unto them, Whether it be right in the sight of God to hearken unto you more than unto God, judge ye.
20 For we cannot but speak the things which we have seen and heard.
Contrary to the procedure of the Sanhedrin, Peter and John did not need to hold a meeting to decide what they should say; they did not ask permission to step outside and discuss the matter. Being the true servants of God that they were, they gave an immediate answer to the council, and they were in agreement in what they said. "Whether it be right in the sight of God to hearken unto you more than unto God, judge ye." In other words, "You who are the religious rulers in Israel, you who claim kinship with Abraham and swear allegiance to Moses, should know whether we should obey God, or man." "We cannot but speak the things which we have seen and heard." Peter realized how powerful the men were before whom he testified—but that knowledge did not dampen his passion or hinder his boldness. Basically, he said, "You make up your own mind whether it is right for us to listen to God, or whether we should listen to you. But while you are making up your mind, I will tell you what to expect from us: we are going to continue doing exactly what we have been doing because we have been commissioned by God to declare the things we have seen and heard. And we intend to obey God regardless of what you command us to do." So, you see that Peter and John were courageous men. They were speaking before a group of men who could have ordered them imprisoned—or, for that matter, could have decreed their death. Their boldness was a product of the indwelling Spirit, the same Holy Spirit who indwells every born again child of God—yes, today, in this dispensation of Grace. As far as Peter and John were concerned, they could not keep from speaking about what they had "seen and heard." Peter was aware that the rabbis themselves justified civil disobedience in certain circumstances if a superior divine command could be proved. He appealed to such a command to justify the declaration of what they had seen and heard.
The failure of the council becomes evident when Peter refused to be intimidated by their threats. All of us need to follow Peter's example and make our decisions on the basis of "Is it right?" and not "Is it popular?" or "Is it safe?" However, we must be sure that we have the clear teaching of the Word of God on our side before we take a stand against the authority of the government. Peter knew what the Lord had commanded the believers to do—"But you will receive power when the Holy Spirit comes on you; and you will be my witnesses in Jerusalem, and in all Judea and Samaria, and to the ends of the earth" (Acts 1.8).—and he was going to obey Him at any cost.