The Apostles and Others Gathered in Jerusalem Part 2
by John Lowe
(Laurens SC, USA)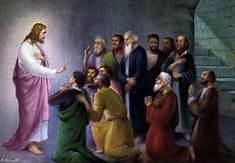 where abode both Peter, and James, and John, and Andrew, Philip, and Thomas, Bartholomew, and Matthew, James the son of Alphaeus, and Simon Zelotes, and Judas the brother of James

Where abode means "where they were remaining" or "where they did abide." This does not imply that this was their permanent habitation; but that they remained there waiting for the descent of the Holy Spirit. All the apostles which Jesus had chosen were there, except Judas (See Luke 6:13-16 and Matthew 10.2-4). Their names are given to confirm their presence.

Where abode both Peter, and James, and John. These were the three favorite disciples of Christ, and they are often mentioned together, and listed first, as they are here.

and Andrew, Philip, and Thomas, Bartholomew, and Matthew. The Syriac and Ethiopic versions put Matthew before Bartholomew.

James the son of Alphaeus, and Simon Zelotes, and Judas, the brother of James. All the apostles are mentioned here, except Judas the betrayer, who was dead, to show, that though one had doubted the resurrection of Christ, another had denied him, and all of them had deserted him, and fled; but in spite of that they were together again, and were resolved and unwavering in their faith in Christ, and they were waiting for the outpouring of the Spirit.

Simon Zelotes is not a member of the "Zealot" party, which was a revolutionary party called by that name in 66 A.D. since Acts was written before that name was used in that way. If one really wishes to know what "Zealot," as applied to Simon, actually means, he does not need to search any further than the word of the Lord. In both Mark 3:19 and Matthew 10:4, this apostle is called "The Canaanite"; and "Canaanite" represents the Hebrew and Aramaic words for Zealot, which is of Greek origin. Therefore, Simon's native title, "Canaanite," translates "Zealot" in Greek, the language in which Luke was writing; and since he was a Gentile, Luke did not bother to use the old Aramaic form like Matthew and Mark did. People who wish to make a revolutionary out of one of the Lord's apostles will have to find some other means of doing so!

Their unity of the disciples should be mentioned, because when we saw the disciples in the gospels, it seemed like they were always fighting and bickering. What had changed? Peter still had the history of denying the Lord; Matthew was still a tax collector. Their differences were still there, but now the resurrected Jesus was in their hearts and His presence was greater than any difference.

The list of the Twelve is given four times in the New Testament, in Matthew 10; Mark 3; Luke 6, and here. This list is like the others in that Peter, Philip, and James are recorded first in three groups of four each, of course, the name of Judas has been deleted here. The mention of the apostles by name stresses that the Twelve (Luke would immediately record the replacement of Judas by Matthias) were on hand in Jerusalem, as Jesus commanded, waiting for the promise of the Father.


14 These all continued with one accord in prayer and supplication, with the women, and Mary the mother of Jesus, and with his brethren.

These all continued with one accord in prayer and supplication,
"All" refers to more than "the twelve;" how many more is unknown, but to make up the hundred and twenty spoken of—"And in those days Peter stood up in the midst of the disciples (altogether the number of names was about a hundred and twenty)"—we may presume that all or most of the seventy disciples were with them, and that were associates of the apostles, and were employed as evangelists.

The word "continued"
stands for "persevering and constant attention." Their main business was devotion—"but we will give ourselves continually to prayer and to the ministry of the word." (Acts 6:4; NKJV) (also See Romans 13.6 and Colossians 4.2).
"With one accord" means "with one mind." It indicates the complete harmony of their views and feelings. There were no schisms, no divided interests, and no inharmonious purposes. This is a beautiful picture of devotion, and an example of what social worship ought to be now, and a beautiful illustration of Psalm 133:1-3—"Behold, how good and how pleasant it is for brethren to dwell together in unity! It is like the precious ointment upon the head, that ran down upon the beard, even Aaron's beard: that went down to the skirts of his garments; As the dew of Hermon, and as the dew that descended upon the mountains of Zion: for there the LORD commanded the blessing, even life for evermore."
"In prayer and supplication"—these words are nearly synonymous, and are often interchanged. Prayer may simply imply any communication made to God, in the form of an appeal or request; supplication refers to the sincere, affectionate, and continued plea to God for the blessing requested from him by prayer. Prayer asks, supplication plead, urges and re-urges the request. Here they express petitions made to God for blessings, and prayer to avert imminent troubles.
with the women,
These are the women that had followed the Lord Jesus from Galilee and had probably witnessed the resurrection—"And certain women, which had been healed of evil spirits and infirmities, Mary called Magdalene, out of whom went seven devils, And Joanna the wife of Chuza Herod's steward, and Susanna, and many others, which ministered unto him of their substance" (Luke 8:2-3; KJV). (Also see Luke 8:2-3, Luke 8:23, Luke 8:49, Luke 8:55; Luke 24:10; Matthew 27:55.) The women mentioned are Mary Magdalene, Mary the mother of James and Joses, the mother of Zebedee's children, Joanna the wife of Chuza, and Susanna. Besides these, there were others whose names are not mentioned. Most of them were relatives of the apostles or of the Savior; and it is not unlikely that some of them were wives of the apostles. Peter and some of the other apostles are known to have been married (See Matthew 8:14), and their wives traveled with them—"Do we have no right to take along a believing wife, as do also the other apostles, the brothers of the Lord, and Cephas?" (1 Cor 9:5; NKJV).
and Mary the mother of Jesus,
Mary, the mother of Jesus, is mentioned, showing that she has cast her lot with the apostles. She was entrusted to the care of John as they stood beneath the cross—"When Jesus, therefore, saw his mother, and the disciple standing by, whom he loved, he saith unto his mother, Woman, behold thy son! Then saith he to the disciple, Behold thy mother! And from that hour that disciple took her unto his own home" (John 19:26-27; KJV). She had no other home. This is the last time that any mention is made of her in the scriptures.
and with his brethren.
The brethren of our Lord are his kinsmen according to the flesh (his brothers). The brothers of Jesus were James, and Joses, and Simon, and Judas (See Matthew 13:55); and from the fact of their being mentioned apart from the apostles, it is clear that those apostles bearing some of these same names were not brothers of the Lord. As maintained throughout this series of commentaries, these brethren were the literal half-brothers of our Lord, being sons of Mary born after the birth of Jesus. At first, they did not believe in Him (See John 7:5); but it seems that they had been converted at some point.