The Approachableness of Jesus Part 1
by John Lowe
(Laurens SC, USA)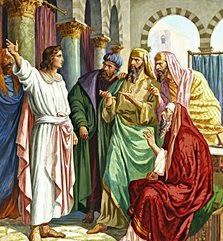 Jesus Will Never Turn You Away!
June 3, 2006


PORTION OF SCRIPTURE READ BEFORE SERMON—Hebrews 4:14-16 and 5.1-14 (GNB)

14 Let us, then, hold firmly to the faith we profess. For we have a great High Priest who has gone into the very presence of God—Jesus, the Son of God.
15 Our High Priest is not one who cannot feel sympathy for our weaknesses. On the contrary, we have a High Priest who was tempted in every way that we are, but did not sin.
16 Let us have confidence, then, and approach God's throne, where there is grace. There we will receive mercy and find grace to help us just when we need it.
1 Every high priest is chosen from his fellow-men and appointed to serve God on their behalf, to offer sacrifices and offerings for sins.
2 Since he himself is weak in many ways, he is able to be gentle with those who are ignorant and make mistakes.
3 And because he is himself weak, he must offer sacrifices not only for the sins of the people but also for his own sins.
4 No one chooses for himself the honour of being a high priest. It is only by God's call that a man is made a high priest—just as Aaron was.
5 In the same way, Christ did not take upon himself the honour of being a high priest. Instead, God said to him: "You are my Son; today I have become your Father."
6 He also said in another place, "You will be a priest for ever, in the priestly order of Melchizedek."
7 In his life on earth Jesus made his prayers and requests with loud cries and tears to God, who could save him from death. Because he was humble and devoted, God heard him.
8 But even though he was God's Son, he learnt through his sufferings to be obedient.
9 When he was made perfect, he became the source of eternal salvation for all those who obey him,
10 and God declared him to be high priest, in the priestly order of Melchizedek.
11 There is much we have to say about this matter, but it is hard to explain to you, because you are so slow to understand.
12 There has been enough time for you to be teachers—yet you still need someone to teach you the first lessons of God's message. Instead of eating solid food, you still have to drink milk.
13 Anyone who has to drink milk is still a child, without any experience in the matter of right and wrong.
14 Solid food, on the other hand, is for adults, who through practice are able to distinguish between good and evil.


Introduction:

Luke 15:1 states, "Then drew near unto him all the publicans and sinners for to hear him."
Some of the worst people and the most hated people formed a ring of listeners around Christ.
I gather from that that he was a very approachable person, that he had good manners, and that He was willing to talk to anyone.
That's what I want to talk about this evening; the approachableness of Christ.
The kings we're told about in the Bible lived in seclusion, and they surrounded themselves with politicians, officials, and soldiers.
It was very difficult for even their most loyal subjects to approach them.
Do you remember the story of Esther, who, despite the fact that the king was her husband, took her life in her hands when she went before the king, Ahasuerus, to plead for her people, the Jews, because there was a law that said that no one should come to the king unless they were invited.
To break that law meant death.
That's not the way it is with the King of kings.
His court is more magnificent and He is more worthy of worship; but you may come to him anytime, night or day, and no one can prevent you from coming.
There aren't any soldiers around his palace gate.
The door to his house of mercy is wide open.
The sign over His palace gate states, "For every one that asketh receiveth; and he that seeketh findeth, and to him that knocketh it shall be opened."
You can compare our Lord's kind manners with those of kings and presidents, but you can't find anyone equal to him in approachableness and compassion.
This morning, I want to talk about this wonderful quality of our Lord.
First, let's prove it; secondly, illustrate it; and, thirdly, put it into effect.
First, let's PROVE THE APPROACHABLENESS OF CHRIST, although it really doesn't need proof, for it is a fact which can be seen in his life.
You may see it clearly in His offices.
Those offices are too many for us to consider at this time.
We will just cull out one specific office.
Our Lord Jesus is said to be the Mediator between God and man.
Now, the office of mediator implies that he should be approachable.
A mediator is not a mediator of one—he must be available to both the parties in the mediation.
If Jesus Christ is the perfect mediator between God and man, he must be able to come to God, and then he must approach man.
This is precisely what Christ has done.
He is a mediator, and as a mediator, you may come
to Him.
Jesus Christ is the glue that joins earth and heaven together, but if he'll not touch the poor man who comes to him, then what good is He to mankind?
You need a mediator between your soul and God, so you must not think of coming to God without a mediator, but you don't want any mediator between yourselves and Christ.
There is some preparation needed before coming to God—you must not come to God without a perfect righteousness; but you may come to Jesus without any preparation, and without any righteousness, because as mediator he has in himself all the righteousness and fitness that you require, and He is ready to give them to you.
Anyone can come to God at any time, because He is waiting to reconcile worldly men and women to God, by his blood.
Well, I could mention many other offices of Christ, such as Priest and Savior, but this will have to do.
Next, I would like you to consider a few of His names and titles.
Frequently Jesus is called the "Lamb."
I don't suppose there is any one here who was ever afraid of a lamb.
Every child seems almost instinctively to want to put its hand on the head of a lamb.
Oh, how I wish that everyone would come and put their hand on the head of Christ, the Lamb of God that taketh away the sin of the world.
Now, you'll also find him called a Shepherd.
The heavenly Shepherd says, "I will seek out my sheep, and will deliver them out of all places where they have been scattered in the cloudy and dark day."
He is the Good Shepard who gives His life for the sheep.
Another name given to Jesus is Brother, and a person always feels that he can approach his brother.
My brother died 2 years ago, but if he was here I wouldn't hesitate to share my troubles with him.
And, I would expect for him to help me.
Tell me, why is it that so many believers are so cold toward Jesus?
After all, Christ is approachable.
You should never think that your troubles are too trivial to bring to him; he has an open ear for the little daily aggravations of life.
Folks, you can come to Jesus at any time and at all hours; and if He ever turns you away, let me know, but I don't think He ever will.
He is also called, a Friend; but he would be a very unfriendly friend if He couldn't be approached by those He declared to love.
If my friend will not come to the door of his house and talk to me, I would rather be without his friendship; but if he is a genuine friend, and I stand at his door knocking, he will say, "Come in; what can I do for you?"
Jesus Christ is such a friend.
He will meet with anyone who is needy or seeking Him.
Now I want you to think about His person.
I say His person, because he is man, born of woman, bone of our bone, and flesh of our flesh.
The Lord Jesus Christ is God, but if he was only God, you might stand back, and tremble at the splendor of His majesty.
When I see Christ in the manger, or being obedient to his parents, or "a Man of sorrows and acquainted with grief," a poor man without a place to lay his head, then I think that I can freely come to Him.
Think of Him as being just as you are, in everything except sin, and then you'll never believe that he will scold you for coming close to Him, or drive you away when you pray to Him.
But if you could have seen Jesus in person when He was here on earth, you would know at once that you could come to Him.
Now, if everything I have said to this point is not enough, let me remind you of something that Christ said.
He was proclaiming His approachability when He said, "Come unto me, all ye that labor and are heavy laden, and I will give you rest."
He also said, "If any man thirst, let him come unto me and drink."
He invites men to come; he pleads with them to come; and when they will not come he gently scolds them with words like this, "Ye will not come unto me that ye might have life."
You will find a lot of invitations in the Bible, but when Christ invites, He uses loving words like this, "Come now, and let us reason together: though your sins be as scarlet, they shall be as white as snow; though they be red like crimson, they shall be as wool."
"Let the wicked forsake his way, and the unrighteous man his thoughts: and let him return unto the Lord, and he will have mercy upon him; and to our God, for he will abundantly pardon."
Know, without a doubt that you may come to Him, since there is no barrier between you and the Savior of men.
The old proverb says that "actions speak louder than words," and I think you may conclude from the actions of His life that He is the most approachable of persons.