THE BEGINNING OF THE END
by CharlesRobey
(Trussville, AL USA)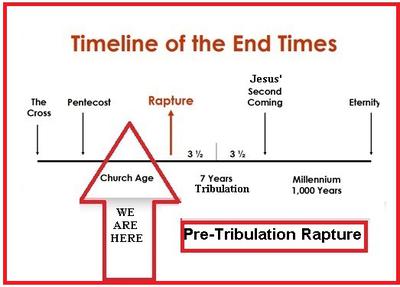 "Blessed is the one whose transgressions are forgiven, whose sins are covered. Blessed is the one whose sin the Lord does not count against them and in whose spirit is no deceit. When I kept silent, my bones wasted away through my groaning all day long. For day and night, your hand was heavy on me; my strength was sapped as in the heat of summer. Then I acknowledged my sin to you and did not cover up my iniquity. I said, "I will confess my transgressions to the Lord." And you forgave." (Psalm 32:1-5)

Is God's eschatology finally arriving at a conclusion? Are the final events of history or the ultimate destiny of humanity close at hand? The Scripture is quick to point out that no one but the Father knows the exact time of this blessed event. Not even the heavenly angels, nor the Son Himself, knows the date and time of this happening. (Matthew 24:36) (Mark 13:32)

However, the Scripture is also quick to point out that we may assume, based on the events at hand, that the timing of this event is very close. Just look around you at the nations of the world and even the church scene. Remember those days of Noah. (Matthew 24:37-38)

Then think carefully as you compare today's world to the past. Having had the privilege of growing into this high tech, inventive social mayhem, it's easy for me to read between the carnage and bedlam of today's social order, in comparison to God's holy Word. Start looking up, my Christian friend, for the Lord's return, surely draws near! (I Cor. 15:51-52) (I Thess. 13-18) (Revelation 4:1)

Yes, lawlessness seems to have a foothold on society at all levels; within the family, the workplace, the educational system, the courts, the government and the news media, just to name a few entities.

And sad to say, the church has failed as well. The faith-based church has become very small or non-existent, for God's law is not now preached in many churches. Substituted is the newly acquired social doctrine of the "easy, feel good, name it and claim it religion," which is now a surrogate for the true Gospel. (I Cor. 15:1-4)

How has this drastic change come about? Simply put, Satan's anarchy seems to be the order of the day. The devil does not possess the same attributes as God, the Father. Nonetheless, he's smart enough to sense his time here on earth is drawing to a close, and he is making an all-out final attack on mankind. (Ephesians 6:11-12)

So, is this disorderly lawless lifestyle really the beginning of the end? Let's just check out what God's Word has to say on the subject. In (1 Timothy 3:1-5, 7, 13)

The afore-mentioned scripture shows society's mass corruption, and a breakdown of law and tradition. It also shows the church holding to a form of godliness or simply having an outer semblance of Christian dynamics. As the Lord's return draws near, the characteristics of this Scripture will intensify. (I Timothy 4:1-5)

And in (2 Timothy 4:3-4) we see a description of a society that is no longer content to hear the sound teaching of the gospel, but who turn away to many different teachings of novelty and untruth. False prophets and false teachers have always been with us. And sad to say, they have always managed to pick up followers. (2 Peter 2:1-3)

Wow, does this not sound familiar here in the 21st Century? Just read your local newspaper, watch your evening TV news, or surf the Internet. Herein is your answer, "The Beginning of the End."

Now, I would be remiss, if I didn't conclude this blog by offering a Bible-based solution to this pandemonium. So here goes. (2 Chronicles 7:14)

In this Scripture, we find God's answers to the problem. Regardless of some opinions, the answer is not with the unbelievers of the world. It's all up to us Christians, God's people. If we will only humble ourselves, pray, and seek God's way by turning from our wicked ways, He has promised to hear our cry, forgive our sin and heal our land. You see, it's all about God's requirements for blessings: humility, prayer, devotion and repentance.

What? You are good, you say. Then, why is this old world in such a mess? According to Charles Ryrie in (I John 1:8-9), we see a reference to the indwelling principle of sin rather than to the acts of sin. We also see that to confess means to see sin the same way that God does.

So, let us not just sit around wringing our hands, trying to figure out what to do next to save the world.

Let us be busy about the Father's business. Let us make sure (2 Chronicles 7:14) is preached and talked in our churches, our homes, our businesses, our neighborhoods, and all over the world. Amen!

Authors Postscript

We are now living in a news crazy world. It seems as if everyone on the planet possesses a video camera and nothing slips by these days. But there's coming an event that will dwarf all else, the "Rapture" of the saints, when Christians both dead and alive will suddenly be transformed and will meet the Lord in the air.

The big question is when. When Jesus' disciples asked this same question, Jesus said there was only One who knows this, that being the Father. (Acts 1:7)

These very same disciples even thought Jesus would return soon, maybe in their lifetime. (James 5:8) (Romans 13:12) (1 Thess 4:15) (1 John 2:18) (Philippians 3:20) (Romans 16:20)

Scripture makes it very clear that God doesn't mark time as we do, for one day with Him is as a thousand years. (2 Peter 3:8) Jesus also rebuked the religious leaders of His day for not knowing the signs of the times. (Matthew 16:3) After all, they were supposed to be the religious experts on the scripture.

And much like those religious leaders of Jesus' time, we see today's populace asking the same question by mocking the scriptures. "Where is the promise of His coming?" (2 Peter 3:3-4) .

To answer this question, I simply quote (2 Peter 3:8-9), as the Lord's promises will in fact always come true.

We should do likewise, as far as setting the time of His return. Conversely, are we missing the most important question of His return, that being "Am I ready for His return?" (2 Peter 3:14) (2 Peter 3:15-18)

Today's times are surely hard for the Christians. However, it's all a matter of being grounded in faith. (Hebrews 11:1,6) Please read the first chapter of II Peter as you conclude this blog. You'll see;

The growth of Faith (2 Peter 1:3-11)
The Ground of Faith (2 Peter 1:12-21)

Remember, when the Apostle John was given the Scripture (Revelation 22:12), he responded by living (Revelation 22:17) Amen!