The Believer's Present Relation to Satan: Spiritual Warfare - Page 3 (series: Lessons on Ephesians)
by John Lowe
(Woodruff, S.C.)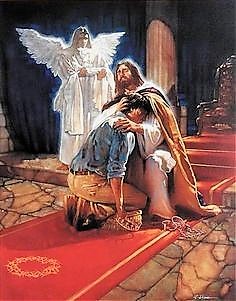 16 Above all, taking the shield of faith, wherewith ye shall be able to quench all the fiery darts of the wicked.


There is the SHIELD that Paul calls "THE SHIELD OF FAITH," which "ABOVE ALL" is to be taken up. Here "FAITH" means total dependence on God, who provides protection for the believer—as a shield protects a soldier―when he confronts Satan's most vicious attacks. Faith protects us, however, not so much because of any inherent power which it has but because it brings us into touch with God and places Him between the enemy and ourselves. By faith, therefore, we are enabled "TO QUENCH ALL THE FIERY DARTS OF THE WICKED one," that is, the devil. Pay special attention to the word "ALL." In it there is ground for great confidence—not in ourselves, to be sure, but in God and in the strength which reliance upon Him gives. "ABOVE ALL" means simply "in addition to all." If this reading is followed, the meaning must be that the shield is to be taken up at every turn of the conflict. The word Paul uses is not that for the comparatively small round shield which was carried by cavalrymen; it is that for the great oblong shield which the heavily armed warrior held.
One of the most dangerous weapons in ancient warfare was the FIERY DART. It was a dart tipped with tow and dipped in pitch. The pitch-soaked tow was set on fire and the dart was thrown. They could not only wound but also burn. The great oblong shield was made of two sections of wood, glued together and covered with hide. When the shield was presented to the dart, the dart sank into the wood and the flame was put out and the wearer's body was protected. In order to ward off "the FLAMING DARTS of the evil one"—that is, the attacks of the Devil—the Christian carries "THE SHIELD OF FAITH." Faith can deal with the darts of temptation. With Paul, faith is always complete trust in Christ. When we walk close to Christ, we are saved from temptation.

17 And take the helmet of salvation, and the sword of the Spirit, which is the word of God:

On his head is the "HELMET OF SALVATION" and in his right hand is "THE SWORD OF THE SPIRIT" defined as "THE WORD OF GOD." Salvation is not something which looks back only. The salvation which is in Christ gives us forgiveness for the sins of the past and strength to conquer sin in the days to come. Since Paul is addressing Christians the reference must be to the consciousness of salvation and the protection which such consciousness gives. The Christian warrior is commanded to "TAKE THE HELMET OF SALVATION." This word rendered "TAKE," which is not the same as that used in reference to the shield, ordinarily means "to receive," "accept," or "welcome." In the present passage, however it probably means "grasp."

There is the SWORD which the Holy Spirit supplies; and that sword is the word of God. The word of God is at the same time our weapon of defense against sin and our weapon of attack against the sins of the world. A man by the name of Ironsides fought with a sword in one hand and a Bible in the other. We can never win God's battles without God's book. But we must not take "the word of God" to mean simply Holy Scripture. The "WORD" literally means "God's utterance" is the utterance God gives his servants. Jesus, foreseeing future troubles, had told his disciples, "The Holy Spirit will teach you . . . what you ought to say" (Luke 12:12). This is what Paul means here. In the day of battle the Christian soldier may rely on God for the correct words to fit the occasion.

"God's utterance," The Word of God is not necessarily to be confined to the Bible. When Paul wrote this passage much of the New Testament had not yet come into being, and the Spirit was still speaking directly to the redeemed community apart from the written revelation (Acts 11:28; 1 Corinthians 14). However, the use of the written word made by our Lord in the wilderness temptation lends strong support to the view that the primary and abiding application of Paul's phrase must be to the believer, a mighty weapon in the conflict with evil. Christian experience tends to confirm this view.


(vs. 18-20) Two words are used here for the believer's prayerful approach to God. "PRAYER," is general enough to include the whole act of worship. "SUPPLICATION," in its role, is petitionary prayer. A sharp distinction in meaning, however, is not always needed. The use of both words here appears mainly to add intensity to the thought. The words "WITH ALL i.e., every kind of PRAYER AND SUPPLICATION (v. 18)," which in the Greek precede "PRAYING ALWAYS," are to be taken to mean "stand" (v. 14). PRAYER is the means by which the Christian takes his
stand and is the spirit or state of mind in which he confronts the enemy and puts him to flight. At every phase of the conflict we must enlist the aid of our all-powerful God. In response to our urgent prayer He comes as a mighty ally to stand by our side.
18 Praying always with all prayer and supplication in the Spirit, and watching thereunto with all perseverance and supplication for all saints;
Finally, Paul comes to the greatest weapon of all—and that is "PRAYER." We note six things that he says about PRAYER which describe the manner of prayer and its objects. (a) It must be constant
offered always
. To be in constant prayer requires "PERSEVERANCE." The term here implies a resolute determination to see something through to its conclusion. God hears our prayers immediately (he knows what we need before we ask). But there is almost always a time lag between our asking and our recognizing His answer. Prayer engages us in the world of spiritual warfare. We may discover, as Daniel did (Daniel 10:1), that our intercession sets off a chain of events that in turn increases spiritual hostility. Rugged stickability may well be required before it becomes clear to us that God heard our prayers the moment we expressed them. The reference is not so much to prayer that is "without ceasing" (1 Thessalonians 5:17), as it is to crisis prayer—prayer in "the evil day." Our tendency is so often to pray only when we are caught up in the great crisis of life; but it is from daily prayer that the Christian will find daily strength. (b) It must be intense, and in times of dire need we must cry-out to God with special intensity. Limp prayer never got any man anywhere. Prayer demands the concentration of every faculty upon God. (c) It must be unselfish. The Jews had a saying, "Let a man unite himself with the community in his prayers." I think that often in our prayers we are too much for ourselves and too little for others. We must learn to pray as much for others and with others as for ourselves. (d) It must be vigilant
"watching"
. . . "WITH ALL PERSEVERANCE AND SUPPLICATION." "WATCHING" is translated from a word which literally means "to keep awake" and in this context conveys the thought of never being off guard. It may appear from these words that the apostle had a flashback to his Lord's urgent words, "Be on your guard, keep awake" (Mark 13:33) and "watch and pray that you may not enter into temptation" (Mark 14:38). Christ is building His church on territory that has been occupied by an enemy. Alertness is always essential when living in a war zone. (e) We are to pray "IN THE SPIRIT"—under His influence. "Likewise the Spirit also helpeth our infirmities: for we know not what we should pray for as we ought: but the Spirit itself maketh intercession for us with groanings which cannot be uttered" (Romans 8:26).
What, then, does it mean to pray in the Spirit? It implies the help of the Spirit in our weakness (Romans 8:26-27); relying on His power and wisdom, not on our own. Praying in the Spirit is to be filled with the Spirit as we pray. This means submitting our mind, thoughts, will, and desires to be influenced and mastered by God's word. We thus began "to think God's thoughts after him," develop instincts that are aligned to His will, and ask for those things that He has revealed please Him and that He promises to do. (f) It is a lifestyle, the coming together of a person-to-person relationship with God. It is the expression of a life lived out in the presence of God, before the face of God, in which our constant communion with God comes to conscious expression. Prayer, then, is set within a life marked by (i) companionship and (ii) dialogue with the Lord. It is the overflow of how we live (in the presence of God). The wise Christian therefore adopts what we might call the "sanctuary principle": keeping within the heart a place of devotion to the Lord—from which all else is excluded.
In essence, prayer involves bringing God's promises back to Him, in the context of all that He has told us about Himself, His character, and His will, and saying, "Father, you are all that you have revealed yourself to be; you will keep all the promises you have made. . .Therefore I come to you to ask for. . ."
"TO PRAY WITH ALL PRAYER AND SUPPLICATION" may simply mean to offer prayers of all kinds—adoration, confession, thanksgiving, and intercession—always made in the spirit of a servant approaching his or her Master, a subject coming to the Great King with his or her petitions. Prayer of this order is the expression of a full and a disciplined life of communion with God. Unselfconsciously Paul had earlier illustrated this in the prayers he expressed for the Ephesians.