The Believer's Present Relation to Satan: Spiritual Warfare - Page 4 (series: Lessons on Ephesians)
by John Lowe
(Woodruff, S.C.)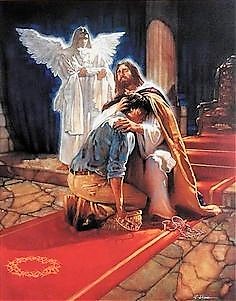 For what, or for whom, are we to pray? First, and generally, we pray "FOR ALL SAINTS." No soldier enters a battle, praying for himself alone, but for all his fellow soldiers also. They form one army, and the success of one is the success of all. The appeal is especially appropriate for our day, when so many believing people, living under governments antagonistic to the gospel, are being viciously assaulted by the enemy. Let us expand our vision and enlarge our hearts to encompass in our prayers these and other cruelly treated Christians.


19 And for me, that utterance may be given unto me, that I may open my mouth boldly, to make known the mystery of the gospel,

The last two verses of this section (6:19-20) bring us back to Paul's situation. He asked his readers to pray for him and for his mission, that he may not lack courage, even in jail, to proclaim boldly "THE MYSTERY OF THE GOSPEL," the open secret of God's plan to reconcile creation in Christ. Notice that he did not ask for comfort or for peace but that he may yet be allowed to proclaim God's secret; that His love is for all men. We do well to remember that every Christian leader and every Christian preacher needs his people to uphold his hands in prayer.

20 For which I am an ambassador in bonds: that therein I may speak boldly, as I ought to speak.

The phrase "AMBASSADOR IN BONDS" reminds them that, though a prisoner, he represents Christ the King in the Imperial City―and this in spite of his bonds. He was anxious that in making the gospel known he should speak with the boldness and confidence which became his high commission from the court of heaven.