THE BIBLE SPEAKS, LISTEN IN
by Charles (Chuck) Robey
(Trussville, AL USA)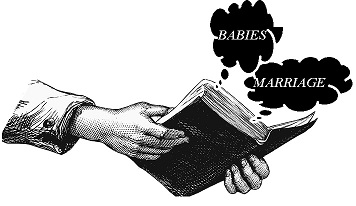 Tune into any news media social critique and two all-important issues of today will usually take over the press. These are the subjects of abortion and marriage. Sad to say however, the Bible commandments with respect to the issues, although very clear, seem to have taken a back seat, in lieu of certain approbations and legal directives.

Being a believer in God's principles for our society, coupled by my disaffection to today's cultural disrespect of the Gospel, I have decided to seek God's word on these two all-important issues.

God's word doesn't pussyfoot around such issues.

"For the word of God is living and active and sharper than any two-edged sword, and piercing as far as the division of soul and spirit, of both joints and marrow, and able to judge the thoughts and intentions of the heart." (Hebrews 4:12)

This blog addresses these two issues, not from a political nor a secular or social agenda, but from a Biblical perspective. The violation of such, according to Scripture, is an abomination of God's principles.

CONCERNING ABORTION

Unjustified killings, of any shape, form, or fashion, are against the law of God. A stern warning !

"Have nothing to do with a false charge and do not put an innocent or honest person to death, for I will not acquit the guilty."(Exodus 23'7)

What a shame! Millions of lives have been aborted; embryos of whose lives were preplanned by God Himself.

"Thine eyes have seen my unformed substance; And in Thy book they were all written, the days that were ordained for me, when as yet there was not one of them." (Psalm 139:6)

For you see, all God's children, from the very conception of life were wonderfully formed by God Himself.

"For You created my inmost being; You knit me together in my mother's womb. I praise You because I am fearfully and wonderfully made; Your works are wonderful, I know that full well." (Psalm 139:13-14)

However, even though the killing of God's unborn human beings is against God's principles, the Scripture dictates that we should pray for our society.

"Do I not hate those who hate you, Lord, and abhor those who are in rebellion against you?" (Psalm 139:21)

CONCERNING MARRIAGE

Marriage between a man and women was first declared by God at the very conception of life itself, and remains God's divine will today.

"The Lord God said, "It is not good for the man to be alone. I will make a helper suitable for him." (Genesis 2:18)

"So the Lord God caused the man to fall into a deep sleep; and while he was sleeping, He took one of the man's ribs and then closed up the place with flesh. Then the Lord God made a woman from the rib He had taken out of the man, and He brought her to the man. The man said "This is now bone of my bones and flesh of my flesh;
she shall be called 'woman,' for she was taken out of man." That is why a man leaves his father and mother and is united to his wife, and they become one flesh." (Genesis 2:21-24)

What has caused this progressive evil upsurge in the issues of abortion and marriage? Philosophically speaking, this ungodly and evil attitude, in whatever form it takes, comes straight from Satan himself. It's an unseen war consisting of many unseen battles.

"For our struggle is not against flesh and blood, but against the rulers, against the authorities, against the powers of this dark world and against the spiritual forces of evil in the heavenly realms." (Ephesians 6:12)

But not to worry, we serve a just and mighty God, who is ready and able to fight all our battles, be they unseen or published.

"For though we live in the world, we do not wage war as the world does. The weapons we fight with are not the weapons of the world. On the contrary, they have divine power to demolish strongholds. We demolish arguments and every pretension that sets itself up against the knowledge of God, and we take captive every thought to make it obedient to Christ." (II Corinthians 10:3-5)

Could it be, however, that this ungodly mindset of abortion and marriage is simply a symptom of disease in our culture of living in the last days as we know them to be?

"But mark this: There will be terrible times in the last days. People will be lovers of themselves, lovers of money, boastful, proud, abusive, disobedient to their parents, ungrateful, unholy, without love, unforgiving, slanderous, without self-control, brutal, not lovers of the good, treacherous, rash, conceited, lovers of pleasure rather than lovers of God — having a form of godliness but denying its power. Have nothing to do with such people, always learning but never able to come to a knowledge of the truth, while evildoers and impostors will go from bad to worse, deceiving and being deceived." (II Timothy 3:1-7,13)

Could it be simply a progression of the "me, myself and I" syndrome?

"For the time will come when people will not put up with sound doctrine. Instead, to suit their own desires, they will gather around them a great number of teachers to say what their itching ears want to hear. They will turn their ears away from the truth and turn aside to myths." (II Timothy 4:3-4)

Just maybe our current generation simply does not actually believe in the end times events.

"Above all, you must understand that in the last days scoffers will come, scoffing and following their own evil desires. They will say, "Where is this 'coming' he promised? Ever since our ancestors died, everything goes on as it has since the beginning of creation." (II Peter 3:3-4)

Now, for those who may not believe the Bible to be true or God's holy word, nonetheless, all Scriptures is God's inspired word and given for our living standards.

"All Scripture is God-breathed and is useful for teaching, rebuking, correcting and training in righteousness," (II Timothy 3:16)

God has simply used common folks such as ourselves to proclaim His principles.

" knowing this first of all, that no prophecy of Scripture comes from someone's own interpretation, for no prophecy was ever produced by the will of man, but men spoke from God as they were carried along by the Holy Spirit. (II Peter 1:20-21)

You see, God's message to the world stands, yesterday, today and forever.

"But you remain the same, and your years will never end. The children of your servants will live in your presence; their descendants will be established before you." (Psalm 102:27-28)

So go the Bible's principles with respect to the all-important issues of abortion and marriage. If you believe God's eternal Word as I do, then these Biblical principles should stand firm in your heart.

I trust you enjoyed this blog addressing the Bible stance on these two most important issues of today's discussion. Here's a final word of encouragement for all.

"Finally, all of you, be like-minded, be sympathetic, love one another, be compassionate and humble. Do not repay evil with evil or insult with insult. On the contrary, repay evil with blessing, because to this you were called so that you may inherit a blessing." (I Peter 3:8-9)

Thanks for sharing God's Word. Please pass it on.