THE BIG BLACK HOLE
by Charles Robey
(Trussville. AL USA)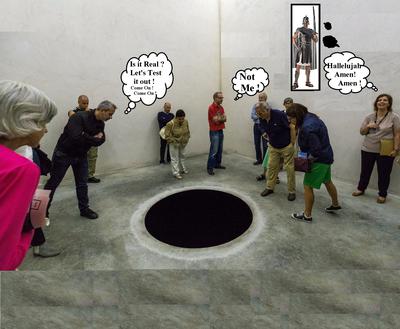 "For though we live in the world, we do not wage war as the world does. The weapons we fight with are not the weapons of the world. On the contrary, they have divine power to demolish strongholds. We demolish arguments and every pretension that sets itself up against the knowledge of God, and we take captive every thought to make it obedient to Christ." 2 Cor. 10:3-5

Seems like only yesterday, I started my long thirty year career with the Pitch Fork coal mine chain, one of the biggest mine franchises of Appalachia. And now here I am getting ready for my retirement party.

They say time flies when you're having fun. I really enjoyed my long career in the mines, especially, the last ten years, working as the tipple foreman.

It's for sure I'll never miss those early days of spending hour upon hour under the earth in those dark black holes. Particularly, when the flat bed mine cars would jump the track.

Well, I must be getting ready now for my retirement party. I wonder if Uncle Joe, will be there. The last I heard, he was in ill health from Black Lung disease. However, I still have time for a little cat nap. What a nap it was! I must have drifted off again into another of my bizarre dream fancies.

I suddenly found myself standing in the courtyard of an old turn of the century antebellum mansion. Being of a curious nature, I decided to venture inside and take a peek.

Once inside this old mansion, what I found was nothing short of amazing. Here was a rather large, crowded parlor room with people dressed fit to kill, in modern day garb. People of all shapes, forms and fashion, from the very young to the incredibly older ones. Each displaying the obvious appearances ranging from the rich to the very poor.

What was so amazing about this particular situation was that all the people were crowded around what appeared to be a large black circle in the center of the room. Was this a real painted circle or could it be a big black hole?

It was apparent and understandable why no one was courageous enough to venture out to test out this weird object.

Then, as I moved closer in, I commenced to pick up on the conversation. This conversation alone was enough to scare the helmet light off the head of an old miner like myself.

Conversations like, "Just stick one foot in and test it out", "Throw a shoe in and see if it disappears," and "Can anyone smell anything?"

However, the most curious question, and one that prompted the most feedback conversation, was brought on by one of the youngest members of the crowd. Stepping forward from out of the group, she proudly and boldly asked, "Will this hole lead us to that everlasting torment mentioned in the Bible?" (II Thess. 1:9)

It was this one single question that prompted a nice young man to suddenly step out of the crowd. He was dressed in an array of a First Century full body armor. (Ephesians 6:11) His combat array included his torso being protected by a breast plate. (Ephesians 6:14) His feet were shod, (Ephesians 6:15). And he was wearing a helmet. (Ephesians 6:17) Like every gallant soldier, he was courageously holding his shield and sword in hand. (Ephesians 6: 16-17)

Stepping towards the edge of this dubious circle, he bravely whirled his sword in the middle of the circle.

The young soldier's sword maneuver instantly wiped away all appearances of the circle. Replacing the circle was a pure white light which completely removed all sign of the questionable surface. And sitting in its place was a large, old tattered family Bible, bringing to a close any question of whether the circle was only a painted surface, or was actually a big dark hole.

Picking up the old tattered Bible the young man began reading the explanation of his Biblical battle attire. (Ephesians 6:14-17)

"You see, my waist has the belt of truth. My breastplate is righteousness. My feet are shod with the readiness that comes from the gospel of peace. My shield of faith extinguishes all the flaming arrows of the evil one. My helmet is that of salvation and my sword of the Spirit is the Word of God.

So I am wearing this full body spiritual armor to stand against the schemes of the evil one. (Ephesians 6:11-13) And the most powerful aspect of my battle is prayer." (Ephesians 6:18)

"For you see, my battle is not against flesh and blood but against the unseen evil forces (Ephesians 6:12) as we Christians' enemies are the demonic hosts of Satan, always assembled for mortal combat. Thus I wear my spiritual battle gear."

" Wow, what a powerful description of battle preparation," I thought. "No wonder this young warrior made short work of that mysterious hole."

Then responding, as if reading my mind, this young warrior spoke up.

"The reality of the matter, my friend, is that the floor circle was never actually physically present. It was an evil optical illusion, created to hinder all these good Christians' spiritual growth. (I Peter 5:8) In other words, all the people's minds were clogged by evil demonic delusions." (Ephesians 6:12)

Then as if by divine direction, this young man simply disappeared, along with all the other room scenery and all the people. I found myself still sitting in my trusty recliner rocker, with one exception to the room decor.

Lying on my side table was the old tattered Bible the young warrior had been reading from. But this was no ordinary Bible, it was Mom's old Bible that we had lost shortly after she was called home, several years ago.

As I clutched her Bible, it suddenly opened, as if by a divine miracle, exposing a handwritten note from Mom, along with a marked Scripture verse.

" Children, obey your parents in the Lord, for this is right. Honor your father and mother, which is the first commandment with a promise "so that it may go well with you and that you may enjoy long life on the earth." (Ephesians 6:1-3)

This special love note was just what I needed. It concluded with a special salutation of "Promise me you will meet me in glory, my son. Amen! Love forever, Mom."

What did I do then? Well now, come meet me in church next Sunday, and find out. I'll be the one playing the Praise Team drums.

Author's Postscript

The Scripture of this blog makes it plain that we Christians are in a daily battle with the evil one. We may not physically see this battle. But it's all around us. He and his minions would love nothing more than to discourage and defeat our faith by bringing on stress and fear.

However, like the subject of this blog, we may be more than conquerors through God's word. His word reminds us to stay aware of these evil schemes, to live alert in this world, and to stay close to Him.

God will equip us with the armor of strength, wisdom, and discernment through His own Spirit to stay strong in the spiritual warfare battle. He invites us to spend time in His Presence, through prayer and worship, pressing in to know Him more. So take and apply the Biblical game plan to your lifestyle. (II Timothy 3:16-17)

An added personal note: My favorite uncle spent his life working in the coal mines of Appalachia. And on occasion, when we would be visiting him on vacation, he would come home from work covered from head to toe with black coal dust. All we could see was the whites of his eyes. And he would immediately grab a box of Tide detergent and head for a bath.

When he was fourteen years of age, he was run over by a coal car, leaving him with a rather large leg scar, which left him a little self-conscious. Yes, times were really tough back then.

So I trust you will put the message of this blog into practice. Amen!