The Birth of John the Baptist is Announced Part 3 of 4 (series: Harmony of the Gospels)
by John Lowe
(Woodruff, S.C.)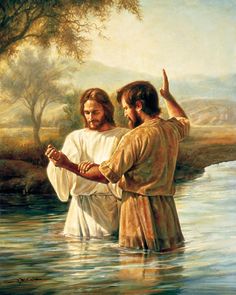 19 And the angel answered and said to him, "I am Gabriel, who stands in the presence of God, and was sent to speak to you and bring you these glad tidings.


The angel identifies himself as Gabriel and says that he has authority to speak for God and that he is blessed to stand in the very presence of God. That is quite a statement. However, the word of God has the seal of God on it whether it is spoken by an angel or read from the Bible. What I say is not important, but what God says is important.

Gabriel's name means "strong one of God." Though commonly described as an archangel, he is mentioned in the Scripture only as one who stands in the presence of God and who brings messages from God to man.

20 But behold, you will be mute and not able to speak until the day these things take place, because you did not believe my words which will be fulfilled in their own time."

Zacharias will not be able to speak until the baby is born, because he expressed doubt. You may think that this was harsh treatment of Zacharias, but God, who dispensed this treatment, knew his heart.

Unbelief never has anything worthwhile to say. Zacharias is cut off from speaking to anyone, because he did not believe, and those that will not believe in Jesus Christ are cut off from God. Whenever a believer entertains doubts concerning God's word, he loses his testimony and his song. Unbelief seals the lips, and they remain sealed until faith returns and bursts forth in praise and witness.

21 And the people waited for Zacharias, and marveled that he lingered so long in the temple.

Outside, the people were waiting impatiently; ordinarily, the priest who was burning incense would have appeared much sooner. According to the Talmud, it was customary for the priest whose duty it was to offer incense to leave the alter as quickly as possible, so that he doesn't unwittingly commit some act that would offend God.

22 But when he came out, he could not speak to them; and they perceived that he had seen a vision in the temple, for he beckoned to them and remained speechless.

When Zacharias finally came out, he had to communicate with them by making signs. Then they realized that he had seen a vision in the temple. He would not bestow the customary priestly blessing on the people, because he was unable to speak.

Once again, this strikes me as funny. I can just imagine Zacharias trying to get people to understand what happened to him. What motions do you think he used to communicate an angel?

23 So it was, as soon as the days of his service were completed, that he departed to his own house.

Long before this, King David had determined that a priest would serve in the temple for a certain time, then he would take a vacation and another priest would take his place. But first Zacharias had to finish his term unable to speak. When his tern was over, he was still unable to speak, so I guess he went home to the hill country of Judea to listen to Elizabeth.

24 Now after those days his wife Elizabeth conceived; and she hid herself five months, saying,
25 "Thus the Lord has dealt with me, in the days when He looked on me, to take away my reproach among people."

This is an interesting situation. Zacharias can't talk, but Elizabeth is staying in the house all the time, rejoicing within herself that the Lord had seen fit to free her from the reproach of being childless. I bet that all she talked about was the son that she was going to have. Elizabeth conceived, for God's promises never fail.


Herod the Great (37–4 B.C.)

The title Herod the Great refers not so much to Herod's greatness as to the fact that he was the eldest son of Antipater. Nevertheless, Herod did show some unusual abilities. He was a ruthless fighter, a cunning negotiator, and a subtle diplomat. The Romans appreciated the way he subdued opposition and maintained
order among the Jewish people. These qualities, combined with an intense loyalty to the emperor, made him an important figure in the life of Rome and the Jews of Palestine.
After Herod became governor of Galilee, he quickly established himself in the entire region. For 33 years he remained a loyal friend and ally of Rome. He was appointed as king of Judea, where he was in direct control of the Jewish people. This required careful diplomacy because he was always suspect by the Jews as an outsider (Idumean) and thus a threat to their national right to rule.
At first, Herod was conscious of Jewish national and religious feelings. He moved slowly on such issues as taxation, HELLENISM, and religion. He did much to improve his relationship with the Jews when he prevented the Temple in Jerusalem from being raided and defiled by invading Romans.
Herod the Great established his authority and influence through a centralized bureaucracy, well-built fortresses, and foreign soldiers. To assure his continued rule, he slaughtered all male infants who could possibly be considered legal heirs to the throne. His wife Mariamne also became a victim.
The territories under Herod's rule experienced economic and cultural growth. His business and organizational ability led to the erection of many important buildings. Hellenistic (Greek) ideas were introduced into Palestine through literature, art, and athletic contests. His major building project was the Temple complex in Jerusalem, which, according to John 2:20, had taken 46 years to build up to that time. From the Jewish perspective, this was his greatest achievement.
At times Herod implemented his policies with force and cruelty. His increasing fear of Jewish revolt led to suppression of any opposition. His personal problems also increased, and by 14 B.C. his kingdom began to decline. This decline was brought on mainly by his personal and domestic problems.
Herod's murder of his wife Mariamne apparently haunted him. This was compounded when his two sons from that marriage, Alexander, and Aristobulus, realized that their father was responsible for their mother's death. By 7 B.C., Herod had both of these sons put to death. Of Herod, it was said, "It is better to be Herod's pig (hys) than to be his son (huios)."
As Herod became increasingly ill, an intense struggle for succession to his throne emerged within the family. His 10 marriages and 15 children virtually guaranteed such a struggle. One son, Antipater, poisoned Herod's mind against two other eligible sons, Archelaus and Philip. This resulted in his initial choice of a younger son, Antipas, as sole successor. However, he later changed his will and made Archelaus king. Antipas and Philip received lesser positions as TETRARCHS, or rulers, over small territories.
After Herod died, his will was contested in Rome. Finally, Archelaus was made ethnarch over Idumea, Judea, and Samaria—with a promise to be appointed king if he proved himself as a leader. Antipas became tetrarch over Galilee and Perea. Philip was made tetrarch over Gaulanitis, Trachonitis, Batanea, and Paneas in the northern regions.
Jesus was born in Bethlehem during the reign of Herod the Great. The wise men came asking, "Where is he that is born King of the Jews?" This aroused Herod's jealous spirit. According to Matthew's account, Herod tried to eliminate Jesus by having all the male infants of the Bethlehem region put to death (Matt. 2:13–16). But this despicable act failed. Joseph and Mary were warned by God in a dream to take their child and flee to Egypt. Here they hid safely until Herod died (Matt. 2:13–15).
Summary
The purpose of the appearance of the angel of the Lord was to announce the birth of a son to Zacharias and Elizabeth. The angel not only gave the name of the son, but he also detailed six aspects of John's character.
1. He will be a joy and delight to you (v. 14).
2. He will be great in the sight of the Lord.
3. He is never to take wine or any other fermented drink.
4. He will be filled with the Holy Spirit even from birth.
5. He would bring many of the people of Israel back to God.
6. He will go on before the Lord.
________________________________________