The Blessing of Liberty - Part 2 (series: Lessons on Romans)
by John Lowe
(Woodruff, S.C.)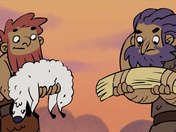 ___________________________

14 For as many as are 4led by the Spirit of God, these are sons of God.

Another way of describing true believers is to say that they are led by the Spirit of God (or are being led). Paul is not referring here to spectacular instances of divine guidance in the lives of well-known Christians. Rather, he is speaking of what is true of all 5sons of God. Sonship implies reception into God's family, with all the privileges and responsibilities of adult sons. A new convert does not have to wait a certain time before he enters into his spiritual inheritance; it is his the moment he is saved, and it applies to all believers, men, and women, boys and girls. There is one characteristic quality of all, who are truly born again. That quality is that in their thoughts, behavioral patterns, and lifestyles they are constantly and habitually led by the Spirit of God—"Therefore by their fruits, you will know them" (Mt 7:20). A day-by-day response to the leading of the Holy Spirit indicates the one to whom we belong because we follow the one to whom we belong. This is a more dependable criterion than our emotional highs and lows. Elation without obedience is a fraud. In addition, as children of God, Christians are debtors (v. 12). They are obligated not to live according to the sinful, selfish desires of the flesh. Those who are led by God's Spirit are indeed God's children. On the other hand, those who are not led by God's Spirit are not God's children. Obedience to God's Word and yielding to the influences of the Holy Spirit is the test of one's personal relationship with the Lord.

As far as I am concerned, that puts some people in a very bad position, spiritually speaking. You will never convince me that God's Holy Spirit leads Christians to go to some of the places they go, do the things they do and keep the company they keep. I believe that a person led by the Holy Spirit will walk in paths of righteousness (read Psalm 23). The Holy Spirit will always lead you away from self and into the will of God
When you think about it, this verse makes sense, doesn't it? God does not drive His sheep. He leads them. When our Lord told of the safety and security of the sheep, He made it clear that they were not forced to do His will, and that of the Father. He said, "My sheep hear My voice, and I know them and I drive them out, Oh no!, and they follow Me" (John 10:27). They are the ones who are safe and secure because they follow Him. The Spirit of God leads them. They hear His voice, because they have a new nature, and they follow Him.

Believers are God's children and heirs by adoption (see verses 15 and 17). In Paul's day, the adopted individual was regarded as a new person beginning a new life. Legally, the adopted one gained all the rights of one born into the family as the legitimate heir to the father's estate. God's children enjoy security in their relationship with Him. They also enjoy intimacy.

Someone may want to know how the Holy Spirit leads. Believers are not led through mental impressions or promptings to provide direction in making life's decisions—something scripture nowhere teaches. Instead, God's Spirit leads His children through the orchestration of circumstances—"After they had come to Mysia, they tried to go into Bithynia, but the Spirit did not permit them" (Acts 16:7), but primarily He leads in two ways:
1. Illumination of God's word. The Spirit clarifies scripture to make it understandable to our sinful, finite minds— "Then He said to them, "These are the words which I spoke to you while I was still with you, that all things must be fulfilled which were written in the Law of Moses and the Prophets and the Psalms concerning Me." And He opened their understanding, that they might comprehend the Scriptures." (Lk. 24:44-45).

2. Sanctification, by divinely enabling us to obey scripture. We need to have the habit of continually walking by the energizing power and under the divine direction of the Holy Spirit. This is the only way of deliverance from selfish lusts. When God saved us, He did not eradicate the old nature, neither did He reform the old life; He gave us an absolutely new life. The old nature is "not subject to the law of God, neither indeed can be" (Rom 8:7). The Christian can conquer the self-life and have continual victory by walking by the Holy Spirit.
_______________________________________________________
4led by The words, "led by," are usually used in the New Testament with regard to persons, and it implies cooperation on their part with the one who is leading. Here, therefore, the wholehearted response to the leading of the Holy Spirit is suggested. To be led by the Spirit of God is to walk after the spirit: "that the righteous requirement of the law might be fulfilled in us who do not walk according to the flesh but according
to the Spirit" (Romans 8:4; NKJV)
5
sons of God — This phrase has three different meanings in the Bible:
1. In the Book of Job, the phrase is used for angelic or nonhuman beings (Job 1:6; 2:1). These sons of God presented themselves before God in what might be called a heavenly assembly. Satan appeared with them, although this does not necessarily mean he was one of the "sons of God." Thus, the stage was set for the telling of the story of Job.
2. The phrase, "sons of God" appears in the New Testament as a name for people who are in a covenant relationship with God. This exact phrase never appears with this meaning in the Old Testament, although the idea is implied. For example, God referred to the scattered children of Israel, whom He promised to gather again, as His sons and daughters (Is. 43:6; 45:11). In the New Testament, the apostle Paul encouraged the Christians at Rome to live not "according to the flesh," but "by the Spirit," because those who "are led by the Spirit of God, these are sons of God." The process is described as one of adoption, by which the believer becomes a child of God, and therefore an heir of God, and a joint-heir with Christ (Gal. 4:5; Heb. 2:10; 12:7). Other passages use the phrase "children of God" with the same basic meaning (John 1:12; Phil. 2:15; 1 John 3:1–2).
3. The third usage of the phrase occurs in Genesis 6:1–4. Certain "sons of God saw the daughters of men, that they were beautiful; and they took wives for themselves of all whom they chose" (v. 2). The offspring of these unions are described as "giants," "mighty men," and "men of renown" (v. 4). The question centers on the identity of these "sons of God" mentioned in this passage. There are two basic possibilities. The phrase could refer to nonhuman beings such as those mentioned in Job (1:6; 2:1). On the other hand, the phrase may be an unusual way of referring to human beings. The context of the verse gives important clues that the "sons of God" in this case are not angelic beings. Nowhere else in the Bible is there even a hint that nonhuman and human beings can mate. There are many parallels in pagan thought, but none in biblical thought. A second clue occurs right in the passage itself. The Hebrew verb in verse two translated as "took them wives" is the standard verb in the Old Testament for marriage. In the New Testament, Jesus stated that angels do not marry (Matt. 22:30). Thus, "sons of God" in this passage must refer to human beings.
____________________________________________________________
15 For you did not receive the spirit of bondage again to fear, but you received the Spirit of adoption† by whom we cry out, "Abba, Father."
For you did not receive the spirit of bondage again to fear,--The for here, connects this verse to the preceding verse, and the words, "these are sons of God." Therefore, Paul is saying, "I say that you are sons of God, for you have received the Spirit of adoption." There is a contrast here between the life of a servant and the life of a son. When Paul says that we have not received the spirit of bondage he is saying that when the Spirit of God dwells in us we are not treated by God as servants but as sons—"Now we have received, not the spirit of the world, but the Spirit who is from God, that we might know the things that have been freely given to us by God" (I Cor 2:12). We who are believers are not in bondage, nor are we under Law. We are under grace. We are not afraid…fear has been removed. "There is no fear in love, but perfect love casts out fear because fear involves torment. But he who fears has not been made perfect in love" (1 Jn. 4:18). We are God's sons on the merit of the finished work of His only begotten Son, and salvation removes fear. Born again children of God do not fear death or the judgment; nor do they fear meeting God. Fear means, "to be frightened," "alarmed," or "terrified." John pointed out that people fear because they anticipate pain, torture, or punishment. Yet he argued that the person who stands in a relationship of love with God need not be afraid of God. If a person is afraid of God, he or she does not yet have a mature relationship with Him. As love for God increases, fear is "cast out." John concluded his thought with a profound statement regarding the believer's relationship to God: "We love Him because He first loved us" (1 Jn. 4:19). God's love is the most important; our love is merely a response to His eternal love for us.
Deeper love … down to our very soul.
It's there we have an anchor who will not let us go;
The Lord who calmed the sea is the One who sees us through;
He's given us … a deeper love.
Diane Machen