The Blessing of Liberty - Part 3 (series: Lessons on Romans)
by John Lowe
(Woodruff, S.C.)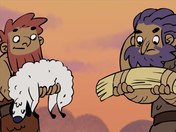 The "spirit of bondage" is a spirit possessed by, and characteristic of, slaves. We do not fear God as the slave fears his masters; rather, we love Him as a son loves his father. The slave does his master's bidding because he knows he will be punished if he does not. However, where the Spirit of God dwells, there is no element of fear that can intrude into his service for the Lord. He serves the Lord as a son lovingly serves his loving father.

"Again to fear," means, tending to fear, the fear of death, for instance—"Inasmuch then as the children have partaken of flesh and blood, He Himself likewise shared in the same, that through death He might destroy him who had the power of death, that is, the devil, and release those who through fear of death were all their lifetime subject to bondage" (Heb. 2:14, 15). Such fear is characteristic of men in their unregenerate state; it is the fear of an unwilling slave. Because of their life of sin, they are slaves to their fear of death, and to their fear of the final judgment and the punishment that follows. Believers are adopted sons, not slaves, so they do not have to be enslaved by sin or live with fear.

but you received the Spirit of 6adoption by whom we cry out, "Abba, Father."—Those living under the law are like minor children, bossed around as if they were servants, and shadowed by the fear of punishment. However, when a person is born again, he is not born into a position of servitude. He is not brought into God's household as a slave. Rather, he receives the spirit of adoption; that is, he is placed in God's family as a mature son. By a true spiritual instinct, he looks up to God and calls Him "Abba, Father." Abba is an Aramaic word, which suffers in translation. It is an intimate form of the word father—such as "papa" or "daddy." "Abba" was the familiar expression of intimacy used by Jewish children to address their fathers. Here the cry "Abba, Father" is said to come from our own hearts under the energy of the Spirit. While we may hesitate to use such familiar English words in addressing God, the truth remains that He who is infinitely high is also intimately nigh.

The phrase the Spirit of adoption is a reference to the Holy Spirit as the One who makes the believer aware of his special dignity as a son. He produces a Spirit-filled awareness of the rich reality that God has made us His children, and therefore, we can come before Him without fear or hesitation. It included the confidence that we are truly sons of God.

But you received the spirit of adoption, refers to the state of a son, given to one to whom he does not belong by natural birth—"who are Israelites, to whom pertain the adoption, the glory, the covenants, the giving of the law, the service of God, and the promises" (Rom. 9:4). That very fact indicates that the Holy Spirit is the One, by whom the relationship is established in the case of the believer. Just as a natural relationship is established upon the event of natural birth, so spiritual relationship is established immediately upon spiritual birth.
Adoption is used in three different ways in Romans. Here it refers to the consciousness of sonship, which the Holy Spirit produces in the life of the believer. In Romans 8:23 it looks forward to that time when the believer's body will be redeemed or glorified. In Romans 9:4 it looks back to that time when God designated Israel as His son—"Then you shall say to Pharaoh, 'Thus says the Lord: "Israel is My son, My firstborn" (Ex. 4:22). In Galatians 4:5 and Ephesians 1:5, the word means "son-placing"—that is, the act of placing all believers into the family of God as mature, adult sons with all the privileges and responsibilities of sonship. Every believer is a child of God in that he is born into a family of which God is the Father. However, every believer is also a son—a special relationship carrying the privileges of one who has reached the maturity of manhood.

entirely different footing than the servant. The spirit of adoption, or sonship, enables us to enter into a relationship with God the Father that the unbeliever can never experience. In the first century A.D., the adopted son was one who was deliberately chosen to perpetuate the name of his father and inherit his estate. He was not at all inferior to a son born after the course of nature. Thus, we are enabled to cry Abba, Father. The word 7Abba is an Aramaic word, which was never used by the Jews in addressing God. However, when the Holy Spirit dwells within us, our relationship to God the Father is such that we may address Him as freely as we would our own father.
__________________________________________________
by whom
we cry out, "Abba, Father."—In the parallel passage in Galatians 4:6 it is the Holy Spirit that is said to cry this. So intimate is the relationship between the divine Spirit and the human spirit in the child of God, that what is said in one place of the former is said in another place of the latter. It is the action of the Spirit of the Son on the spirits of the sons that enables them to cry "Abba! Father!"
6
adoption is the process of making a person a son or daughter and an heir. It is one of the first works of grace by which a believer becomes a child of God, is given his name as a Christian, grafted on to the divine stock, and promised his inheritance. "And because you are sons, God has sent forth the Spirit of His Son into your hearts, crying out, "Abba, Father!" Therefore you are no longer a slave but a son, and if a son, then an heir of God through Christ" (Gal. 4:6–7).
7
"Abba" is the simple, helpless cry of the infant. It is an untranslated Aramaic word for the English word "papa." The translators of the first English Bibles, who had great reverence for the word of God, who believed it was indeed the word of God, refused to translate it.
_________________________________________________
16 The Spirit Himself bears witness with our spirit that we are children of God,
Paul is saying, it is the Holy Spirit Himself who is the witness to our adoption into the family of God. There is a spiritual instinct present in the newborn believer that makes him aware that he is a son of God. The Holy Spirit tells him that it is so. The Spirit Himself bears witness with the believer's spirit that he is a member of God's family. He does it primarily through the word of God. As a Christian reads the Bible, the Spirit confirms the truth that, because he has trusted the Savior, he is now a child of God. However, for many Christians, the question remains, "How can we be sure that we are the children of God?" I would answer this way, "We know because we take God at His Word and we have the ever-present Spirit of God dwelling within us to give us assurance that we are indeed the sons of God."
In Roman culture, for an adoption to be legally binding, seven reputable witnesses had to be present to attest to its validity. God's Holy Spirit confirms the validity of our adoption, not by some inner mystical voice, but by the fruit He produces in us, and the power He supplies for spiritual service—"But you shall receive power when the Holy Spirit has come upon you, and you shall be witnesses to Me in Jerusalem, and in all Judea and Samaria, and to the end of the earth." (Acts 1:8). To be a witness for Jesus in Paul's day, was costly to men and women who faithfully shared the gospel and, according to history, suffered torture and even death. A witness is a person who has seen an event and, in a court of law, can tell about his or her own experience based on personal observation. Here, Christ challenged believers to bear witness of Him in their lifestyle and speech.
This witness of the Spirit was obvious in Peter's confession of Christ—"Simon Peter answered and said, "You are the Christ, the Son of the living God." Jesus answered and said to him, "Blessed are you, Simon Bar-Jonah, for flesh and blood has not revealed this to you, but My Father who is in heaven." (Matt. 16:16-17). Even though others had observed Christ and drawn certain erroneous conclusions, Peter received spiritual insight from God, as to who Jesus really was.
What is the witness of the Spirit? I assure you that it is not a mere feeling. How foolish it would be for a child to fall into the delusion that he must have certain feelings to prove he is a child of his parents. It is just as foolish for a child of God to expect the witness of the Spirit to be a feeling. Our own Spirit tells us we are God's children, but the voice with which it speaks is prompted and inspired by the Holy Spirit Himself. Thus, "in the mouth of two witnesses, the thing is established." Do not tell me that God abides in you, and yet you do not know it! To me that is an impossibility. The Holy Spirit testifies to us through our spirit (the inner man) that we are God's children.
The word children is frequently used to describe the relationship between believers and God, brought about by the new birth. As His children, we look at the world a bit differently when our lives are in sink with His commands. All that we are and experience as God's children is the work of the indwelling Holy Spirit.