The Blessing of Liberty - Part 4 (series: Lessons on Romans)
by John Lowe
(Woodruff, S.C.)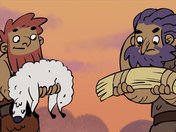 17 and if children, then heirs—heirs of God and joint heirs with Christ, if indeed we suffer with Him, that we may also be glorified together.


and if children, then heirs—An heir is one who receives an allotted possession by right of sonship. Believers, in virtue of the sonship bestowed upon them, are, as heirs, to share in all that belongs to Christ. Since we are, the children of God, God the Father, God the Son, and God the Spirit keep our inheritance safe and secure for us.

heirs of God and joint heirs with Christ,--"Therefore you are no longer a slave but a son, and if a son, then an heir of God through Christ" (Gal 4:7). Because we are no longer servants but sons, we are the rightful heirs of God. However, even more than that, we share in the inheritance of Christ Jesus because we will inherit by grace the glory, which is His by right. "And the glory which You gave Me I have given them, that they may be one just as We are one: I in them, and You in Me; that they may be made perfect in one, and that the world may know that You have sent Me, and have loved them as You have loved Me. "Father, I desire that they also whom You gave Me may be with Me where I am, that they may behold My glory which You have given Me; for You loved Me before the foundation of the world" (Jn 17:22–24). This is Christ's final request. He desires that all who believe in Him would see His glory. All that the Father has belongs to the sons. "And all Mine are Yours, and Yours are Mine, and I am glorified in them" (John 17:10). Christ has shared whatever we have as children of God with us. His inheritance is by virtue of His eternal relationship with the Father, and through His death and resurrection, He shares His inheritance with those who by grace are children of God. What is it that we will inherit? The Bible says that we will inherit the following.

1. Eternal salvation. "That having been justified by His grace we should become heirs according to the hope of eternal life" (Titus 3:7). Through the redemption that is in Christ Jesus, God reckons us righteous by an act of amazing grace. In addition, we become heirs of all that God has prepared for those who love Him. Everything that is included in being with Christ and like Him for all eternity is our hope.

2. God Himself. "And I heard a loud voice from heaven saying, "Behold, the tabernacle of God is with men, and He will dwell with them, and they shall be His people. God, Himself will be with them and be their God" (Rev. 21:3). John hears an announcement from heaven that the tabernacle of God is with men and that He will dwell with them. As His people, they will enjoy communion with Him closer than ever dreamed of. God, Himself will be with them and be their God in a nearer and dearer relationship.

3. Glory. "Through whom also we have access by faith into this grace in which we stand, and rejoice in hope of the glory of God" (Rom. 5:2). To rejoice in hope of the glory of God means that we joyfully look forward to the time when we will not only gaze on the splendor of God but will ourselves be manifested in glory (see John 17:22; Col. 3:4). We cannot comprehend the full significance of that hope here on earth, nor will we get over the wonder of it through all eternity.

4. Everything in the universe. "Has in these last days spoken to us by His Son, whom He has appointed heir of all things, through whom also He made the worlds" (Heb 1:2). To be "heir of all things" means that the universe belongs to Him by divine appointment and He will soon reign over it.

There are noticeable differences between the conditions assigned to this inheritance and those relating to an earthly inheritance. A natural inheritance is frequently received when a father dies. The inheritance to be enjoyed by believers is given by and shared with the One who never dies. Again, under Jewish law, the eldest son received the largest
share, and the daughters were excluded unless there were no sons. Under Roman law sons, daughters and adopted children shared an inheritance equally. All believers will share Christ's inheritance. Moreover, the inheritance has been won for them by His death and will be received by them through grace.
if indeed we suffer with Him,--The status of sonship, however, involves not only the privileges of inheritance but also the adversity of suffering. "For to you it has been granted on behalf of Christ, not only to believe in Him but also to suffer for His sake" (Phil. 1:29). Christians should remember that it is a privilege to suffer for Christ as well as to believe in Him. This does not mean that our relationship with God is in any way contingent on our suffering in this life. However, the term "if indeed" indicates here that to suffer with Christ is characteristic of believers generally. The type of sufferings Paul is talking about is not the adversities that come from our common humanity, such as illness, bereavement, or the loss of employment during a recession. Rather, they are the sufferings that come from following Christ. True Christianity involves, in one way or another, a certain amount of suffering in this world. What Paul has in mind here is not the rewards we will receive in the hereafter, which will be given for enduring sufferings in this life, but the eternal rewards of those who are in Christ as distinct from those who walk after the flesh and do not belong to Him. The sufferings of Christians today have the same cause as the sufferings of Christ in the days when He walked on the earth in human flesh. These sufferings resulted from the hatred that the world had for God. Man hated Christ, not because of His good work, but because He revealed His deity. The world does not hate Christians because of their good works; it hates their confession of Christ and their testimony of their relationship with Him. Paul took pleasure in his sufferings for Christ. "That I may know Him and the power of His resurrection, and the fellowship of His sufferings, being conformed to His death, if, by any means, I may attain to the resurrection from the dead" (Phil. 3:10, 11). Paul did not feel he had lost anything worthwhile by trusting Christ. Instead, he gained everything really worth having. Someday, in eternity, we will all wish we had suffered a little more for Him, because that is the way He schools and trains us. "For whom the Lord loves He chastens, And scourges every son whom He receives" (Heb. 12:6). When we read the word chastening, or chastens, we tend to think of a whipping. However, here the word means child training or education. It includes instruction, discipline, correction, and warning. All are designed to cultivate Christian virtues and drive out evil. In this passage, the chastening was not punishment for wrongdoing, but training through persecution. The passage in Proverbs distinctly states that God's discipline is proof of His love and no son of His escapes chastisement. "For whom the Lord loves He corrects, Just as a father the son in whom he delights" (Prov. 3:12). Everything that God allows to come into our lives is purposeful. We should not detest it or despise it. Neither should we shrink from it or give up under it. Rather we should be concerned that God's purpose is achieved through the discipline, and thus we reap the maximum profit from it. God's ultimate purpose in the disciplines of life is that we become partakers of His holiness. Discipline is a proof of love, not anger. Correction is proof of sonship. Thought: A gardener prunes grapevines but not thistles.
that we may also be glorified together.—God has decided that present suffering should result in future glory.
Summary
The three significant points found in this passage are:
1. Believers are led by the Spirit of God, showing that they are sons of God.
2. They have received the Spirit of adoption leading them to cry "Abba, Father."
3. They have the inward witness of the Spirit that they are the children of God, and that they are joint-heirs with Christ, and that they will receive glory in the future for any suffering they go through in the present.
Make a Free Website with Yola.