The Blessing of Love - Page 2 (series: Lessons on Romans)
by John Lowe
(Woodruff, S.C.)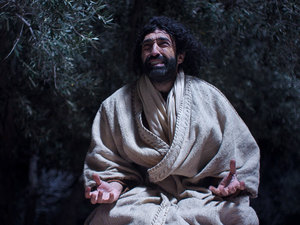 who is even at the right hand of God,

In ancient times, to set at the right hand of the King brought honor to that person and gave him participation in the royal power and governing the people. It is the Lord Jesus Christ who today sets at God's right hand. This is a position of dignity, power, and authority, a position that is His right as the One who has perfectly fulfilled the will of God and has met the claims of Divine righteousness. From this exalted position, He participates in governing the universe.

The death of the Lord Jesus on our behalf would accomplish very little if it were not followed by His resurrection. He is now sitting at the right hand of God where He is highly exalted in glory and sovereignty.

He, who was once despised and rejected of men, now occupies the honorable position of a beloved and honored Son. The right hand of God is the place of majesty and favor.

Who is he who condemns?
How could anyone condemn those who are in Jesus at the right hand of God? Christ has removed all condemnation, and the believer is secure because of the fourfold work of Christ:
1. Christ died for us—He was delivered for our offenses.
2. Christ was raised from the dead, raised for our justification.
3. He is on the right hand of God. He is up there right now. He is the living Christ.
4. He makes intercession for us. Did you pray for yourself this morning? You should have. However, if you missed praying; He didn't. He prayed for you. Isn't that wonderful?

This fourfold work of Christ is the reason nobody can make a charge against God's elect.

It is true that our archenemy Satan accuses us before God day and night—but we don't need to fear Satan. We need to fear God because God in Christ defeated Satan and conquered everything Satan hurled at Him. Therefore, Satan is unable to bring anything new against us. God knows all the tricks of Satan, and it is God who justifies us in Christ Jesus when we accept Him by faith as our personal Savior.

who also makes intercession for us
The same thing was said about the Holy Spirit in verse 27. If the Lord Jesus, to whom all judgment has been committed, does not pass sentence on us but rather prays for us, then there is no one else who could have a valid reason for condemning us. By the authority, which is inherent to His deity, the Lord Jesus makes intercession for us to God the Father. By His victorious death, His victorious resurrection, His victorious ascension into heaven, and His victorious intercession for us, the Lord Jesus has accomplished the eternal purpose of God. In the whole universe, there is nothing that can provide greater assurance than the finished work of Christ.

35 Who shall separate us from the love of Christ? Shall tribulation, or distress, or persecution, or famine, or nakedness, or peril, or sword?

Who shall separate us from the love of Christ?
It is not our love for Christ that Paul is talking about; rather it is His love for us—"Now before the Feast of the Passover, when Jesus knew that His hour had come that He should depart from this world to the Father, having loved His own who were in the world, He loved them to the end" (Jn. 13:1). The day before the crucifixion, the Lord Jesus knew that the time had come for Him to die, to rise again, and to go back to heaven. He had loved His own, that is, those who were true believers. He loved them to the end of His earthly ministry, and will continue to love them throughout eternity. But He also loved them to an infinite degree, as He was about to demonstrate.

To be separated from the love of Christ is death. Death involves separation. The body, when separated from the spirit is dead. The believer, when separated from the love of Christ would be spiritually dead. However, this is impossible, according to the Lord's own statement in John 10:28-29—"And I give them eternal life, and they shall never perish; neither shall anyone snatch them out of My hand. My Father, who has given them to Me, is greater than all; and no one is able to snatch them out of My Father's hand." Christ gives eternal life to His sheep. This means life that will last forever. It is not life that is conditional on their behavior. It is eternal life, and that means everlasting. But eternal life is also
a quality of life. It is the life of the Lord Jesus Himself. A life that is capable of enjoying the things of God down here, and a life that will be equally suitable to our heavenly home. Note these next words carefully. Jesus said, "They shall never perish." If any sheep of Christ ever perished, then the Lord Jesus would have been guilty of failing to keep a promise, and this is not possible.
Jesus Christ is God, and He cannot fail. He has promised in this verse that no sheep of His will ever spend eternity in hell.
Does this mean then that a person may be saved and then live the way he pleases? Can he be saved and then carry on in the sinful pleasures of this world? No, he no longer desires to do these things. He wants to follow the Shepherd. We do not live the Christian life in order to become a Christian or in order to retain our salvation. We live a Christian life because we are Christians. We desire to live a holy life, not out of fear of losing our salvation, but out of gratitude to the One who died for us. The doctrine of eternal security does not encourage careless living, but rather is a strong motive for holy living.
No one is able to snatch a believer out of Christ's hand. His hand is almighty. It created the world, and it even now sustains the world. There is no power that can snatch a sheep from His grasp.
Not only is the believer in the hand of Christ; he is in the Father's hand as well. This is a twofold guarantee of safety. God the Father is greater than all, and no one is able to snatch a believer out of the Father's hand.
Shall tribulation, or distress, or persecution, or famine, or nakedness, or peril, or sword?
Paul has asked, "Is there anyone here who can banish the justified from the love of Christ? Paul then amplifies the question by asking if it is possible that our lives can undo what Christ has accomplished on our behalf at the cross. The apostle experienced all of these adversaries; tribulation, distress, persecution, famine, nakedness, peril, and the sword—the threshing flail of tribulation, with its steady pounding of distress and affliction; the monster of anguish, bringing extreme pain to mind and body; the brutality of persecution, inflicting suffering and death on those who dare to differ; the gaunt specter of famine, gnawing, racking, and wasting down to the skeleton; nakedness, with all it means in the way of privation, exposure, and defenselessness; peril, the threat of imminent and awful danger; and the sword, cold, hard, and death-dealing—and in one respect or another they have been the common plight of all believers. They are in various ways the instruments of deceitful human hatred, but they cannot interrupt the love of Christ toward us.
This is one of the great verses on eternal security, the doctrine that once saved, a believer is always saved (see John 10:27–29; Rom. 8:35–39; Phil. 1:6; 1 Pet. 1:5), derived from Calvin and his doctrine of unconditional predestination. It states that salvation cannot be lost as a result of human actions because he who saves is also able to keep.
36 As it is written: "For Your sake we are killed all day long; We are accounted as sheep for the slaughter."
Before Paul answers his question, he gives a verbatim quote from Psalm 44:22. This quote is introduced to indicate that God's people shall endure affliction even as the faithful did in the Old Testament. However, the persecution and tribulation that enter our lives, which have been featured so prominently in this chapter, are not sufficient to separate us from God's love, as demonstrated at the cross of Christ.
God's children, down through the ages, have been hated and despised by the world—by the enemies of God, by the children of the devil. But whenever such persecution has come upon the children of God, when they are "accounted as sheep for the slaughter," when they are butchered by the sword, fed to lions, or burned at the stake, there has been an increase in the devotion and faithfulness of the saints. Such persecutions have served to only deepen their love for God and the things of Christ.
Suffering for Christ's sake places the believer into the fellowship of His sufferings, and it transforms the affliction into joy and victory, enabling the suffering saint to glory in tribulation. The gospel does not deliver us from misfortunes; it enables us to find in them a blessing, not a curse.