THE CARPENTER'S SON
by Charles Robey
(Trussville AL)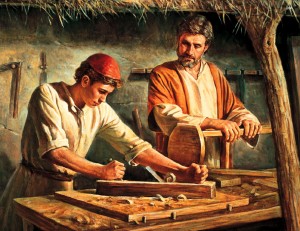 The boy grew up and became strong
Have you ever wondered about the human side of Jesus ? How He must have spent His time growing up in the mid-eastern culture ? If He helped His Dad, in the carpenter shop? How He must have played with His friends, and so on.


I realize, of course, these human traits were not the purpose of God becoming a man, but I just can't help wonder. However, the scripture tells us some mysteries are known only to God (Deuteronomy 29:29 ). Which leads me to understand that I will needs wait awhile, until my wonders proliferate in "Glory" ( 1 Cor 13:12).

Most church's believe in the duel life of Jesus. That being His human and divine qualities. One popular evangelical church doctrine states:

"We believe that in the person of Jesus Christ the Divine and human natures are united, so that He is truly and properly God and truly and properly man".

Yes, Jesus had human traits. He had a human body, as He was born of a women ( Galatians 4:4). He was subject to growth ( Luke 2:52). He was seen and handled by men ( 1 John 1:1 ) ( Matthew 26:12 ). He had a human soul and spirit ( Matthew 26:38). He hungered ( Matthew 4:2 ). He was thirsty (John 19:28). He drew tired ( John 4:6 ). He was tested ( Hebrews 4:15). He had to sleep ( Matthew 8:24). And He even had human names ( Luke 19:10 ) (Matthew 1:21) ( Mark 10:47) ( Isaiah 53:3 ) ( 1 Timothy 2:5).

Jesus having a human body, emotions, mind, and will, in no way compromises his deity. He was God in the flesh ( Hebrews 1:8 ) ( Matthew 22:43:45) (Matthew 18:28) ( John 1:4) ( John 14:6 ) ( Hebrews 13:8 ).

Obviously, the most attractive attribute of our Heavenly Father is that of His love. His plan is to use His children to meet emotional, material, spiritual, and physical needs everywhere. And this attribute was also expressed in God's only beloved Son ( John 3:16). This love was expressed in numerous ways, terminating with the sufferings of the cross for mankind's sin ( Hebrews 12:2).

Can you imagine, just living so closely with His disciples over the course of three years in a mid-eastern culture, the friendship that must have bonded.

"Come on John, let us eat and where is Peter, oh he went fishing, Master". Or, I'm kind of chilly, does anyone have an extra cloak. Or, maybe let's move closer to the fire".

Even though God in the flesh took on these human feature, and even though He was tempted in all points as us,( Hebrews 4:15) He never sinned. For being God, He could not sin (1 Peter 2:21-22) ( James 1:13) ( 2 Cor 5:20-21).

The Bible doesn't give us any insight, into the life of Jesus from His birth until the age of twelve, other than ( Luke 2:39-40 ). However, His human characteristics were manifested many times just in His day-today activities.

At the age of twelve, Jesus became lost from His parents as he was teaching in the synagogue, which caused His parents much concern.( Luke 2:42-52).

When he saw the crowds, he had compassion on them, because they were harassed and helpless, like sheep without a shepherd (Matthew 9:36).

Jesus experienced disappointment. Once, wanting to eat, He found the fig tree to be empty. ( Mark 11:12-13)
Jesus became angry for the way the religious rulers were corrupting the temple practices ( John 2:15-16).
Jesus was troubled by the betrayal of Judas Iscariot ( John 13:21).

In ( John 11:35) Jesus wept over the sorrow of His friends at the death of Lazarus. In ( Luke 19:41) Jesus wept over the city of Jerusalem, because of the rejection of Him. So, how many times did our Lord concede to the emotion of tears ? The real answer is not "once" or even "twice" but in privately, frequently, ( Hebrews 5:7-8 ) ( Isaiah 53:3 ) although only the two occasions of Him publicly weeping are recorded.

Jesus clearly displayed human emotions when He heard the centurions words of faith ( Matthew 8:10 ).
Jesus not only has a divine will but also a human will. Two wills—one divine and one human. Two key texts mention his
human will: ( John 6:38 ) (Matthew 26:39)
Once, when Jesus was teaching, He preformed the miracle of feeding His hungry audience ( Matthew 14:13-21). Only the men were counted in this story. When the women and children were added, the crowd probably numbered 10,000 to 20,000.
Jesus also spent His last evening before the crucifixion reminding the disciples of essential principles. In Kneeling to wash the disciples feet, He displayed the new commandment of loving one another ( John 13:34-35) ( John 15:12-17).
In the Garden, when the Apostle Peter became protective of Jesus and cut off the soldiers ear ( Matthew 26:51), Jesus then went into action and helped the soldier by restoring the soldiers ear.
While on the cross, Jesus ask that they take care of His mother ( John 19:26-27).
We could go on and on showing the human traits of Jesus, in His concern for His fellow mankind. Actually the scriptures failed to account for the many miracles of our Lord, in caring for the people ( John 21:25).
You see, we believers can learn a valuable lesson from the life of Jesus, not only from a spiritual aspect but from a physical aspect as well. I know, from the school of hard knocks, that putting aside our self-interest and looking to the needs of others does not come natural most of the time.
However, like the example of Jesus, we should not put self-interest before the needs of others. You see, since our old self has been crucified, God's Spirit lives in and through us ( Galatians 2:20 ). Giving of ourselves, on behalf of someone else, fits who we are in Christ. In fact, we show God's love best when we care for others—especially those who aren't easy to love.
The Apostle Paul's addresses this subject of love in his many writings. Paul tells us to accept one another (Rom. 15:7), bear one another's burdens (Gal. 6:2), be subject to one another (Eph. 5:21), and live in peace with one another (1 Thess. 5:13).
Yes, God's love should overflow from us to our family, friends neighbors and co-workers. Remember, we are the only Bible most people will read. ( 1 Peter 3:15) ( Colossians 3:17, 23) ( Ephesians 4:29 )
Aside from the human aspect of Jesus' life, why did He leave the portals of Heaven and come into this old world of sin?
Man's dilemma is SIN. And no one is exempt from this. God had a solution from the beginning of the world. He knew that man, Adam and Eve, would fall into sin ( Genesis 3:1-5). As a result of this sin, God promised a redeemer (Genesis 3:15). At a certain point in time He would become a man (John 1:14) and die for our sins (John 12:24).
At sometime in eternity past God decided that the Son would be sent to earth, to physical die, in fulfilling this mission of the utmost importance. That was to take care of man's sin debt (Rev.13:8 ). He came to seek those who are lost (Mt.18:11) ( Luke. 9:56,19:10).
This old gospel song says it best:
He left the splendor of heaven
Knowing His destiny
Was the lonely hill of Golgotha
There to lay down His life for me
And if that isn't love
Then the ocean is dry
There's no stars in the sky
And the little sparrows can't fly
Yeah if that isn't love
Then heaven's a myth
There's no feeling like this
If that isn't love
Did Jesus come into this world, as a human being, and suffer death on the cruel cross in vain ? Did this Holy Divine God Man Jesus, fulfill his duty in your life ? Have you accepted Him as your personal Savior ? You see, one can never earn their way into heaven, be good enough for heaven on their own, or rely on a Christian relative to get them into heaven ( Ephesians 2:8-9 ). It's simple accepting Christ Jesus as your personal Savior, by way of your faith in God's free grace. ( John 1:12)
In conclusion, it is very important for us to realize Jesus was born, He lived, and He died, experiencing the same things we do. Therefore, He is able to identify with our feelings when we pray to the Father through Him. (Hebrews 2:18)
Amen!