The Choice of Israel is in the Sovereign Purpose of God -- Part 1 (series: Lessons on Romans)
by John Lowe
(Woodruff, S.C.)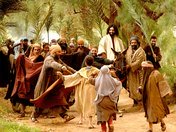 The Choice of Israel is in the Sovereign Purpose of God

Romans 9:14-24


14 What shall we say then? Is there unrighteousness with God? Certainly not!
15 For He says to Moses, "I will have mercy on whomever I will have mercy, and I will have compassion on whomever I will have compassion."
16 So then it is not of him who wills, nor of him who runs, but of God who shows mercy.
17 For the Scripture says to the Pharaoh, "For this very purpose I have raised you up, that I may show My power in you, and that My name may be declared in all the earth."
18 Therefore He has mercy on whom He wills, and whom He wills He hardens.
19 You will say to me then, "Why does He still find fault? For who has resisted His will?"
20 But indeed, O man, who are you to reply against God? Will the thing formed say to him who formed it, "Why have you made me like this?"
21 Does not the potter have power over the clay, from the same lump to make one vessel for honor and another for dishonor?
22 What if God, wanting to show His wrath and to make His power known, endured with much longsuffering the vessels of wrath prepared for destruction,
23 and that He might make known the riches of His glory on the vessels of mercy, which He had prepared beforehand for glory,
24 even us whom He called, not of the Jews only, but also of the Gentiles?


Introduction

So far, the argument has established God's sovereign right to exercise the privileges of the gospel to whomsoever and on whatever terms He pleases, natural conditions and human merit being ruled out. Accordingly, if the Jews refused the gospel God's decision to reject them and offer salvation to the Gentiles was unchallengeable. The Jew might object to this—that to make no distinction between Jew and Gentile in regard to merit or the lack of it, would be inconsistent with Divine righteousness. To this Paul answers that God's sovereignty in these matters was (1) stated, (2) illustrated, in the Old Testament.

In this part of the Bible that emphasizes the sovereignty of God, we see Paul sorrowing, praying, and worshiping. He did not feel that God's sovereignty in any way destroyed man's responsibility. The God who ordains the ending (saving the lost) also ordains the means to the end, the prayers, and witness of His people. They go together.

God is not obligated to save anybody, for all deserve to be condemned. Even Israel was chosen only because of His grace and love 1(Deut. 7:6–8). Therefore, nobody can criticize God or say He is unfair. That He is merciful to sinners should make us rejoice!

Israel's rejection of Christ did not ruin God's plan, for He went to the Gentiles 2(Acts 15:14) who gladly received the good news. However, God has a remnant among the Jews 3(Rom. 9:27–29), and believing Jews and Gentiles are one in the church 4(Eph. 2:11–22). His mercy endures forever!

God's Part and Our Part Charles Spurgeon was asked how he reconciled divine sovereignty and human responsibility, and he replied, "I never try to reconcile friends." Augustine said that we must pray as though it all depended on God and work as though it all depended on us. That biblical balance makes for blessings.

______________introduction notes__________________
1Deut. 7:6-8 "For you are a holy people to the Lord your God; the Lord your God has chosen you to be a people for Himself, a special treasure above all the peoples on the face of the earth. The Lord did not set His love on you nor choose you because you were more in number than any other people, for you were the least of all peoples; but because the Lord loves you, and because He would keep the oath which He swore to your fathers, the Lord has brought you out with a mighty hand, and redeemed you from the house of bondage, from the hand of Pharaoh king of Egypt".
2(Acts 15:14) "Simon has declared how God at the first visited the Gentiles to take out of them a people for His name."
3(Rom. 9:27–29) "Isaiah also cries out concerning Israel: "Though the number of the children of Israel be as the sand of the sea, the remnant will be saved. He will finish the work and cut it short in righteousness because the Lord will make a short work upon the earth." And as Isaiah said before: "Unless the Lord of Sabaoth had left us a seed, We would have become like Sodom, And we would have been made like Gomorrah."
4(Eph. 2:11–22) "Therefore remember that you, once Gentiles in the flesh—who are
called Uncircumcision by what is called the Circumcision made in the flesh by hands—that at that time you were without Christ, being aliens from the commonwealth of Israel and strangers from the covenants of promise, having no hope and without God in the world. But now in Christ Jesus, you who once were far off have been brought near by the blood of Christ. For He Himself is our peace, who has made both one, and has broken down the middle wall of separation, having abolished in His flesh the enmity, that is, the law of commandments contained in ordinances, so as to create in Himself one new man from the two, thus making peace, and that He might reconcile them both to God in one body through the cross, thereby putting to death the enmity. And He came and preached peace to you who were afar off and to those who were near. For through Him we both have access by one Spirit to the Father. Now, therefore, you are no longer strangers and foreigners, but fellow citizens with the saints and members of the household of God, having been built on the foundation of the apostles and prophets, Jesus Christ Himself being the chief cornerstone, in whom the whole building, being fitted together, grows into a holy temple in the Lord, in whom you also are being built together for a dwelling place of God in the Spirit."
Commentary
14 What shall we say then? Is there unrighteousness with God? Certainly not!
The apostle, having stated publicly the true meaning of the promise, comes here to maintain and prove the absolute sovereignty of God, in dealing with the children of men, with reference to their eternal state.
Paul once again anticipates his reader's objection to Paul's theology. This is the first objection to the foregoing doctrine, that God chooses one and rejects the other, not on account of their works, but only in the exercise of His own good pleasure: this doctrine is inconsistent with the justice of God. If God were to choose some people for salvation and pass over others apart from their actions or merits, that would make God arbitrary and unfair
5
(Ps. 119:137). The answer to this objection extends to verse 19, where we have the second objection.
God is not to be considered to be a benevolent king or governor, distributing rewards and punishments according to his revealed laws and covenants, but as an owner and benefactor, giving to the children of men such grace and favor as he has determined in and by his secret and eternal will and counsel.
The apostle expected that his teaching on the sovereign election would stir up all kinds of objections. People still accuse God of unfairness. They say that if He chooses some, then He, essentially, damns the rest. To the human observer the choice of Jacob in preference to Esau, prior to their birth, must appear to be arbitrary and unjust. This is because the human observer is acting on the basis of his limited knowledge. They argue that if God has settled everything in advance, then there is nothing anyone can do about it, and God is unrighteous for condemning people. Although we cannot intrude into the mysterious dealings of God, we can trust Him to act with justice. We cannot avoid the doctrine of election, nor can we reconcile God's sovereign election with man's free will. Both are true.
Paul hotly denies any possibility of unrighteousness on God's part. But instead of watering down God's sovereignty in order to make it more palatable to these objectors, he proceeds to restate it more vigorously and without apology. Whatever God decides to do to both the righteous (those who believe) and the unrighteous (those who don't believe), we can be sure of one thing; He will do the right thing
6
(Gen. 18:25). In Romans 1:17 Paul said, "For in it the righteousness of God is revealed from faith to faith; as it is written, "The just shall live by faith"—and faith cannot for one split second tolerate the insinuation that there is or could be in any minute detail, unrighteousness with almighty God. What God does is right; God cannot do wrong. He is righteous, and all His acts are righteous acts. The Psalmist said, "To declare that the Lord is upright; He is my rock, and there is no unrighteousness in Him" (Ps. 92:15).
________________verse 14 notes___________________
5
(Ps. 119:137) "Righteous are You, O Lord, And upright are Your judgments."
6
(Genesis 18:25) "Far be it from You to do such a thing as this, to slay the righteous with the wicked, so that the righteous should be as the wicked; far be it from You! Shall not the Judge of all the earth do right?"