The Choice of Israel is in the Sovereign Purpose of God -- Part 4 (series: Lessons on Romans)
by John Lowe
(Woodruff, S.C.)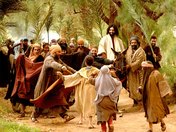 Will the thing formed say to him who formed it, "Why have you made me like this?"—God is not required to answer to humankind. Just as the clay lacks power and authority to question the work of the potter, so no one has the authority to question the ways of God. Finite man, loaded down with sin, ignorance, and weakness, is in no position to talk back to God or question the wisdom or justice of His ways. God acts consistently with His character as He has revealed Himself in Christ. Divine sovereignty does not permit God to do what divine character will not allow. If we can trust the character of God, we can trust the wisdom of His sovereignty as well. Gentiles, as well as Jews, were included in God's redemptive plan 13(Romans 9:25-26).

The apostle quotes two verses from Hosea (see 14Hosea 1:10 and 152:23) to show that the call of the Gentiles should not have come as a surprise to the Jews. "My people" is covenant language indicating the restoration of the covenant relationship. "Who were not My people" and "who was not beloved" refers to Gentiles.

The restored Israel
will be the people of God (Ammi) and will obtain mercy (Ruhamah). Based on its national conversion, the nation will be restored to favor with God. This, of course, will happen when the nation repents and receives a new heart in fulfillment of the New Covenant.
____________________verse 20 notes____________________
13(Romans 9:25-26) "As He says also in Hosea: "I will call them My people, who were not My people, And her beloved, who was not beloved." And it shall come to pass in the place where it was said to them, 'You are not My people,' There they shall be called sons of the living God."
14(Hosea 1:10) "And I will sow her unto me in the land; and I will have mercy upon Lo ruhamah; and I will say to Lo ammi, Thou art my people; and they shall say, My God."
15(Hosea 2:23) "Yet the number of the children of Israel shall be as the sand of the sea which cannot be measured or numbered; and it shall come to pass, that in the place where it was said unto them, Ye are not my people, it shall be said unto them, Sons of the living God".

21 Does not the potter have power over the clay, from the same lump to make one vessel for honor and another for dishonor?
Paul uses the illustration of the potter and the clay to justify the sovereignty of God. The potter comes into his shop one day and sees a pile of formless clay on the floor. He picks up a handful of clay, puts it on his wheel, and fashions a beautiful vessel. Does he have a right to do that? God reaches into the same lump of humanity and takes out some clay to form Moses. Again, He reaches into the same lump of clay and takes out the clay to make Pharaoh. It was all ugly, unlovely, sightless, and sinful clay at the beginning. His mercy makes a vessel "unto honor"; that is, a vessel for honorable use. It is the Potter's right to make another vessel for "dishonor" or common use 16(Jer. 18:3-6).

The potter, of course, is God. The clay is sinful, lost humanity. If the potter left it alone, it would all be sent to hell. He would be absolutely just and fair if He left it alone. Instead, He sovereignly selects a handful of sinners, saves them by His grace, and conforms them to the image of His Son. Does He have the right to do that? Remember, He is not arbitrarily dooming others to hell. They are already doomed by their own willfulness and unbelief.

God has the absolute power and authority to make a vessel for honor with some of the clay and another for dishonor with some. In a situation where everyone is unworthy, He can bestow His blessings where He chooses and withholds them whenever He wishes. "Where all are undeserving,"

Does not the potter have power over the clay, from the same lump to make one vessel for honor and another for dishonor?— The apostle now uses a philosophical argument. He suggests two alternatives that either there must be recognition of the absolute authority of God, or there must be a denial that the potter has power over the clay. The use, to which a particular part of the clay is to be put, does not depend on its quality, but upon the will of the potter. This verse stresses the absolute sovereignty of God as Creator in contrast to the creature.
____________________verse 21 notes____________________

16(Jeremiah 18:3-6) "Then I went down to the potter's house, and there he was, making something at the wheel. And the vessel that he made of clay was marred in the hand of the potter; so he made
it again into another vessel, as it seemed good to the potter to make. Then the word of the Lord came to me, saying: "O house of Israel, can I not do with you as this potter?" says the Lord. "Look, as the clay is in the potter's hand, so are you in My hand, O house of Israel!"
22 What if God, wanting to show His wrath and to make His power known, endured with much longsuffering the vessels of wrath prepared for destruction,
Paul pictures God, the great Potter, as facing a seeming conflict of interests. On the one hand, He wishes to show His wrath and exhibit His power by punishing sin. But, on the other hand, He desires to bear patiently with vessels of wrath prepared for destruction. It is the contrast between the righteous severity of God in the first place, and His merciful longsuffering in the second. And the argument is, "If God would be justified in punishing the wicked immediately, but instead of that, shows great patience with them, who can find fault with Him?"
Notice carefully the phrase vessels of wrath prepared for destruction. Vessels of wrath are those whose sins make them subject to God's wrath. They are prepared for destruction by their own sin, disobedience, and rebellion, and not by some arbitrary decree of God.
What if God,—can be phrased, "but if God." The "But," then, marks the contrast between what God had a perfect right to do and what He has actually done. The hostile Jew might have been ready with what he would consider to be a convincing reply. But now that the apostle stresses the long-suffering and patience of God, he has nothing to say.
wanting to show His wrath,—This seems best understood in the sense of "having the will to show His wrath." The apostle is not suggesting that this is a reason for His action or that His showing mercy is carried out in spite of His wrath. The objects of God's wrath are the unsaved
17
(Rom. 1:18), who will suffer eternal judgment
18
(Jn. 3:36). God has patiently endured their antagonism to Him, but their judgment is coming. Those who oppose Him and refuse to turn to Him are then "prepared" by Him for condemnation. They are "storing up God's wrath" against themselves. In hell, they will experience His wrath, and His power will be made known. God does not delight in wrath, and He did not choose some people to go to hell. Some are prepared by God for eternal judgment not because He delights to do so, but because of their sin. In view of their sin, which makes them ripe for destruction, God is willing to exhibit His wrath, and He will do so at the proper time.
and to make His power known,—By so doing He would manifest His character.
endured with much longsuffering the vessels of wrath—What is being referred to now is not simply the special example of Pharaoh, but a general principle that includes the rejection of Israel. God would have been right in exercising immediate judgment, but he dealt with these vessels, not as lifeless clay, but as creatures with a free will. He gave them many opportunities to reveal any inclination they might have of obeying God. Why is God longsuffering? "He is not willing that any should perish," therefore, he withholds judgment to give them other opportunities to repent and believe. Although God hates sin and must judge it in a final manner, His mercy is constantly going out to the creatures involved.
prepared for destruction,—The preparation is not attributed to God, as if God had prepared these vessels for wrath in contrast to those He had prepared for mercy. God has not created men with a view to their destruction. In fact, although the metaphor of the potter's vessel has been used, in which the material itself is helpless, yet that must not be applied to persons. What is being implied here is the action done by oneself with an eye to one's own aims and interests. There is a suggestion, therefore, that the persons referred to as "vessels of wrath" have prepared themselves for destruction, and this was actually the case with Pharaoh, as we have seen from Exodus. The apostle could have used a form of expression stating clearly that they had been prepared by an outward entity for destruction. Instead, he throws the responsibility upon man for the hardness of his heart. God, then, has restrained His merited wrath. The objector might have had some reason to object if he had said, "What if God, willing to show His wrath and to make His power known, executed His judgment upon the vessels of wrath." What he says instead is that God has endured with many long-suffering vessels of wrath who have prepared themselves for destruction.
Man displays the justice and grace of God, both through the persistent unbeliever (whom he calls a vessel prepared for wrath) and through the believer (a vessel of mercy). We must remember Paul does not say that God created one vessel to wrath and another to mercy.
_______________