The Choice of Israel is in the Sovereign Purpose of God -- Part 5 (series: Lessons on Romans)
by John Lowe
(Woodruff, S.C.)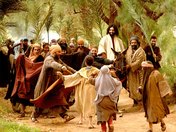 __________________verse 22 notes_________________

17(Romans 1:18) "For the wrath of God is revealed from heaven against all ungodliness and unrighteousness of men, who suppress the truth in unrighteousness,"
18(John 3:36) "He who believes in the Son has everlasting life; and he who does not believe the Son shall not see life but the wrath of God abides on him."

23 and that He might make known the riches of His glory on the vessels of mercy, which He had prepared beforehand for glory,

He endured the vessels of wrath, which were prepared for destruction, and made known the riches of His glory to the vessels of mercy, which He had prepared beforehand for glory. As the potter does not take one lump of clay and make it a good lump, and another lump and make it bad, so too God does not make one person evil and another one good. We must notice that the expression prepared for destruction, in the previous verse, should be interpreted that man prepares himself for destruction. God never does that. According to the Bible dictionary, the word "prepared" is not equivalent to foreordained. That God prepares His people for glory means that He commences and continues the work of redemption. He also revealed to them the riches of His glory. Glory refers to the radiance of His glory. The outpouring of God's bounty means limitless wealth to the recipients.

Who can object if God wishes to make known the riches of His glory to people to whom He desires to show mercy—people whom He had selected beforehand for eternal glory? The glory here refers to the actions of God's grace toward believers, as mentioned in 19(Romans 8:18, 21). This is in striking contrast with what is said of the vessels of wrath (see verse 22). The apostle does not simply say, as might be expected, "(vessels) prepared unto glory," but which He had prepared beforehand for glory. While stress is placed on the gracious actions of God, there is a clear intimation that those who enjoy the glory of heaven are prepared on earth 20(Titus 3:5). There can be no entrance to heaven without that preparation, by
which they are born of God and receive the forgiveness of sins and eternal life in Christ.
God's sovereignty is never exercised in condemning men who ought to be saved, but rather it has resulted in the salvation of men who ought to be lost.
__________________________________verse 23 notes________________________________________
19
(Romans 8:18, 21) "Yet what we suffer now is nothing compared to the glory he will give us later…All creation anticipates the day when it will join God's children in glorious freedom from death and decay."
20
(Titus 3:5) "not by works of righteousness which we have done, but according to His mercy He saved us, through the washing of regeneration and renewing of the Holy Spirit,"
24 even us whom He called, not of the Jews only, but also of the Gentiles?
With a thankful heart, Paul notes that God has sovereignly called to glory both those of the Jews and those of the Gentiles, who are Christians. As believers, whether Jew or Gentile, we have been the recipients of God's mercy and have been prepared for the glory of His presence. God's purpose is to take out of the Gentiles and the elect remnant of Israel a people for His name. For this, we should be intensely thankful.
This verse brings the special point in the argument to a head, stressing the fact that Gentiles are included among the vessels of mercy as well as Jews, and that this is in accordance not only with the prerogatives of God (see Romans 9:20, 21) but also with the principles of His righteous dealing (see Romans 9:14). This lays the foundation for much that is to follow—the setting aside of all but a remnant of the nation of Israel and the call of the Gentiles to a place of privilege.
Summary
We may not understand these verses, but we had better believe them—and let me warn you, O man: "For it is written: "As I live, says the Lord, Every knee shall bow to Me, And every tongue shall confess to God" (Rom. 14:11). Just remember that God is sovereign, God is righteous, God is holy, and God is truth. God can do no wrong.