The Church at Corinth and Wisdom: Part 7 of 7 (series: Lessons on 1 Co.)
by John Lowe
(Woodruff, S.C.)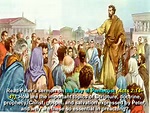 and redemption:

God is the author of redemption, but here the apostle is not talking about redemption from Egyptian bondage, or Babylonian captivity, but from the servitude of Satan, the dominion of sin and death, and from the bondage of corruption into the glorious liberty of the sons of God, or the redemption of the body: "Because the creature itself also shall be delivered from the bondage of corruption into the glorious liberty of the children of God" (Romans 8.21). Man has a dying body. As someone has said, "The moment He gives us life, He begins to take it away from us." And there is death and decay out yonder in nature. Go out in the beautiful forest, and there you see a tree lying dead, corrupt, rotting. That's nature. And you catch the stench of the decaying bodies of dead animals. The Christian's body may decay in the grave, but one day, our bodies will be redeemed: "And not only they, but ourselves also, which have the firstfruits of the Spirit, even we ourselves groan within ourselves, waiting for the adoption, to wit, the redemption of our body" (Rom. 8:23). Not only does nature groan, but the believer is in harmony with nature. This verse is devastating to those who propose the theory that the mark of a Christian is a perennially smiling face. They contend that a Christian should be a cross between a Cheshire cat and a house–to–house salesman. A Christian should grin—at all times. Smile your troubles away is good for the Rotary Club, but it is not the Christian method. We groan within these bodies. Some years ago when I began to move into "the golden years", I would come down the steps in the morning groaning because my knees and back were hurting. My wife told me I should not groan! I told her it is scriptural to groan. Paul says, "For in this we groan, earnestly desiring to be clothed upon with our house which is from heaven" (2 Cor. 5:2). Also, the psalmist wrote, "I am weary with my groaning; all the night make I my bed to swim; I water my couch with my tears" (Ps. 6:6). Our Lord Jesus did some weeping also. Although I believe He was a joyful person, there were times when He wept. In these bodies, we groan.

The object of the apostle is to show that man is not inherently good, that whatever goodness he has comes from God, and from God only through Christ. Man's greatest need is redemption from the penalty, guilt, and domination of sin, which brings about the salvation of the soul and places the believer "in Christ."

The things which are specified above, "justification and sanctification," are a part of the work of redemption. Probably the word is used here in a wide sense, denoting the whole group, or class of influences by which we are brought at last to heaven; so that the apostle refers not only to his atonement, but to the work by which we are in fact redeemed from death, and made happy in heaven. Thus in Romans 8:23 (See above), the word is applied to the resurrection, "the redemption of our body." The sense is, "It is by Christ that we are redeemed; by him that an atonement is made; by him that we are pardoned; by him that we are delivered from the dominion of sin, and the power of our enemies; and by him that we shall be rescued from the grave, and raised up to everlasting life." Thus the whole work depends on him; and no part of it is to be ascribed to the philosophy, the talent, or the wisdom of men. He does not merely complete that which is imperfect; he does not come in
to do a part of the work necessary to fix our defects;--but it can all be traced to him. Listen to Colossians 2:10, where it says: "And ye are complete in him, which is the head of all principality and power." You "are complete in him." "Complete" is a nautical term, and it could be translated in this very vivid way: You are ready for the voyage of life in Him. Isn't that a wonderful way of saying it? You are ready for the voyage of life in Christ, and whatever you need for the voyage of life you will find in Him. This is where we say that Christ is the answer. What is your question? What is it you need today? Are you carried away by human philosophy? Then turn to Christ. Are you carried away by enticing words? Are you carried away by the systems and traditions of men? Turn to Christ.
31 That, according as it is written, He that glorieth, let him glory in the Lord.
That, according as it is written,
As it is written is evidently a quotation from Jeremiah 9:23, 24: "Thus saith the LORD, Let not the wise man glory in his wisdom, neither let the mighty man glory in his might, let not the rich man glory in his riches…But let him that glorieth glory in this, that he understandeth and knoweth me, that I am the LORD which exercise lovingkindness, judgment, and righteousness, in the earth: for in these things I delight, saith the LORD. These are two wonderful verses of Scripture. They can stand alone and are often quoted alone. However, we need to remember that they were spoken to a people who had rejected the Word of God.
He that glorieth, let him glory in the Lord.
The apostle is very clear on this point; Christians are not to glory (boasting or exultation) in their own wisdom, riches, and strength; but in Christ, who is their wisdom, righteousness, sanctification, and redemption.
No flesh should glory in his presence, according to verse 29. Let them all yield to God and give him thanks. Observe, It is the will of God that all our glorifying should be in the Lord: He has granted us salvation through Christ. Who is greater than him and who has done more for us than He has; hence, we should glorify in Him. Man is humbled, and God glorified and exalted, by the whole scheme God set in motion by the gospel. Christ is everything to us, he imparts every grace that we enjoy, and bestows every blessing; there is no ground for glorying in Paul, Apollos or Cephas, but there is plenty of ground for glorying in the Lord alone.
In short, man, having been brought to nothing in his own estimation, and acknowledging that there is nothing good anywhere but in God alone, must renounce all desire for his own glory, and with all his might aspire and aim at the glory of God exclusively. This is made obvious in the writings of the Prophet, from whom Paul has borrowed this testimony (See Jeremiah 9:23, 24; above); in that passage the Lord, after stripping all mankind of glory with respect to strength, wisdom, and riches, commands us to glory only in knowing him. Now, he wants us to know that it is he that exercises judgment, righteousness, and mercy, since this knowledge produces in us, at once, confidence in him and fear of him. Let us strive to be that man, who has his mind regulated in such a manner that he claims no merit for himself, he desires that God alone be exalted, he rests with satisfaction on his grace, and places his entire happiness in his love for God; that man truly "glories in the Lord."