The Church at Ephesus: Part 2 of 5 (series: Lessons on Revelations)
by John Lowe
(Woodruff, S.C.)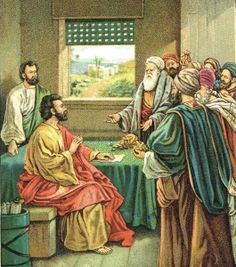 John begins the letter to Ephesus with two descriptions of the Risen Christ:

• He holds the seven stars in His right hand. That is to say, Christ holds the Churches in his hand. Our security lies in the fact that we are in the hand of Christ. "I give them eternal life, and they shall never perish; no one will snatch them out of my hand" (John 10:28, NIV).
• He walks in the midst of the seven golden Lampstands. The Lampstands are the Churches. This expression tells us of Christ's unwearied activity in the midst of His Churches. He is not confined to any one of them; wherever men are meant to worship in His name, Christ is there. In the early days of the Church, Christ walked in the midst as the recognized Head, and men took instructions from Him (Ephesians 1:22-234). Christ's true sheep are safe in His hand and are thus led by Him (John 10:27-305). His "walking" among the Lampstands may imply an inspection of their condition, one by one. The stars are His light-bearers; He holds them. They derive their light and power from Him. In every assembly of believers where Christ is honored as its Head, he walks among His own and takes a watchful interest in them.


2 I know thy works, and thy labour, and thy patience, and how thou canst not bear them which are evil: and thou hast tried them which say they are apostles, and are not, and hast found them liars:
3 And hast borne, and hast patience, and for my name's sake hast laboured, and hast not fainted.

The One who walks among the churches (2:1) is able to say to this church in Ephesus, "I know thy works, and thy labour." Christ keeps an account of every hour's work his servants do for Him, and their labor shall not be in vain. Over a long period of time, this church had steadfastly refused to tolerate sin among its members. This was not easy in a city noted for immoral sexual practices associated with the worship of the goddess Artemis. The Ephesian church had been strong in its orthodoxy and had resisted false teachers.

Christ commended the church at Ephesus for five things:
• Working hard (toil)
• Persevering (patient endurance)
• Resisting sin (cannot tolerate evildoers)
• Critically examining the claims of false apostles (tested those who claimed to be apostles)
• Enduring patiently (In general this church had continued in its faithful service to God for more than 40 years) and bearing up without becoming weary.

All of these characteristics show a church busy doing good works and suffering willingly for the cause of Christ. The Ephesian believers knew evil when they saw it and did not tolerate it. The Lord wrote, "I know how . . . Thou canst not bear them which are evil." The kind of thing which took place at Corinth would not have been tolerated at Emphasis. No man who was unscrupulous in business, impure in his conversation, known to be living in immorality, habitually intoxicated, given to fits of rage, unfaithful to his pledges, or convicted of lying would have lasted in the Ephesian fellowship. He would be judged and excommunicated with due dispatch. True, there would be a certain hardness in the procedure, but high standards of discipline would be maintained. I know James would never have written to Ephesus his stinging rebuke, "Faith without works is dead." This church was full of good works. It had a magnificent program.

The false apostles would be those who claimed to be believers but were not. The church had succeeded in weeding out those who falsely claimed apostleship. Generally, the word "apostle" in the New Testament refers first to the 12 disciples (Mark 3:13; Acts 1:2, 26) because of their special place in building the foundation of the church (Ephesians 2:20). The word was
also expanded to include those such as Paul (Galatians 1:1), Barnabas (Acts 14:14), and James, the brother of Jesus (Galatians 1:19). The name referred to those who had been specially appointed by Christ. They were eyewitnesses to His ministry on earth. Miracles often accompanied apostolic authority; however, false prophets could often also do what appeared to be miracles. It was important, therefore, as John wrote in another letter, to "not believe everyone who claims to speak by the Spirit.
Believers
must test them to see if the spirit they had comes from God. For there are many false prophets in the world" (1 John 4:1, NLT). John went on to explain that the way to "test" if a person has the Spirit of God is to examine what he or she believes about Jesus Christ (1 John 4:2-3
6
). That was probably the method that the Ephesian church had used to "test" those who claimed to be apostles but were not.
It was not at all easy going at Ephesus. The believers came in for their share of opposition and criticism from the world. But they did not give up easily. They kept on year after year, despite lack of fruit and poor results. They may not have been very fruitful, but they were certainly faithful. They struggled on, and God commended them for it. No matter how you examine this congregation, you conclude that it is just about perfect. However, the One among the Lampstands saw into their hearts, and He had a different diagnosis from ours.
Paul had warned the Ephesian elders, "I know full well that false teachers, like vicious wolves, will come in among you after I leave, not sparing the flock. Even some of you will distort the truth in order to draw a following" (Acts 20:29-30, NLT). Jesus had told His disciples, "beware of false prophets who come disguised as harmless sheep, but are really wolves that will tear you apart. You can detect them by the way they act" (Matthew 7:15-16 NLT). The message to the church in Ephesus shows that false teachers had indeed come in among the believers. To be sure, Satan has his false ministers and the church must be constantly alert to detect them and reject them (2 Corinthians 11:12-15
7
). At the time the Revelation was written, John was possibly the only living apostle, thus it would be expected that false apostles would appear there.
The damage that false teachers cause is not limited to cults, nor to past days in church history. Some of the characteristics of false teachers show up today in churches and ministries professing to be faithful to the true gospel. Many leaders and authorities today demand allegiance. Because they seem to know the Bible, their influence can be dangerously subtle. How can believers recognize false teaching?
• It promotes controversies instead of helping people come to Jesus.
• It is often initiated by those whose motivation is to make a name for themselves.
• It will be contrary to the true teaching of the Scriptures.
To protect the church from the deception of false teachers, church leaders must not avoid theology but should teach clearly what the Bible says about key doctrines. This will help believers identify false teachers and false doctrines.
The church at Ephesus was standing up to the task. It was busy. The early Church was marked by house-to-house witnessing for Christ, the missionary journeys of Paul, the fervent witness of men and women like Stephen, Philip, Ananias, Barnabas, Priscilla and Aquila, etc. The church at Ephesus was a veritable beehive of Holy-Spirit-directed activity. There was plenty of activity, but there was no blessing. When Paul wrote to the Thessalonians, he could commend their work of faith, their labor of love, and their patience of hope (1 Thessalonians 1:3
8
). The church at Ephesus had works, labor, and patience, but it had lost the faith, the hope, and the love.