The Church at Philadelphia: Part 3 of 4 (series: Lessons on Revelations)
by John Lowe
(Woodruff, S.C.)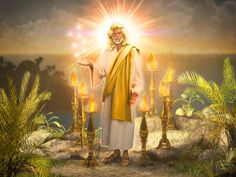 Wicked men may come to power and defy God's throne, but He still has ultimate control over their actions. All situations are under His government. Yet his greatest desire is to find feeble ones, faithful ones, who will listen to His voice. To them, He unveils the secrets of His heart, and He tells them what moves to make. He wants them to win! The King eternal, immortal, invisible, longs to bestow on His people the victor's crown. To that end He controls all situations, frustrates the moves of evil men, and reveals Himself to His own as the One who opens and no man shuts; shuts and no man opens.



10 Since you have kept my command to endure patiently, I will also keep you from the hour of trial that is going to come on the whole world to test the inhabitants of the earth.

Two things are pointed out here. First, "SINCE YOU HAVE KEPT MY COMMAND TO ENDURE PATIENTLY. . ." By this the Spirit means, "Because you have been true to the pure Word of God." Until we reach Heaven we will never know the importance of God's holy Word. Dear friend, did you know that if the devil could discredit the Word of God, the foundation of Christianity would crumble and hell would destroy the Church of the living God? But that will never happen. The Word of God is the solid Rock of Gibraltar, spiritually speaking. "In the beginning was the Word, the Word was with God and the Word was God." If the devil could destroy the Word, the devil could destroy God, because God and His Word are synonymous. If the devil could discredit the Word of God, the devil would look God in the face and brand Him a liar. But hallelujah! "Thy Word, O Lord, is forever settled in heaven!" I thank God that the bishops, the translators, and revisers cannot get their crooked, demented hands on God's holy, pure, complete, protected, living word. Praise His Holy Name!

Secondly—they had not only kept the Word, but they had also kept His name. They had not denied, but had lifted up the name that is lifted up in the Word—"the name of Jesus" at the sound of which, "every knee should bow, in heaven and on earth and under the earth" (Philippians 2:10).

There are many ideas, doctrines, and dogmas concerning The Church and the Great Tribulation period that shall come upon the earth during the reign of the Antichrist. Some teach that The Church will go through the first half of the Tribulation. Some teach that the church will go through all of the Tribulation. And then—there are those who preach the truth: That the Church will be raptured before the appearing of Antichrist, before the beginning of the Tribulation, "THE HOUR OF TRIAL THAT IS GOING TO COME ON THE WHOLE WORLD TO TEST THE INHABITANTS OF THE EARTH." The tribulation spoken of in the paragraphs that follow is directed towards "THE INHABITANTS OF THE EARTH", a phrase that refers to the unbelievers of the world (11:10).

You may rest assured that the born-again children of God will not enter or go through any portion of the Tribulation period that will come upon this earth. True believers keep the Word. True believers confess the name of Jesus. And the promise to the believers in Philadelphia is, "SINCE YOU HAVE KEPT MY COMMAND TO ENDURE PATIENTLY, I WILL ALSO KEEP YOU FROM THE HOUR OF TRIAL THAT IS GOING TO COME ON THE WHOLE WORLD." All outstanding, fundamental, evangelistic, Bible-believing teachers and preachers believe and teach that "THE HOUR OF TRIAL" mentioned here is the Great Tribulation known in the Old Testament as "the time of Jacob's troubles."

True believers will not go through any part of the Great Tribulation. Proof: "For God did not appoint us to suffer wrath but to receive salvation through our Lord Jesus Christ" (1 Thessalonians 5:9). Born again believers are not saved to go through wrath. We are saved and delivered from the wrath of God; therefore, as members of the body of Christ, we are not appointed unto wrath, but to obtain complete and full salvation. Jesus died on the cross to redeem the soul. He is to deliver us daily from the power of sin, the world, the flesh and the devil. As Jesus said before His death, "I'm a not asking you to take them out of the world, but to keep them safe from the evil one" (John 17:15). He is coming in the Rapture to deliver us from corruption as having to do with the mortal body. This mortal shall put on immortality, and this great miracle will take place when Jesus comes in the Rapture. (Read the entire 15th chapter of 1 Corinthians and 1 John 3:1-3.) But hear this! "The Lord knows how to rescue the godly from trials and to hold the unrighteous for punishment on the day of judgment" (2 Peter 2:9). But Christ promised protection for the obedient church at Philadelphia: "I WILL ALSO KEEP YOU FROM
THE HOUR OF TRIAL." We cannot interpret from this verse when or for how long Christians will experience the "HOUR OF TRIAL." Today many Christians are suffering and dying at the hands of godless terrorists throughout the world. For them, the "HOUR OF TRIAL" has already begun. But whenever Christians suffer, Christ promises protection for their eternal souls. Jesus said, "Everyone will hate you because of your allegiance to Me. But not a hair of your head will perish! By standing firm, you will win your souls" (Luke 21:17-19, NLT). Even when time comes to an end, and the world as we know it ceases to exist, He who is faithful to Christ will still be safe in His keeping.
God certainly loves The Church—the Bride of His only begotten Son—as much as He loved Noah, Abraham, and David. So let no one tell you that The Church will go through any part of the reign of the Antichrist. You may rest assured that God did not save us to be buffeted and persecuted by the Antichrist. The Church is looking for Christ the Lord—not for the Antichrist. But just as God could not touch Sodom until Lot was out of the city—"But flee there quickly, because I cannot do anything until you reach it." (Genesis 19:22), God will not touch this earth in judgment and great tribulation until the Bride of Christ (the New Testament Church) is seated with the Lord Jesus in the air, at the marriage supper of the Lamb (Read 1 Thessalonian's 4:13-18 and Revelation 19:7-10.).
Cheer up, child of God—take courage! When all hell breaks loose on this earth and the blood runs like a river for 200 miles, 10 feet deep; when sinners beg God to let the rocks and mountain's fall on them and hide them from the face of Jesus; when men chew their tongues and beg God to let them drop dead (and yet they cannot die)—we born again believers will have a ringside seat in the sky!
11 I am coming soon. Hold on to what you have, so that no one will take your crown.
For the churches in Ephesus (2:5), Pergamum (2:16), and Sardis (3:3), Christ's coming would be a time for them to fear if they did not repent, for He would come as their Judge. To the church at Philadelphia, however, Christ's words "I AM COMING SOON" would NOT be threatening. Rather, they would be a promise to the believers of His imminent return. The word "SOON" can also be taken as, "without warning" (Read 1:1, 3). In the meantime, they should "HOLD ON TO WHAT
THEY
HAVE," referring to obedience and refusal to deny Christ (3:8), a little power, His Word, His name, and the promise of His coming again. If we give up these things, we may expect to lose our reward. "Let us not be weary in 12 doing; for in due season we shall reap, if we faint not" (Galatians 6:9).
In the New Testament, men used the idea of the Coming of Christ as a warning to the heedless and as a comfort to all the oppressed. It is quite true that, in the literal sense, Jesus Christ did not come back to those who were so warned and exhorted. But no man knows when eternity will invade his life and God will bid him rise and come; and that must warn the careless to prepare to meet his God and cheer the oppressed with the thought of the upcoming glory of the faithful soul.
"I AM COMING SOON" is the promise that is the hope of the church. Actually, the church is not looking for the Great Tribulation Period. Nowhere are you told that you are to gird up your loins, grit your teeth, and clench your fists because the Great Tribulation is coming and you are certainly going through it! He never said that, but He did say "Looking for that blessed hope, and the glorious appearing of the great God and our Savior Jesus Christ" (Titus 2:13).
Christians have differing gifts, abilities, experience, and maturity. God doesn't expect believers to all be and act the same, but He does expect us to "HOLD ON" to what we have, to persevere in using our resources for Him. The Philadelphians were commended for their effort to obey (3:8) and encouraged to hold tightly to whatever strength they had. If you are a new believer, you may feel that your faith and your spiritual strength are small. Use what you have (even if it's small) to live for Christ, and God will commend you.
Verse 11 contains an announcement and good sound advice. "I AM COMING SOON." When Jesus comes for The Church it will all be over in the twinkling of an eye. Believers are admonished to "HOLD ON TO WHAT YOU HAVE, SO THAT NO ONE WILL TAKE YOUR CROWN." This does not say, "Hold fast to your salvation, let no man steal your salvation." Oh, no! It says "CROWN." Crowns are rewards. I will name them for you in just a few moments.