THE COMING CHURCH ICE AGE
by Charles Robey
(Trussville AL)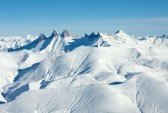 Are today's modern churches about to enter the ice age, of Christianity ? If so, what then is wrong with our modern day churches ? Not the brick and mortar structures but the people who make up our churches. Almost two thousand years ago, Jesus said, "I will build My Church, and the gates of hell will not prevail against it."( Matthew 16:18 )


Continuing , we must lay our ground work, by regressing back to the first church. This church was born, as a direct result of Pentecost, ( Acts 2:38-41 ) and was known for its power and simplicity. This church, once established, answered the call to carry the gospel far and wide. (Acts 1:8 ) Consequently, this first church grew rather rapidly, by praising God and having favor with all the people. ( Acts 2:47)

History records that the early day church had its greatest growth, when under the most persecution, including the death of the saints. However, God said it and that settles it. We will always have a remnant of the true church.

Nonetheless, we can honestly say that today's Christianity bears little resemblance to the Christianity of the early church. I had the dubious privilege, a few months ago, of visiting a number of the large main line denominations in a nearby city. All these churches were similar in nature, when it came to the lack of hospitality towards visiting strangers. When it came time for the informal "meet and greet' portion of the service, why you could have ice skated down the aisles. Some members even went out of their way to bypass us visitors, in an to apparent grab to reach out to the other long standing members.

You may feel I'm exaggerating, concerning this lack of true fellowship. Just try testing my observation by visiting one of your local bigger churches some Sunday morning. And while there, conduct a survey, as to how many Bibles you see present. Is it any wonder so many, who claim to be Christian, are staying away from church ?

In fact, this has become such a wide spread phenomenon trend, that it has been given a special name, " the stayaway saints."

A recent study by The Barna Group, a California-based Christian research organization, found that about 13 million Americans whom the researchers identified as being born again were "unchurched ... not having attended a Christian church service, other than for a holiday ... at any time in the past six months."

And revival historian and teacher Andrew Strom found painful evidence of "a worldwide phenomenon." After speaking on radio about what he has dubbed the "Out of Church Christians," and writing about them in one of his e-newsletters, he was bombarded with responses from people around the world telling him, "Me too."

So, what's wrong with the church of today and how may it be fixed ?

"In religion and politics, people's beliefs and convictions are in almost every case gotten at second-hand, and without examination, from authorities who have not themselves examined the questions at issue but have taken them at second-hand from other non-examiners, whose opinions about them were not worth a brass farthing" (Mark Twain's Autobiography, 1959).

Far be it from me to give expert advice here, as I am just a lowly layman, and that's a job for the theologians. However, from my limited common sense, my observations seem to coincide with other researchers. There may be so many things wrong with today's church that I hardy know where to begin. ( Mark 24:4-5 )

Try the order of service which has no spiritual content,( Matthew 15:8-9 ) the preaching that doesn't include scripture, ( Galatians 1:8-9 ) the way the church deals with social issues ( 1 Thes 5:21) , the unfriendliness of the church membership,( Matthew 5:5 ) the so-called church clicks or isolated member circles, ( Galatians 1:7 ) the membership apathy,( Ephesians 5:19-20 ) you name it.

And don't forget those fellowship groups. What a wonderful place to discuss the spirituality of the church. ( 1 Cor 2:11 ) But what do we get instead, ? Discussions of me, myself and I, involving the upcoming social concerns of the church. Or worse still, how life is going in our homes and jobs. Nothing substantive. No spiritual truths.( 1 Cor 2:9 )

One famous minister once stated that the cause can be traced to what the Church consists of. The Church would not be so bad if there weren't people in it. Yes, problems with the Church boils down to the one problem, people He is certainly correct, as we all are either "sinners saved by grace" ( Ephesians
2:8) or " unsaved sinners". ( 1 Cor 1:8 ).
We must continually remind ourselves of the truth of Jesus' words, ( Matthew 15:19 ) You see, even though we may be saved, we still have certain human tendencies. Yes, it's true that if we had no personality before we were saved. Afterwards, we would just be a believer with no personality.
And with people comes the human aftermath trait of criticism of the Church or "judgmentalism" . Ever been to a church conference ? If so, you know exactly what I mean. Christ warned against this, as well. ( Matthew 7:1-5 )
The scripture gives the modern day church a very good road map, with which to travel, based on the early church doctrine. ( Acts 2 :42-46 ). And if followed, the results can be astonishing. ( Acts 2:47)
Conversely, in the Apostle Johns prophecy of Revelation, we also see a critique of the early day church's progression, some 60 years after the first church was established at Pentecost. How the church did change, since the day of Pentecost.
Church evaluations, for these churches were moderately different than the early day first church established by the Holy Spirit. Are we missing this same Holy Spirit, in our church services today... ( Psalm 143:10 )
The church at Ephesus had lost its first love. (Revelation 2:1-7) . The church at Smyrna suffered persecution. ( Revelation 2:8-11 ) The church at Pergamum needed to repent. ( Revelation 2:12-17) The church at Thyatira had false prophetess. ( Revelation 2:18-29 ) The church at Sardis had fallen asleep.( Revelation 3:1-6--- The church at Philadelphia had endured patiently.( Revelation 3:7-13 ) And the church at Laodicea was lukewarm in the faith. ( Revelation 3:14-22 )
And these churches were a far cry from the first established church in Jerusalem, would you not say ? So, where does you church now fit in ? Does it mimic the first church or the seven churches of Asia.
The key to our churches becoming the church of God's intent, is for each individual to get his or her focus and his or her ideologies, back on Christ Jesus. ( Acts 20:28:32 ) We need to preach it.( 2 Timothy 4:2 ) We need to teach it.( 2 Timothy 3:16-17 ) And we need to speak about it often in our church bulletins.
The old time preacher once stated, " when the unsaved read the Bible, it's like reading other peoples mail".
The very best place to be is in a church that is unified and the worst is a church that is splintered and fractioned church.
In a unified church the people truly care for each other, in accordance with the scripture, as well as having good ethical practices. As opposed to unity, is a splintered church whereby they center on personal preferences, rather than the ministry. And you are making it one or the other! Which is it for you ?
Throughout the scriptures, God tells us that to be in unity we must be in His will. Our question, of course is, how we may accomplish this command. Just be Christ-like. Yes, it's hard enough to repeat that scripture based cliché, but how do you do it; what does it look like when we have gotten it.
The apostle Paul discussed the solution in ( Philippians 1:1-11 ) . Simply put, it is having holy communion with both God and man. You see, it is impossible to be in unity with other believers, if you do not walk with Christ.( Ephesians 4:1-3 ) This above all things could solve the problems of churches around the world in any age. Believers who get away from a close walk with the Master cannot reproduce Christ likeness in the flesh .
Unless the church returns to its roots by preaching the "full gospel" ( 1 Cor 15:1-4 ) and carrying out God's "Great Commission", ( Matthew 28:19-20 ) more than likely the church will succumb to the same characteristics as did the original ice age period. Parallel, the frozen chosen .
AUTHOR'S POST NOTE
I can't help but ponder the fond memories of those old "brush-arbor" revival meetings where the "Amen's" and the "Hallelujah's" echoed, as the spirit led. I still remember those strong, but simple, evangelistic teachings. Additionally, in support of those evangelistic messages, was our old fashioned church altar. I still believe in that "Old Time Religion". I pray now, since retiring from my secular profession, that God will hide me behind the cross and use this compilation to give encouragement and strength to the Christians as well as draw the sinners into a saving knowledge of Christ Jesus.