THE CONFABULATED LEADER
by Charles Robey
(Moody AL USA)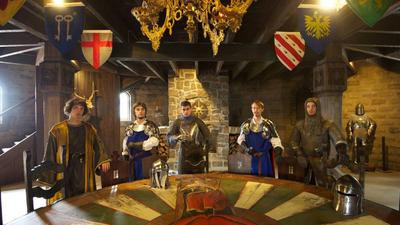 Cool Luke, as he was known around the department, never held anything back. What he felt, you felt. When he was sad, so were his friends. When he was happy, those around him all were happy as well. Make no bones about it, Cool Luke didn't like those infamous department staff meetings, nor did his closest friends.

And, he prided himself as being a true "red blooded American." A real live loyal nationalistic partisan. No confabulation for Cool Luke, ever.

He never held back his feelings, such as "I would rather eat spinach than attend those boring staff meetings." Or "I would rather endure a root canal, even though the last one required four hours of work over two days, than attend the meetings." You get the picture, that was Ole Cool Luke through and through.

So, that little soul cleanse just got me thinking back a bit to yester-year, when I too was in my prime, and attending those supposedly regenerating staff meetings, year after year. You know, the ones when the boss sits at the head of the conference table spilling out his or her futuristic ideas for the company's growth and employee prosperity. They were impressive ideas that never got beyond the big conference table, much less leave the room.

It was a time when at the meeting no one else said a word. There were no suggestions from the troops, as from past experience we all knew better. We liked or maybe endured our jobs for the sake of the paychecks.

I remember one occasion very well, as a fairly new employee of the organization. Our new boss had come on board. Rumors were bouncing fast and furious off those hard office walls. He would be doing this and that. He would be getting rid of this one and that one, as the gossip ramped up.

Then came the long-anticipated staff meeting. There he was, a man among men, the new leader of the pack. From his first opening remarks, and on into the gist of it all, he was not only a leader, but a gentleman as well. He was one of us. Tensions seemed to melt away as his first staff meeting progressed.

His opening remark was "It's time to move on, a time to be customer-oriented, a time to think outside the box. If you are right in your day-to-day dealings with our customers, I'll be with you all the way."

Then it happened just as I knew it would sooner or later, the conversation exploded as it always does when Cool Luke is around. He spoke up in his famous contradictory tone "But sir, we don't need you when we are right, it's when we are wrong that we really need you."

You Could have heard a pin drop All I've got to say about that is this, it was nice knowing this ex-employee, Cool Luke.

Well, time has a way of swiftly passing by. My boss and I are now retired and still enjoying a long-lasting friendship. We have many pleasant memories together. This was the best boss of my long, diversified working life. Amen!

Now I ask you? Ever confabulated? Fabricated imaginary experiences as compensation for loss of memory.

Well, since being older than dirt and twice as gritty, I'm sure I may have fallen in this trap many a time. Thus, the informative title of this blog, "THE CONFABULATED LEADER." I trust you will like its format. Can you relate to the real-life content?

"Furthermore, you shall select out of all the people able men who fear God, men of truth, those who hate dishonest gain; and you shall place these over them as leaders of thousands, of hundreds, of fifties and of tens." (1 Samuel 8:3)

I had returned home from a taxing work week. Those modern-day Bible students had real aged me beyond my years. Thank goodness for Friday and the coming weekend. It was a much-needed time to relax. Being older than dirt and twice as gritty, this old Bible college professor was surely overdue for a good life of retirement.

I had no more relaxed by settling into my infamous Frazer Dad's old faded green recliner held together by duct tape, with my usual plate of homemade chocolate chip cookies and big glass of sweet tea by my side when it happened. I had a dream, a real life dream among dreams. To this very day I wonder, why me of all people? I was a set-in-my-ways Bible teacher.

It was an unusually nice dream, bouncing around in the clouds traveling ever so softly way up in the wild blue yonder. Then the scene quickly changed, softly and tenderly I settled down in parts unknown. I was carried back in time, landing on the fresh green grass of the countryside. My first thought was, "I must take advantage of this scenery and look around a bit." So I did.

I was on the grounds of a large, picturesque, medieval castle. People, too many to count, were hustling and bustling across the big castle water moat bridge and through the tall, golden castle doors. I thought I would take a peek, so I walked into the castle. That's when my eyes were drastically opened.

The people, as it turned out, were all countryman spectators being directed to a large upper balcony atop a large conference room. "Might as well join them," I thought.

Down below was what appeared to be a governmental cabinet meeting of sorts. I figured it to be an all-important staff meeting, from those who were in attendance. I decided to keep quiet and observe so I silently and calmly settled back.

From all apparencies, it was a meeting of all meetings, displaying a gathering of the country's elite, a who's who if you will of the country's premier governmental leadership. It turned out that this was the new Imperial Magistrate's first cabinet meeting since being elected to lead this long-forgotten land.

Gossip had it that the leading candidate expected to win this coveted position by a landslide, somehow failed to get the necessary votes needed to win, which brought about a multitude of expected questions from all his fellow countrymen.

All the respected leaders of the country were sitting around a large oval conference table surrounded by the country's flags, patiently and quietly awaiting the new Imperial Magistrate's entrance.

What was so uncommonly rare about the room's color design was the particular décor design. The table was decorated in an array of red and blue colors, with corresponding color-coded chairs, yet the one big chair at the head of the table was decorated in a striping of red and blue.

The leader arrived and was seated in the red and blue striped head chair, and all the various dignitaries arose quickly in unison from their red and blue seats, displaying allegiance to the leader by giving the customary official salute.

What was also so strange to me, was this leader immediately, without hesitation, gave the clear appearance of being uneasy. His vibes were clearly picked up by the bewildered gathering as he appeared to be somewhat exhausted and unsure of himself, and he began rambling through his written notes.

The Imperial Magistrate's appearance and demeanor was clearly evident, as the balcony countrymen began to whisper among themselves.

"Why is the Imperial Magistrate the only one wearing a mask? What was he hiding?" the balcony crowd began to ask.

After a bit of speculation, the questions were swiftly answered. The leader's earpiece suddenly fell out from beneath his mask, to the wonderment of the balcony spectators. "Exactly who was this leader listening to, and who was giving him his orders?" the upstairs crowd murmured.

Excusing himself temporarily, the Imperial Magistrate began to get up and leave the room, stumbling as he walked out, amid the chatter of all his subordinates and those in the balcony.

Taking his place, in the midst of it all, was the Court Jester. However, his fill-in stunts failed to calm the notable dignitaries, much less the upper balcony.

What happened next to this once great country, I haven't a clue. My dream had suddenly ended as quickly as it had begun. I was back home, still slumped down in my recliner, my snack of cookies and sweet tea still before me.

What did I do next? Well, lying mysteriously on my bedside table was Mom's big, well-worn Bible, marked at a favorite prophetic Scripture.

"He changes times and seasons; he deposes kings and raises up others. He gives wisdom to the wise and knowledge to the discerning." (Daniel 2:21)

And neatly tucked in Mom's Bible was a handwritten note which read,

"My beloved son, Daniel 2:21 is self-proclaimed evidence that our Creator, God, is still in control of all things and all circumstances for sure. He is responsible for the rise and fall of all kings to ever exist. By extension, God controls all governments and all aspects of life. So, don't be discouraged, my loving son, you see I've read the back of the Book and we win in the end.

Love Mom!"

What now? Well, I just couldn't hold back the tears of repentance, of gladness, of joy. Thanks again, Mom, See you soon. Love to all the family.

EPILOGUE

I trust you enjoyed this bit of modern-day musing. My calling in life is not to be a prophet, soothsayer or oracle, but to simply apply a passing glance of truth to current events of the day.

The present civilization is surely changing fast and furiously throughout this divinely created universe. My written approach to this world's current events does keep me busy pounding my trusty computer keyboard like never before.

So, what about this character's dream? Would this dream have continued? No, I don't think it was needed. He saw what was meant to be seen, learned what was to be learned. End of blog, beginning of service. Let's all go to work for the truth. Amen!