The Content of the Prayer: Page 4 of 4 (series: Lessons on Ephesians)
by John Lowe
(Woodruff, S.C.)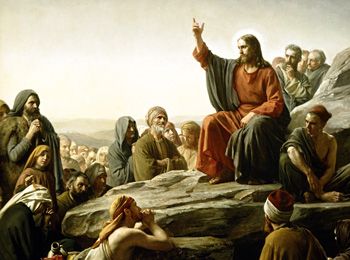 "Which passeth knowledge"

- There 'seems' to be a slight contradiction here in expressing a wish to know what cannot be known, or in a desire that they should understand that which cannot be understood. But it is the language of a man whose heart was full to overflowing. He had a deep sense of the love of Christ, and he expressed a wish that they should understand it. Suddenly he has such an apprehension of it, that he says it is indeed infinite. No one can attain a full view of it. It had no limit. It was unlike anything which had ever been envisioned before. It was love which led the Son of God to become incarnate; to leave the heavens, to be a man of sorrows; to be reviled and persecuted; to be put to death in the most shameful manner―on a cross. Who could understand that? Where else had there been anything like that? What was there with which to compare it? What was there by which it could be illustrated? And how could it be fully understood. Yet "something" of it might be seen, known, felt; and the apostle desired that as far as possible they should understand that great love which the Lord Jesus had manifested for a dying world.

"That ye might be filled with all the fulness of God"
What a marvelous expression! How rich and glorious. Who can comprehend all that it implies? Let us inquire into its meaning. There "may" be here in these verses an allusion to the "temple." The apostle had spoken of their being established in love, and of surveying the length, and breadth, and depth, and height of that love, as if it were a vast and splendid structure, and he now desires that those whom he addressed might be infused or filled with the indwelling of God. The language here is cumulative, and is full of meaning and richness.
(1) They were to be "full of God." That is, He would dwell in them.
(2) They were to be filled with "the fullness of God." On the word rendered "fullness," see Ephesians 1:10, and note. It is a favorite word with Paul. Thus, he speaks of the "fullness" of the Gentiles (Romans 11:25); the "fullness" of time (Galatians 4:4); the "fullness" of him that filleth all in all (Ephesians 1:23); the "fullness" of Christ (Ephesians 4:13); the "fullness" of the Godhead in Christ
(Colossians 1:19; Colossians 2:9). It means here, "that you may have the richest measures of divine consolation and of the divine presence; that you may partake of the entire enjoyment of God in the most ample measure in which he bestows His favors on His people."
(3) It was to be with "all" the fullness of God; not with partial and stinted measures of his gracious presence, but with "all" which he ever bestows. Religion is not a name. It is not a matter of form. It is not a trifle. It is the richest, best gift of God to man. It dignifies our nature. It more clearly teaches us our true dignity than all the profound discoveries which people can make in science; for none of them will ever fill us with the fullness of God. Religion is spiritual, elevating, pure, and Godlike. We dwell with God; walk with God; live with God; commune with God; are like God. We become partakers of the divine nature (2 Peter 1:4); in rank we are associated with angels; in happiness and purity we are associated with God!
Scripture and Special Notes
[1} "For this cause I Paul, the prisoner of Jesus Christ for you Gentiles" (Ephesians 3:1).
[2} "Therefore I want the men everywhere to pray, lifting up holy hands without anger or disputing" (1 Timothy 2:8).
[3} "But his bow abode in strength, and the arms of his hands were made strong by the hands of the mighty God of Jacob; (from thence is the shepherd, the stone of Israel)" (Genesis 49:24).
[4} "And even if our gospel is veiled, it is veiled to those who are perishing, in whose case the god of this world has blinded the minds of the unbelieving so that they might not see the light of the gospel of the glory of Christ, who is the image of God. For we do not preach ourselves but Christ Jesus as Lord, and ourselves as your bond-servants for Jesus' sake. For God, who said, "Light shall shine out of darkness," is the One who has shone in our hearts to give the Light of the knowledge of the glory of God in the face of Christ" (2 Corinthians 4:3-6).
[5} In grammar, genitive (also called the possessive case or second case) is the grammatical case that marks a noun as modifying another noun. It often marks a noun as being the possessor of another noun.