The Continuing Unity of the Church Part 1 of 3
by John Lowe
(Laurens SC, USA)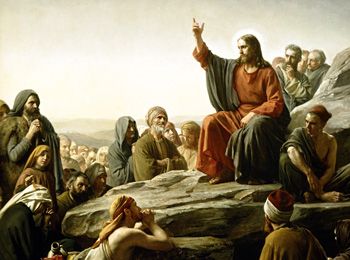 October 28, 2013

Acts of the Apostles
By: Tom Lowe

Lesson II.C.3.c: The Continuing Unity of the Church (4.32-37)


Acts 4.32-37 (KJV)

32 And the multitude of them that believed were of one heart and of one soul: neither said any of them that ought of the things which he possessed was his own; but they had all things common.
33 And with great power gave the apostles witness of the resurrection of the Lord Jesus: and great grace was upon them all.
34 Neither was there any among them that lacked: for as many as were possessors of lands or houses sold them, and brought the prices of the things that were sold,
35 And laid them down at the apostles' feet: and distribution was made unto every man according as he had need.
36 And Joses, who by the apostles was surnamed Barnabas, (which is, being interpreted, The son of consolation,) a Levite, and of the country of Cyprus,
37 Having land, sold it, and brought the money, and laid it at the apostles' feet.


Introduction

We have been considering the infant Church in the midst of hostile forces. We now come to a section of the book which gives us a glimpse of the internal conditions of the Church at that time, and particularly of the fellowship that existed around old Jerusalem First Christian Church.

The believers had prayed and God's Spirit had filled them and given them new power. The church that believes in the power of prayer will know the blessing of the Holy Spirit in its ministry. How can we tell when a church is really filled with the Spirit? When you go back to that first filling at Pentecost (Acts 2.44-47), you will discover three outstanding characteristics of a spirit-filled church:
1. It is unified (vv. 2.44, 46).
2. A Spirit-filled church is active and well-known in the community, and will have "favor with all the people" (v. 2.47).
3. A Spirit-filled church is multiplied, because the Lord will add new believers to the church daily (v. 2.47).

Luke had two reasons for including this passage here. For one thing, he used it to introduce Barnabas to his readers. A common technique of Luke was to introduce a character quickly in a minor role and then later bring him on stage in a major role. This is what he did with Barnabas. Luke's second purpose in these verses was to show how Barnabas and the rest of the Church contrasted with Ananias and Sapphira (chap. 5). The generosity of the Church and especially Barnabas differed markedly from the selfishness of that husband-wife team.


Commentary

32 And the multitude of them that believed were of one heart and of one soul: neither said any of them that ought of the things which he possessed was his own; but they had all things common.

In verses 32 through 35 there is a general description of the condition of the church in Jerusalem. But it is not something new, because the same condition existed back at the beginning of the Christian Church, immediately after the giving of the Holy Spirit on the Day of Pentecost. In chapter 2, verses 42 through 45 there are four things mentioned which characterize the infant Church.

FIRST, the believers "continued steadfastly in the apostle's doctrine"—which does not mean that they simply listened to the apostles teaching, but that they accepted it and supported that teaching by the way they lived their daily lives.
SECOND, they continued steadfastly "in fellowship"—that is, all the believers were together (physically and spiritually), and "had all things in common."
THIRD, they continued "breaking bread from house to house (and) did eat their meat with gladness and singleness of heart."
Forth, they continued steadfastly "in prayers . . . praising God . . . and the Lord added to the Church daily such as should be saved."

The one hundred and twenty believers who went into the upper room on the Day of Pentecost were baptized into one body with the Lord Jesus as the head and every believer as a member of that body, the result being that they were united in heart and mind, and continued steadfastly in fellowship.

The Greek word "koinonia" has been translated here as "fellowship." There may be no richer word in the New Testament, since there is no single word that can convey all of the meaning, depth, and richness implied by the Greek word; therefore, it has been translated in many ways—"fellowship . . . communion . . . communication . . . distribution . . . contribution . . . partakers . . . partners." Our present verse contains the root from which "koinonia" comes; so we see that fellowship means "having all things in common."

The deep and precious teaching here is that born-again believers have fellowship with God—that is, we have "all things in common" with God. Now we are children of God—"Behold, what manner of love the Father hath bestowed upon us, that we should be called the SONS OF GOD: therefore the world knoweth us not, because it knew him not. Beloved, now are we the sons of God, and it doth not yet appear what we shall be:
but we know that, when he shall appear, we shall be like him; for we shall see him as he is" (1 John 3.1, 2).We are hid with Christ with God, now—"For ye are dead, and your life is HID WITH CHRIST IN GOD (Col. 3.3). We are heirs of God now—"And if children, then heirs; HEIRS OF GOD, and joint-heirs with Christ; if so be that we suffer with him, that we may be also glorified together" (Rom. 8.17). All the resources of God are at our disposal, and the resources of the child of God are entirely at God's disposal.
Pentecost brought the early Christians into a new relationship with Christ which resulted in a new relationship with God—and inevitably into a new relationship with each other. Therefore (and out of necessity) they had "all things in common" with each other.
The same is true today in the Church of the living God. When we believe in the Lord Jesus Christ we are immediately baptized into the body of Christ—"For as the body is one, and hath many members, and all the members of that one body, being many, are one body: so also is Christ. For by one Spirit are WE ALL BAPTIZED INTO ONE BODY, whether we be Jews or Gentiles, whether we be bond or free; and have been all made to drink into one Spirit" (1 Cor. 12.12, 13). We have a new relationship with Jesus Christ; we are in Him—"There is therefore now no condemnation to them which are IN CHRIST Jesus, who walk not after the flesh, but after the Spirit" (Rom. 8.1). He is in us—"To whom God would make known what is the riches of the glory of this mystery among the Gentiles; which is CHRIST IN YOU, the hope of glory" (Col. 1.27). Since we have a new relationship with Christ, we also have a new relationship with God, the heavenly Father, for in Christ we are "hid with Him in God"—"For ye are dead, and your life is hid with Christ in God" (Col. 3.3).
We are in Christ, He is in us; therefore we should walk as He walked (live as He lived). In the letter Paul wrote to the believers in Ephesus he urged them to walk worthy of the calling wherewith they were called,"With all lowliness and meekness, with longsuffering, forbearing one another in love; endeavoring to keep the unity of the Spirit in the bond of peace" (Eph. 4.1-3). There is one body, and one Spirit, even as ye are called in one hope of your calling). In the next verse (Eph. 4.4) he explained what he meant by "unity of the Spirit," declaring, "There is one body, and one Spirit." That one body is Christ, and all believers are members of that body, since they have been baptized into it by the Holy Spirit. Next, Paul showed how Christians acquire this oneness: There is "one Lord (Christ), one faith (trusting Him Completely), one baptism (the baptism of the Spirit making the believer one with Christ)." And finally, Paul tells us the results of this oneness with Christ:"One God and Father of all, who is above all, and through all, and in you all" (Eph. 4.6). As a result we have "koinonia"—fellowship, having "all things in common"—believers made partakers of divine nature—"Whereby are given unto us exceeding great and precious promises: that by these ye might BE PARTAKERS OF THE DIVINE NATURE, having escaped the corruption that is in the world through lust" (2 Pet. 1.4); seeing the divine light in the Word—"But if we walk in the light, as he is in the light, we have fellowship one with another, and the blood of Jesus Christ his Son cleanseth us from all sin" (1 John 1.7); feeling with divine love—"We love him, because he first loved us (1 John 4.19); living with divine life because Christ is our life—"When Christ, WHO IS OUR LIFE, shall appear, then shall ye also appear with him in glory" (Col. 3.4).These things form the basis for the communion ("all things in common") of this chapter, and now we will see the results of this fellowship—its power, its principles, and its practice: "And the multitude of them that believed were of one heart and of one soul." "The multitude of them that believed" refers to the whole body of Christians and is practically synonymous with "the church." The power in the lives of these early Christians existed because they were of one heart and of one soul, but it came from the fact that they believed. The fellowship described would be impossible if they were NOT born again believers, and it was the new birth that made these people of one heart and one soul. The two phrases "of one heart" and "of one soul" were not carelessly selected by Luke; they were put here by the Holy Spirit. The heart is the emotional and inspirational part of the individual; from the heart proceed "the issues of life," according to Proverbs 4.23.The soul is the center for love and hate—and it is the soul that is born from above, having been created new by Christ Jesus. Thus all believers have a new life.