"The Corinthians and the Apostle Paul" Page 2 of 5 (series: Lessons on 1 Cor.)
by John Lowe
(Woodruff, S.C.)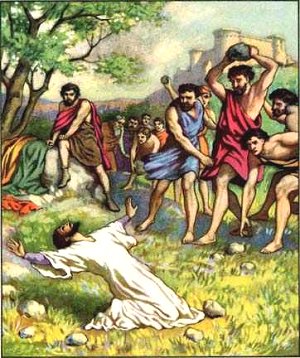 for in Christ Jesus have I begotten you through the Gospel.

In Galatians 4.19 we read "My little children, of whom I am again in travail until Christ be formed in you" (Gal 4:19; ASV). The idea here is that Paul felt that he maintained with them the relationship of a father, and he had the deep and tender feelings of a parent for them. The believers in Corinth had received the new birth through Paul's ministry "in Christ Jesus." This expresses a spiritual relationship since all believers are "in Christ"—"For ye are dead, and your life is hid with Christ in God" (Col 3:3; KJV). Christ is your treasure; and where your treasure is, there is your heart. Christ lives in the bosom of the Father; since your heart is in him, you also sit in heavenly places with Christ Jesus. Christ is the life of your souls; and as he is hidden in the bosom of the Father, so are you, who live through and in him. Notice that in the first part of this verse, Paul says "in Christ," but here the name Jesus is added, which stresses Paul's living union with the Savior in his ministry. The name "Jesus" means Savior: "And she shall bring forth a son, and thou shalt call his name JESUS: for he shall save his people from their sins" (Matt 1:21; KJV).

"Begotten you" means regeneration, being born again from above; becoming alive when you were dead in trespasses and sins; having the spirit of Christ formed in your soul; being a partaker of the divine nature, and a new creature; which the apostle ascribes to himself. Regeneration is not something that men can produce by their own free will and power, and another man or another minister cannot produce it either; but it a miracle and a mystery that comes to us through the sovereign will, grace, and mercy of God the Father, God the Son, and God the Spirit. The Father of Christ beget us according to his abundant mercy; and the Son quickens whom he will; and we are born again of water and of the Spirit; that's why the washing of regeneration, and renewing work are ascribed to Him: but the apostle speaks this of himself, only as the instrument or means, which God made use of in doing this work upon the hearts of his people. He preached Christ to them, that salvation was by Him, and he directed them to believe in Him—this was his part in bringing them to Christ, and Christ did the rest; the most important part.

16 Wherefore I beseech you, be ye followers of me.

This is not a difficult verse, at all. The apostle wanted the believers at Corinth to feel about him like a child feels about its father. He wanted them to follow him like he followed Jesus. He had set an example for them to follow by his humble, dedicated lifestyle, and the pure preaching of the Gospel. "Brethren, be followers together of me, and mark them which walk so as ye have us for an ensample" (Phil. 3:17; KJV). I wish I could say that. I can't, but Paul could. He says, "If you want to know how to do it, watch me."

Every Gospel minister, whether pastor, evangelist, or missionary, should be an example of the grace of God to the people to whom he ministers. His life should be a living testimony, a living epistle read by men. He should never be part of anything that would have a negative impact upon the Gospel or upon the name of Jesus.. Paul was that kind of person and he could plead with the Corinthian believers, who were his children in the faith, to imitate him and follow in his footsteps, as he followed in the footsteps of Jesus. I like to repeat a saying you may have heard before, "You may be the only Bible some people will ever read." It's true, the opinion some people have of Christianity may be based entirely upon your life; because if you are known to be a Christian, someone is watching and listening to you. Do you feel the responsibility that you have to follow Christ? You should! "Be ye therefore followers of God, as dear children" (Eph 5.1; KJV). The believer is to be an imitator of God, especially in the matter of forgiveness. However, this applies to all aspects of the Christian walk. The Gentiles who formerly walked on a very low plane are now lifted to the high level of love. They are now called "dear children" or
beloved children. The plane of love to which they are lifted is the love which Christ exhibited when He loved us enough to give Himself as an offering and a sacrifice for us.
17 For this cause have I sent unto you Timotheus, who is my beloved son, and faithful in the Lord, who shall bring you into remembrance of my ways which be in Christ, as I teach every where in every church.
For this cause have I sent unto you Timotheus
For this cause, that is, in order to remind you of my doctrines and how I have lived among you, so you can be imitators of me. Since I am hindered from coming myself, I have sent a fellow-laborer as my messenger, and he is well acquainted with my views and feelings, therefore, he can do what I would do if I were present with you.
"Timotheus" is the Greek name for "Timothy" (See special article below—Timothy). Here Paul shows the depth of his love and concern for the Corinthian believers. He not only writes to them, but he gives his best advice and counsel and promises to come to them; but in the mean while he sends Timothy to them, who is a frequent companion, and a dear friend, who has proven trustworthy and faithful. Timothy had already been sent to Corinth—"Now if Timothy come, see that he be with you without fear; for he worketh the work of the Lord, as I also do" (1 Cor 16:10; ASV)— but if he went by land, he would not arrive until after this letter, if it went across by sea.
Timothy—A True Friend to Paul and Faithful Servant of Jesus Christ
TIM´OTHY. The disciple with this name was the son of a mixed marriage which, though condemned by stringent Jewish opinion, was not uncommon in the later periods of Jewish history. The father's name is unknown; but he was a Greek, and his mother's name was Eunice and her mother was Lois. Under their training his education was emphatically Jewish. It is uncertain whether Lystra or Derbe was the residence of this devout family. The arrival of Paul and Barnabas in Lycaonia, A.D. 44, lead to the introduction of the Gospel to Timothy and his mother, and they received it with "unfeigned faith"—"having been reminded of the unfeigned faith that is in thee; which dwelt first in thy grandmother Lois, and thy mother Eunice; and, I am persuaded, in thee also" (2 Tim 1:5; ASV). Personal feeling led St. Paul to the conclusion that Timothy was specially equipped for the mission field—"Him would Paul have to go forth with him; and took and circumcised him because of the Jews which were in those quarters: for they knew all that his father was a Greek" (Acts 16:3; KJV). Timothy was one of Paul's most constant companions. They and Silvanus, and probably Luke also, journeyed to Philippi, and there the young evangelist was conspicuous for his devotion and his zeal. When his name is mentioned next he is at Berea, and he remained there when Paul and Silas left for Athens, but he joined them there later—"Wherefore when we could no longer forbear, we thought it good to be left at Athens alone; And sent Timotheus, our brother, and minister of God, and our fellowlabourer in the gospel of Christ, to establish you, and to comfort you concerning your faith" (1 Thess 3:1, 2; KJV). From Athens he is sent back to Thessalonica, where it is said he had special gifts for comforting and teaching. From there he traveled to Corinth, but we have no record of the next five years of his life. When we next meet him, he is being sent in advance of Paul who was contemplating a long journey which was to include Macedonia, Achaia, Jerusalem, and Rome. He probably returned by the same route and met St. Paul according to a previous arrangement, and was with him when the Second Epistle was written to the church of Corinth. He returned to that city with the apostle, and joined him in messages of greeting to the disciples whom he had known personally at Corinth, and who had since found their way to Rome. He is one of the company of friends who went with St. Paul to Philippi. It doesn't appear that he made the trip to Italy, but he apparently joined the apostle soon after his arrival at Rome, and was with him when the Epistles to the Philippians, to the Colossians, and to Philemon were written. All the indications of this period point to relentless missionary activity.