"The Corinthians and the Apostle Paul" Page 5 of 5 (series: Lessons on 1 Cor.)
by John Lowe
(Woodruff, S.C.)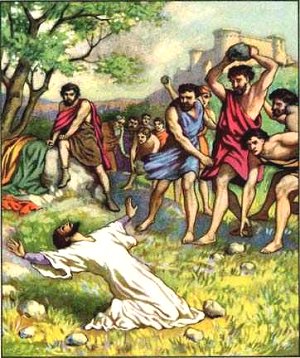 The kingdom of God cannot be seen now, like it will be when Jesus sits on the throne of David in Jerusalem—His King upon His holy hill of Zion: "Yet have I set my king upon my holy hill of Zion" (Psalms 2:6; KJV). Here the Gospel will be preached first; here the kingdom of Christ will be founded; and from here the doctrine of the Lord will go out into all the earth. When Jesus sits upon the throne in Zion, the kingdom of God on earth will be in glorious and universal manifestation—"And the seventh angel sounded; and there followed great voices in heaven, and they said, The kingdom of the world is become the kingdom of out Lord, and of his Christ: and he shall reign for ever and ever" (Rev 11:15; ASV).


At the present time, being in the Kingdom of God brings at the best criticism, and in the worst case, persecution, suffering, and even death; as we have seen in some Asian and Mid Eastern countries—"Which is a manifest token of the righteous judgment of God, that ye may be counted worthy of the kingdom of God, for which ye also suffer" (2 Thess 1:5;KJV). If you are suffering because you are a Christian who is living to serve Him, that is a true sign that you are a child of God. Individual believers who are faithful in bearing the Cross and suffering with Christ will share in the eternal reward for endurance and faithfulness—"If we suffer, we shall also reign with him: if we deny him, he also will deny us" (2 Tim 2.12; KJV): and "To him that overcometh will I grant to sit with me in my throne, even as I also overcame, and am set down with my Father in his throne" (Rev 3.21; KJV).

In the Gospel of Matthew we read concerning the "Kingdom of Heaven," literally the heavens. The kingdom of heaven will be on the earth as it was promised to Abraham and Israel. There will be one thousand years of righteous government on earth, and the Church will rein with Christ during the Millennial earth.
The Millennium is promised primarily to Israel, and God will keep His promise. When Gabriel announced to Mary that she would give birth to a Son, he also announced that he would sit on the throne of His father David in Jerusalem, and this will literally come to pass.

The model prayer given to the disciples in Matthew will no doubt be prayed again in the Kingdom Age here upon this earth. The disciples were taught to pray, "Thy kingdom come, thy will be done in earth, as it is in heaven," and this will literally take place in the future. The Kingdom of God is within man, a spiritual kingdom; but the Kingdom of Heaven will be here on earth for one thousand years during the period of time known as the Millennium.

21 What will ye? shall I come unto you with a rod, or in love, and in the spirit of meekness?

What will ye?
Since the apostle had made up his mind to go to Corinth and to try to resolve the issues that were hurting that church, he asks them, "How do you want me to come to you," or "How do you want me to act." And then he gives the two options, which are the two clauses that follow. Actually, this was probably meant to serve as a warning for them to clean their own house before he gets there. They could do it by dissolving the factions, removing false teachers, and coming together around their common love for Christ. Their attitude and action will determine how Paul will come to them. Will he need to come with a "rod" of correction, or can he come in love and in a
spirit of meekness? It was up to them!
shall I come unto you with a rod,
The apostle could come to them either as a schoolmaster, which their false teachers were; or as a father with a rod of correction and punishment, assuming his paternal authority over them, putting on harsh looks, and treating them unkindly; or he could come as an apostle with the apostolic rod; which does not mean excommunication, which is something that involves a whole community, and is not the business of any single person; but with the power to inflict punishment on the bodies of offenders, by smiting them with diseases, and even with death itself; like the prophets of the Old Testament who had a power from God to inflict diseases and death upon offenders; and like the apostles of the New Testament, who had the same power, as it appears from the instances of Ananias, and Sapphira, and Elymas the sorcerer.
Here, the "rod" stands for reprimand or discipline. "In Love" conveys the thought of love between parent and child. Paul did not want to go to the Corinthians carrying a rod; he wanted them to repent and be obedient Christians so that he could go to them in love: "But we were gentle among you, even as a nurse cherisheth her children" (1 Thess 2:7; KJV). It was up to them to decide how he would come to them, because this was the real question—not whether, or when, but HOW; with a rod or with love and meekness. The rod introduces the note of discipline which is Paul's primary concern in the next section.
or in love, and in the spirit of meekness?
The word meekness does not signify mildness. It does not mean that Paul would come to them helpless, or as we would say, a weakling, a "jellyfish," or "sissy." The Lord Jesus is described as "meek," but He could be severe and He could exercise power. God is love—but He is also a consuming fire. He is slow to anger—but He is furious in Judgment. He calls, He stretches out his hand; but when man refuses to regard the hand of the Lord or hear his call, then God declares, "I also will laugh at your calamity; I will mock when your fear cometh" (Prov 1:26; KJV).
What Paul is saying to the Corinthian believers is, "The decision is yours as to whether I come to you with a rod, to chasten you as a father would chasten his child, or come in love and meekness. If you will repent and become obedient to the Spirit, then I will come to you as I desire to come—in love, and meekness; but if you rebel and continue in disobedience, I have authority from God to bring a rod of punishing, even though I do not want to do so.
Someone has said that a good undershepherd feeds the sheep, leads the sheep—and shears the sheep. All three procedures are necessary if the flock is going to be healthy and profitable. They cannot be fed all the time without being led into green pastures, next to still waters; and if the sheep are only fed, there is no profit, because the shearing yields the wool that pays dividends.
• "For whom the Lord loveth he chasteneth, and scourgeth every son whom he receiveth" (Heb 12:6; KJV). The chastening hand does not show the anger of God but his love. Every child is chastened and reproved for its good.
• "Now no chastening for the present seemeth to be joyous, but grievous: nevertheless afterward it yieldeth the peaceable fruit of righteousness unto them which are exercised thereby" (Heb 12:11; KJV). It is never pleasant to endure the chastening, but afterwards it benefits the holier life it insures. When we are hurting or in distress we naturally cling closer to God.