The Corinthians and Their Apostles: Page 4 of 10 (series: Lessons on 1 Corinthians)
by John Lowe
(Woodruff, S.C.)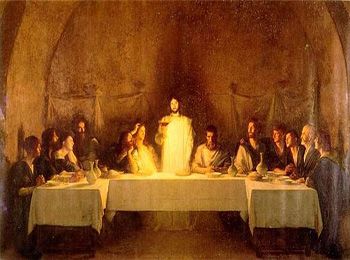 Of men—We must be very careful not to transfer the honor and authority of the Master to his servant. We must call no man Master on earth; one is our Master, even Christ: "But be not ye called Rabbi: for one is your Master, even Christ; and all ye are brethren" (Matt 23:8; KJV). We must not think of men above what is written in the scriptures. The word of God is the best measure by which to judge men. It is important that we judge others correctly, and not judge anyone more highly than is appropriate, since that is one way to prevent quarrels and contentions in the churches. Pride commonly lies at the bottom of these quarrels. Self-conceit contributes very much to our flattering appreciation of our teachers, as well as ourselves. Our praise for our own taste and judgment commonly goes along with our unreasonable applause and divisive loyalty to one teacher, in opposition to others that may be equally faithful and well qualified.

Above that which is written, probably refers to what he had said in:
• 1 Cor 3:5-9 (ASV) "What then is Apollos? and what is Paul? Ministers through whom ye believed; and each as the Lord gave to him. I planted, Apollos watered; but God gave the increase. So then neither is he that planteth anything, neither he that watereth; but God that giveth the increase. Now he that planteth and he that watereth are one: but each shall receive his own reward according to his own labor. For we are God's fellow-workers: ye are God's husbandry, God's building."
• 1 Cor 3:21 (KJV) "Therefore let no man glory in men. For all things are yours."
• 1 Cor 4:1 (KJV) "Let a man so account of us, as of the ministers of Christ, and stewards of the mysteries of God."
Or it may refer to the general theme of Scripture requiring the children of God to be modest and humble.
The advice the apostle attempted to instill by this means was that they might learn not to think of men above what is written (above what he had been writing), or be puffed up for one teacher in opposition to another, and that they should live their lives according to God's word, and nothing beyond that. Apostles were not to be honored more than planters or waterers in God's husbandry, and master-builders in his building, and stewards of his mysteries, and servants of Christ. Russell declared the meaning to be: "The things which are written ... no special text, but the teaching of the scriptures as a whole, which no leader, however gifted, may supersede." And, of course, it was precisely this matter of going beyond the word of God that the factions in Corinth had developed. They were evaluating the word and authority of people like it was on par with the Holy Scriptures, thinking of people more highly than they should, and rejecting the meekness and humility taught throughout the Bible. Grosheide said, "The whole question of factions was raised to a higher level," namely that of violating the scriptural rule of faith for the believer. "It is not his own words that Paul insists that the Corinthians must not go beyond; it is the word of God." But Paul hopes his writing will help the Corinthian Christians learn to keep their thinking Biblical, and to not use standards beyond the Word of God to judge him or the other apostles.
Many people today evaluate a pastor or a minister on unbiblical standards. They judge him on the basis of his humor, or entertainment value, his appearance, or his skill at marketing and sales. But this is thinking beyond what is written in the sense Paul means it here. In a broader sense, it is an important lesson: not to think beyond what is written; we must take our every cue from Scripture. It used to be that something was considered Biblical if it came from the Bible; today, people say things are "Biblical" if they can't find a verse which specifically condemns it. This is thinking beyond what is written.
that no one of you be puffed up for one against the other.
How can anyone become "puffed up" when they are all one, bear the same character, are in the same office, and are jointly concerned with the same common cause of Christ and the good of immortal souls.
That no one of you be puffed up means that no one should be proud or exalted in self-estimation above his neighbor. That no one should be inclined to look upon others with contempt, and seek to put-them-down and humiliate them. They should regard themselves as brethren, and as having the same rank. The argument here is that if Paul and Apollos did not think that they had a
right to put themselves at the head of parties, how much less any of them had a right to do so. The doctrine is:
1. That parties are improper in the church.
2. That Christians should regard themselves on the same level.
3. That no one Christian should regard others beneath him, or make them the object of contempt.
4. In other words, learn to live by the Book, and stop following men.
So, none of you ought to be bragging about one leader while putting-down another. No doubt there were persons at Corinth who, taking advantage of this spirit of unwarranted admiration among that people, established themselves as teachers, and endeavored to draw disciples after them. And perhaps some of them were even valued more by the fickle multitude than the apostles by whom they had been brought out of heathenish darkness into the marvelous light of the Gospel. I have already said that I supposed it was possible that Diotrephes was one of the ringleaders in these divisions at Corinth. See comments on 1 Corinthians 1:14.
Notice that instead of puffing up their favorite teachers, it was themselves which had become puffed up! This is a sure result of a person thinking more of himself than he should. When the Corinthian Christians were using unbiblical standards to judge the apostles, they could easily like one and detest another based on bad standards. But if they would learn to not think beyond what is written, they wouldn't have become proud and taken sides behind certain apostles; as in 1 Corinthians 3:4—" For while one saith, I am of Paul; and another, I am of Apollos; are ye not carnal?"
7 For who maketh thee to differ from another? and what hast thou that thou didst not receive? now if thou didst receive it, why dost thou glory, as if thou hadst not received it?
For who maketh thee to differ from another?
This question, and the two that follow it, are asked of the members of this church, who were glorying in, and boasting of the ministers under whom they were converted, and by whom they were baptized, and it shows their contempt for others. The apostle wants them reflect on the difference between them and others that was made, not by man, but God; that whatever benefits they had enjoyed under their respective ministers came from God; and therefore they should not gloat and take pride in themselves, or in their ministers; but they should be proud of God, who had singled them out through those benefits. Whatever difference is made among men, is made by God; He is the one that makes them different from the rest of creation; from angels, to whom they are inferior; and from animals, to whom they are superior; and from one another in their personality, size, shape, and facial features, which is a physical or natural difference. It is God that makes them differ from one another in such things as their civil nature; as kings and subjects, masters and servants, high and low, rich and poor, slave and free, which may be called a political, or civil difference. And there is an ecclesiastical difference which God makes in his own people, who have received gifts that differ from one to another; there are diversities of gifts, yet they all come from the same Spirit: but the grand distinction God has made among men, lies in his special, distinguishing, and everlasting love for some, and not for others; which is perceived in His choice of them in Christ to obtain everlasting salvation; in the gift of them to Christ in the eternal covenant; in the redemption of them by his blood; in his powerful and on-going intercession for them; in God's effectual calling of them by his grace; in his resurrection of them from the dead to everlasting life, placing them at Christ's right hand, and granting them entrance into everlasting glory. And their distinctiveness, as in the above instances, will be maintained, throughout the endless ages of eternity; all which is due to the free grace, sovereign will, and good pleasure of God; and nothing to do with what any man deserves. There is no room for pride and self-conceit, when the distinctiveness of individuals is fashioned by God. "One pompous candidate made a quick run through a nursing home in a final attempt to secure some last-minute votes. His bubble of pride was burst when he engaged a very witty retiree. As he approached her wheelchair, he extended his hand and asked in a very loud voice, "Do you know who I am?" She graciously took his hand, took a few seconds to examine his face, then replied, 'No, but if you stop at that desk over there, they'll tell you who you are.'" {Reminisce, March/April 1997, p. 61}