The Corinthians and Their Apostles: Page 9 of 10 (series: Lessons on 1 Cor.)
by John Lowe
(Woodruff, S.C.)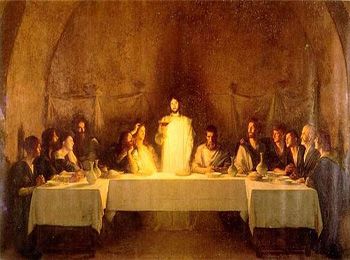 11 Even unto this present hour we both hunger, and thirst, and are naked, and are buffeted, and have no certain dwellingplace;


Even unto this present hour
At the close of verse 13 there is practically the same statement, but there it is used with greater emphasis. This present hour indicates that Paul had suffered, and was still suffering as he wrote to the believers at Corinth. He was no fool. He did not like suffering. The apostles followed the path of Christ's humiliation. As he marched a parade route to his death, so did they—" Now thanks be unto God, which always causeth us to triumph in Christ, and maketh manifest the savour of his knowledge by us in every place" (2 Cor 2:14; KJV). Paul regarded himself as a trophy of God's victorious power in Christ. His Almighty Conqueror was leading him about, through all the cities of the Greek and Roman world, as an illustrious example of His power to both overcome and to save. The foe of Christ was now the servant of Christ. Just as it is a horrible experience to be a captive on display, so it is a glorious experience to be led in triumph by God. Our only true triumphs are God's triumphs over us. His defeats of us are our only true victories ALFORD. Just as Christ had suffered deprivation and slander, so did his servants, and in His Spirit they endured and responded with grace—"And Jesus said, Father, forgive them; for they know not what they do. And parting his garments among them, they cast lots" (Luke 23:34; ASV). The apostles lived out the message of the Cross. But the Corinthians were complacent and secure with their "theology of the palace"—" Woe to them that are at ease in Zion, and to them that are secure in the mountain of Samaria, the notable men of the chief of the nations, to whom the house of Israel come! Pass ye unto Calneh, and see; and from thence go ye to Hamath the great; then go down to Gath of the Philistines: are they better than these kingdoms? or is their border greater than your border?--ye that put far away the evil day, and cause the seat of violence to come near; that lie upon beds of ivory, and stretch themselves upon their couches, and eat the lambs out of the flock, and the calves out of the midst of the stall; that sing idle songs to the sound of the viol; that invent for themselves instruments of music, like David; that drink wine in bowls, and anoint themselves with the chief oils; but they are not grieved for the affliction of Joseph. Therefore shall they now go captive with the first that go captive; and the revelry of them that stretched themselves shall pass away" (Amos 6:1-7; ASV).

we both hunger, and thirst, and are naked, and are buffeted,
The Greek word translated "naked" literally means "to be scantily clothed," and it is used only here in the New Testament. The word "buffeted" means "to strike with clinched hands, to buffet with fists." The same word is used to describe the treatment given to the Lord Jesus as recorded in Matthew 26.67—"Then did they spit in his face, and buffeted him; and others smote him with the palms of their hands;" and Mark 14.65—"And some began to spit on him, and to cover his face, and to buffet him, and to say unto him, Prophesy: and the servants did strike him with the palms of their hands." It is also used to describe treatment given to slaves in 1 Peter 2.20—"For what glory is it, if, when ye be buffeted for your faults, ye shall take it patiently? but if, when ye do well, and suffer for it, ye take it patiently, this is acceptable with God."

The apostle mentions here his personal suffering,—"Instantly Ananias the high priest commanded those close to Paul to slap him on the mouth" (Acts 23:2; NLT); but it is something all the apostles had in common; and it is the reverse of the state of the Corinthians, who were "reigning as kings." Likewise, Paul's Master before him was slapped like a slave when He was about to die—"Then they began to spit in Jesus' face and beat him with their fists. And some slapped him" (Matt 26:67; NLT).

And have no certain dwelling place;
The meaning of this phrase is "to wander about as a vagabond." The meaning does not indicate instability, but rather of having no permanent home. In that respect, he is
very much like his Master—"And Jesus said unto him, Foxes have holes, and birds of the air have nests; but the Son of man hath not where to lay his head" (Luke 9:58; KJV). Paul did not have a permanent home on earth—he spent almost as much time in a jail cell as he did any place! When he went into a city, to conduct services, they did not need to make reservations for him in a hotel or the inn, because he knew sooner or later he would be spending his nights in jail. Probably no person except the Lord Jesus Christ ever suffered for the sake of the Gospel quite as much as Paul suffered. Those who suffer for the sake of Christ and the Gospel can claim the promise of God's provision of "some better thing"—"And others had trial of cruel mockings and scourgings, yea, moreover of bonds and imprisonment: They were stoned, they were sawn asunder, were tempted, were slain with the sword: they wandered about in sheepskins and goatskins; being destitute, afflicted, tormented; (Of whom the world was not worthy:) they wandered in deserts, and in mountains, and in dens and caves of the earth. And these all, having obtained a good report through faith, received not the promise: God having provided some better thing for us, that they without us should not be made perfect" (Heb 11:36-40; KJV).
The apostles and early preachers lived at the lowest levels of society. While the Corinthian believers thought they were kings (v. 8), the apostle knew he was a suffering slave—"For we would not, brethren, have you ignorant of our trouble which came to us in Asia, that we were pressed out of measure, above strength, insomuch that we despaired even of life: But we had the sentence of death in ourselves, that we should not trust in ourselves, but in God which raiseth the dead" (2 Cor 1:8-9; KJV).
Paul's profession was "tent maker," so he might have carried a tent with him, and that tent served as his home; however, the fact that he worked with his hands could have lowered him in the eyes of many, because the Greeks despised manual labor.
12 And labour, working with our own hands: being reviled, we bless; being persecuted, we suffer it:
And labour, working with our own hands:
The Greek word used here is "kopiao" and its use suggests "labor that causes weariness." Paul was not simply earning a living—he was undergoing hardship in the process. In 1 Thessalonians 2.9 the apostle says, "For ye remember, brethren, our labour and travail: for labouring night and day, because we would not be chargeable unto any of you …" (1 Thess 2:9a; KJV). From this it appears that St. Paul spent much more time at Thessalonica than is generally supposed; since the expressions in this verse denotes a long continuance of a constantly exercised ministry, interrupted only by manual labor for their own support; laboring night and day, because we would not be chargeable to you. Probably Paul and his companions worked with their hands by day, and spent a considerable part of the night, or evenings, in preaching Christ to the people. We know that Paul did not work twenty-four hours a day, but his work was a daily task, continuous—not spasmodic, part time work—and the type of work that left a man worn out.
In his youth he had been taught the trade of tentmaking: "and because he was of the same trade, he abode with them, and they wrought, for by their trade they were tentmakers" (Acts 18:3; ASV). The tents were made of goat's hair, and the weaving was hard work. Manual labor was dishonorable and dispised among the Greeks, and the fact that Paul did such labor in Corinth caused some misunderstanding among the believers: "Have I committed an offence in abasing myself that ye might be exalted, because I have preached to you the gospel of God freely?" (2 Cor 11:7; KJV). Have I abased (or degraded) myself by waving my right to support from the church, and instead supporting myself by manual labor; perhaps with slaves as his fellow laborers. He also said: "I have coveted no man's silver, or gold, or apparel. Yea, ye yourselves know, that these hands have ministered unto my necessities, and to them that were with me. I have shewed you all things, how that so labouring ye ought to support the weak, and to remember the words of the Lord Jesus, how he said, It is more blessed to give than to receive" (Acts 20:33-35; KJV).