The Cross was Necessary Part 2 of 2
by John Lowe
(Laurens SC, USA)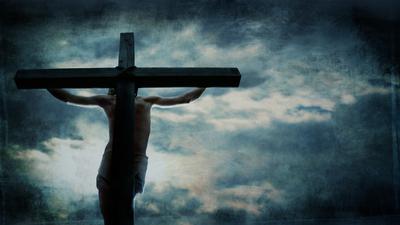 But to those who are saved, he is the wisdom of God, and the power of God. We can see here the triumphs of the cross, over human wisdom. This is what God said would happen through the Prophet Isaiah: "I will destroy the wisdom of the wise, and bring to nothing the understanding of the prudent. Where is the wise? Where is the scribe? Where is the disputer of this world? Hath not God made foolish the wisdom of this world?" (Isaiah 29:14).


From the human point of view, the cross is the power of God to challenge our sinful hearts. Jesus said, "And I if I be lifted up from the earth, will draw all men unto me" (John 12:32). In other words, Christ would draw all men (including the Greeks and Jews) to Himself through the cross. By the way, the word "Greek" is used in the New Testament to mean any non Jew. Christ would die on a cross lifted up. Nothing but the cross could have such impressive, lifting power.

In his letter to the Galatian believers, Paul speaks of Christ in the most personal terms when he refers to Him as, "the Son of God, who loved me and gave Himself for me" (Galatians 2:20). He applies to himself the love and sacrifice of Christ, which belongs equally to the whole world. You can do the same—He died on the cross for you, so that you would not have to die. It is a gripping experience to have someone willing to die for us: and when someone does so, the experience can be traumatic.

Several years ago a hunter and his dog became temporarily separated. As the hunter was trying to cross a swift river in a flimsy boat, the boat capsized. The dog reappeared at the river's edge just in time to see his master float to the water's surface. The dog immediately plunged into the swirling waters to help him. The hunter grasped hold of the limbs of a tree floating downstream and eventually reached the shore, but the dog was not so fortunate. His master stood helplessly on the riverbank and saw his faithful dog drown. Later he said, "It is a difficult thing to have someone die for you—even a dog." But consider this: It was the Son of God who loved us and gave up His life for us.

We are not done yet, because the cross is also the power of God to atone for our sins. The New Testament has no fine-spun theories about the atonement. It presents it plainly, repeatedly, and emphatically. Paul says, "For the love of Christ compels us, because we judge thus: that if One died for all, then all died" (2 Corinthians 5:14). He took our place. And if we are going to live, it's going to be by faith in Him—that those through faith "should not henceforth live unto themselves, but unto Him which died for them, and rose again."

Christ died, not only so that we could be delivered from death and judgment, but also so that we would be brought up from our state of death into newness of life. Now our lives should be devoted to Him and we should live to bring glory to God. Titus 2:14 refers to Jesus as the one "who gave Himself for us to redeem us from all wickedness." This is why He humbled Himself and became a man; so He, the God-man, might suffer and die for our sins and redeem us from all iniquity (sin).

The writer of Hebrews tells us, "Without the shedding of blood there
is no forgiveness of sins" (Hebrews 9:22). The blood that purchased your eternal redemption didn't come from unwilling animals but from the Son of God who willingly laid down His life for you.
The spotless Lamb of God had to die only once; the sacrifice does not need to be repeated.
John says, "He Himself is the propitiation for our sins, and not for ours only but also for the whole world" (1 John 2:2). This very important biblical word "propitiation" means the price which must be paid to avoid the divine punishment for sin. It is, therefore, like the "fine" we must pay in court to avoid going to jail. In the Bible, there are other synonyms for this word "fine," such as the "atonement" or "ransom" or "sin offering." Here, Christ pays our "fine," or, more properly according to the text, He is the "fine" or "atonement" for our sins.
"The sins of the whole world" does not mean that the application of the atonement is automatic for all the individuals in the world, but simply that if anyone in the world will believe in Christ and confess his sin, he too will find the atonement sufficient for his salvation.
No one states this more clearly than Peter: "He himself bore our sins in his body on the tree." (1 Peter 2:24). Only Jesus could do this for us, because He is the only one who ever led a sinless life.
The last thing to see is that the cross is the power of God to change us. In 2 Corinthians 5, Paul comes to this conclusion: "Therefore, if anyone is in Christ, he is a new creation; old things have passed away; behold, all things have become new" (v. 17). Some might ask, "How can I know absolutely that I am a new creation in Christ?" Listen to what the Lord Jesus said, "Most assuredly, I say to you, he who hears My word and believes in Him who sent Me has everlasting life, and shall not come into judgment, but has passed from death into life" (John 5:24). If you believe in God, He assures you that you have eternal life and that you will not come into judgment: you have passed from death unto life. This makes you a new creation, no longer subject to judgment and death. You have passed from death into life.
As an English Methodist minister came out of his church one day, he saw a young workman staring in disbelief at a large crucifix. The young man saw the minister and remarked, "I don't see what good it did the Father that His Son should die like this." The minister replied, "It wasn't for the good of the Father; it was for the good of undone sinners that our Lord went to the cross." Paul says it about the same: "For He made Him who knew no sin to be sin for us, that we might become the righteousness of God in Him" (2 Corinthians 5:21). Jesus took my place down here. He, who knew no sin, came that we might be made the righteousness of God in Him.
He has given me His place, clothed me in His righteousness; He took my hell down here so that I might have His heaven up yonder. He did that for me, and He did it for you.
Conclusion
I hope that we never question God's ways or God's love—because all we have to do to see His love is to look at the Cross. The cross was necessary for Him, and it was necessary for us. Hallelujah for the cross.