The Cynical - Page 1 (series: Lessons on Judges)
by John Lowe
(Woodruff, S.C.)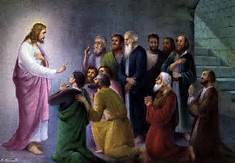 Chapter 28

The Cynical Judges 8.5-8.9

Scripture
5Then he said to the men of Succoth, "Please give loaves of bread to the people who follow me, for they are exhausted, and I am pursuing Zebah and Zalmunna, kings of Midian."
6And the leaders of Succoth said, "Are the hands of Zebah and Zalmunna now in your hand, that we should give bread to your army?"
7So Gideon said, "For this cause, when the LORD has delivered Zebah and Zalmunna into my hand, then I will tear your flesh with the thorns of the wilderness and with briers!"
8Then he went up from there to Penuel and spoke to them in the same way. And the men of Penuel answered him as the men of Succoth had answered.
9So he also spoke to the men of Penuel, saying, "When I come back in peace, I will tear down this tower!"

Introduction
Gideon, as a valiant general was pursuing the remaining Midianites, and bravely following up on his first blow which brought a very great slaughter to the enemy: dead were 120,000 men that drew the sword—"Now Zebah and Zalmunna were at Karkor, and their armies with them, about fifteen thousand, all who were left of all the army of the people of the East; for one hundred and twenty thousand men who drew the sword had fallen" (Judges 8.10). This was a terrible execution they brought upon themselves, and so they were easy prey for their comrades and afterward for Israel. But, it seems, the two kings of Midian were well protected and made their escape with 15,000 men. They were able to cross over Jordan before the passes could be secured by the Ephraimites, and made their way towards their own country. Gideon thinks he does not complete his commission to save Israel if he lets them escape. He is not content to chase them out of the country, but he will "chase them out of the world" (Job 18:18). He pushes this resolution to the limit, and the Lord crowned his efforts with great success.
1. His resolve was very commendable. He accomplished his objective under the greatest disadvantages and discouragements that he could possibly face. He took his 300 men and that was all, who now laid aside their trumpets and torches, and took the swords and spears from the dead Midianites. God had said, "By these 300 men will I save you" (ch. 7:7); and, having great confidence in that promise, Gideon kept only the 300—"When Gideon came to the Jordan, he and the three hundred men who were with him crossed over, exhausted but still in pursuit" (Judges 8.4). He expected more from 300 men, supported by a promise from God, than from thousands supported only by their own bravery.
2. They were faint, and yet pursuing; they were greatly fatigued from what they had done, and yet eager to do more against the enemies of their country. Our spiritual warfare must likewise be carried out in a similar way; with what strength we have. Although we may have just a little strength; which is the case with many true Christians; fainting and yet pursuing.
3. Though he met with discouragement from his own people, was heckled for what he was doing, because they said he was attempting to do something that he could never accomplish, yet he would not quit and continued with it. If those that should be helping us to do our duty prove to be hindrances to us, let's not allow them to drive us off from it. Those who do not know how to value God's acceptance will not know how to despise the rebuke and disrespect of men.
4. He made a very long march, taking the road that goes by the way of those that dwelt in tents 1(Judges 8.11), either because he hoped to find them kinder to him than the men of Succoth and Penuel, that dwelt in walled towns (sometimes there is more generosity and charity found in country tents than in city palaces), or because that was a road they would not expect him to take, and therefore it would be a great surprise to them. It is evident he spared no pains to complete his victory. Now he found it an advantage to have his 300 men; they were men that could bear hunger, and thirst, and work hard.

_______________introduction notes______________
1(Judges 8.11) "Then Gideon went up by the road of those who dwell in tents on the east of Nobah and Jogbehah; and he attacked the army while the camp felt secure."
Commentary
5Then he said to
the men of Succoth, "Please give loaves of bread to the people who follow me, for they are exhausted, and I am pursuing Zebah and Zalmunna, kings of Midian."--Judges 8.5(KJV)
5 So Gideon said to the men of Succoth, "Please give me some food for the men under my command. They're exhausted, and I'm pursuing King Zebah and King Zalmunna of Midian."-- Judges 8.5(GW)
Then he said to the men of Succoth …He spoke to the principal men of that place, which was a fortified city he passed by as he was pursuing the Midianites in their flight to their own country. This was a city on the other side of the Jordan River, and in the territory of the tribe of Gad, and therefore, it was inhabited by Israelites,
2
(Joshua 13:27). It got its name from the booths or tents which Jacob erected there
3
(Genesis 33:17).
"Please give loaves of bread to the people who follow me—He did not expect the city officials to meet him in a formal way, congratulate him on his victory, present him with the keys of their city, and give him a prize, much less, he did not want them to leave their homes and families, and join him in pursuing their mutual enemies, or to furnish him and his men with arms; though he was entitled to all this; all he wanted from them was some food for his soldiers that were ready to faint because it had been many hours since they had eaten. He very humbly and unrelentingly made this request: "Please give loaves4 of bread to the people who follow me." The request would have been reasonable if they had been poor travelers in need; but considering that they were soldiers, called, and chose, and faithful (Rev. 17:14), men whom God had greatly honored and to whom Israel was highly obliged, who had done a great service for their country and were now doing more. They were conquerors and had the power to force them to make a contribution. They were fighting God's battles and Israel's,—nothing could be more honorable than that their brethren should furnish them with the best provisions their city had to offer. He didn't ask for something that was expensive or hard to obtain, but loaves of bread; and he would have accepted broken pieces; and he did not demand it in an authoritative manner, as he might have done as a general, but he put it as a request; and the arguments he uses are: "They're exhausted, and I'm pursuing King Zebah and King Zalmunna of Midian."
Gideon was engaged in a cause that would benefit all the tribes of Israel, ridding their country of tyrannical enemies, he had a right to expect support from the people at large. His request to the men of Succoth (and later Penuel) was both just and reasonable.
When the tribes of Reuben, Gad, and part of Manasseh had been permitted by Moses to take their inheritance on the east side of the Jordan River, those tribes made a solemn vow that they WOULD support their brethren who went on into Canaan, but the leaders of Succoth and Penuel shamefully betrayed their western brethren by refusing to give even a few loaves of bread to Gideon and his bone-weary soldiers who were near exhaustion from their pursuit of Israel's enemies.
How could they have done such an unpatriotic and shameful thing? Dalglish thought that, "The citizens of these two cities might have been Canaanites, or that they may have suffered much already from the Midianites and feared reprisals if they aided Gideon, or that they were Israelites who felt that Gideon's mission was unwarranted, ill-advised, and doomed to utter failure." It appears to this writer that the middle one of these possibilities is correct.
Barnes also agreed that the leaders of these two Trans-Jordanic cities, "Did not wish to risk the vengeance of the Midianites by giving supplies to Gideon's men ."
Do you know what we have here? It is one of the finest lessons concerning divine election and man's free will. This is the way they work together. God said to Gideon, "I am going to choose the men that I want to go with you, but the way I will do it is to let them make the choice. Bring them down to the water, and the ones, who lap water like a dog, just going through and throwing it into their mouths, are the ones I have chosen. You can put aside those men who get down on all fours and take their time drinking. I don't want them."