THE DEVIL WEARS BLUE JEANS
by Charles Robey
(Trussville)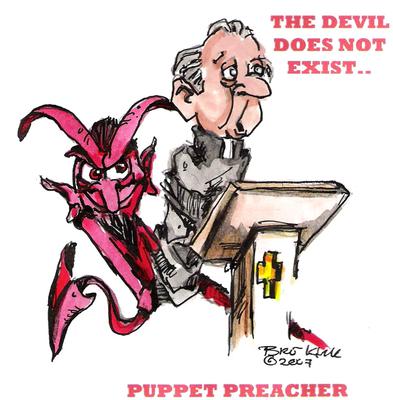 Ask any man on the street what the devil looks like, and most likely you'll get this description. "A little old shifty gentleman, dressed in red long-johns, horns on his head and carrying a "pitch fork" to stick us in gaining our attention".

Biblically speaking, Satan (devil) comes as "an angel of light" (2 Cor 11:14). Yet, in the popular imagination, he is usually wearing a red costume with a pointy tail, a sharp beard, and a pitchfork. Where did this inclusive characteristic come from?

These attributes are a bizarre combination of images, some inherited from classical mythology, that don't particularly belong together (though there is a reason behind all of them, and even a smidgen of Scriptural support). Our modern image is a blend between:

1. Satyrs, the lust-filled tempters (goat legs, horns, beard)
2. Pluto, ruler of the Underworld (pitchfork)
3. Fairly generic color imagery (red and black)
4. The mediaeval bestiary (bat wings)

The Pitchfork comes from Pluto/Hades, the Greek god of the underworld, and is usual attribute is a scepter, indicating his sovereignty. The color red was a sacred color in Egypt. And horns were a symbol of power,

This particular combination has become more and more "standard", as the ordinary secular individual needs some sort of physical image to worship. However, even this collection of attributes allows for some diversity in interpretation. Is the devil actually a cartoon figure, or a Miltonic anti-hero.

Well, none of these. For he's that skinny blue jean wearing fellow, with that tight open button silk shirt, displaying a bright shinny necklace. He's that sparsely dressed lady, overlaid with pounds of makeup. He's that small uncontrollable child. And sad to say, he may even be that pastor dressed in the three piece suit.

His first entrance onto the pages of scripture is in (Genesis 3:1-5). Right from the beginning, we see Satan putting doubt into the heart of Eve, that God can't really be trusted, that He really doesn't have your bet interest in mind when He tells you something. He puts that doubt into Eve that God is holding back from you what is good and beneficial, and therefore He can't be trusted. And Satan continues this same subtlety on us today. Just surf the word "atheist" on the internet.

Does Satan have judgments? Yes, he does. First and foremost, he was cast out of his original position in Heaven (Ezek 28:16). Judgment was pronounced on him in the Garden of Eden (Gen 3:14-15). He was judged at the cross (John 12:31). And the best judgments are his future and final judgments. He will be cast out in the midst of the Tribulation period (Rev12:13) and cast into the lake of fire at the end of the millennium (Rev 20:10).

Our modern day theology, however, is quick to tell you that there is no intelligent evil being called the devil (Satan). They will tell you that the idea of Satan originated as a personification of the evil impulses within us. Or, the idea of Satan originated from some sort of primitive society, but we no longer need fear this superstition in our 21st century. Yes, they will tell you all kinds of lies that are directly in contrast with scripture. Why are they saying these things? Simply put, Satan is prompting these responses, to lower their guard against Christianity. (2 Tim 3:1-9, 13)

Actually, Satan is a fallen angelic creature (Ezek 28:14) and was the highest of all angels (Ezek 28:12), thus he is a spirit being (Ephesians 6:11-12). His down fall was that he wanted to be equal with God, by being the possessor of heaven and earth.

Satan has certain personality traits such as he is a murder and a liar (John 8:44). He is a confirmed sinner (1 John 3:8). He is an accuser (Rev 12:10), and he is an adversary (1 Peter 5:8). He posses intellect (2 Cor 11:3). He has emotions (Rev 12:7). He has a Will (2 Tim 2:26). And he is treated as a morally responsible person (Matt25:41).

Satan will and does use certain people, in an effort to hinder the work of Christ (Matt 2:16) (John 8:4) (Matt 16:23). Proof of this deceitful style can be seen throughout the know world, through individuals in power (Rev 20:3) (Rev 16:13-14). And he will use men to oppose God's work (Rev 2:13).

How does Satan work in unbelievers? He will blind the minds (2 Cor 4:4) and, he will snatch the word from their hearts (Luke8:12).

How might he work, with respect to Christians? He will temp us (Acts 5:3). He will accuse and slander us (Rev 12:10). He will hinder our work (1 Thess 2:8). He employs demons to attempt to defeat our work (Eph 6:11-12). He will tempt us into immorality (1 Cor 7:5). He has sowed tares among us (Matt13:38-39) And he incites persecutions against us (Rev 2:10).

However, the devil still has crucial restrictions, "Praise the Lord". He is a creature and therefore not omniscient or infinite. And most importantly, God has placed limitations on him (Job 1:12) and he can be resisted by Christians (James 4:7) So, what is our defense against the devil (Satan)?

We have the intercessory work of Christ (John 17:15) .
We should never speak of Satan contemptuously (Jude 8-9) .
We should always be on guard against Satan (1 Peter 5:8) .
We should always take a stand against Satan (James 4:7) .
We should use our armor to fight against Satan (Eph 6:11-18) .
You see the purpose of God may include using the devil for beneficial purposes in our lives (2 Cor 12:7).

Remember, Satan cannot be reasoned with. He has no characteristic in him that would cause him to show the slightest mercy or grace. He knows only rebellion against God and only destruction and he desires to enlist as many as he can in his campaign against God no matter what the consequences for people.

As Christians, we must stand firm against Satan by reflecting Christ's characteristics in our lives. In (Eph.6:10-13), Paul calls this "putting on the full armor of God."

REMEMBER!
"You are from God, little children, and have overcome them; because greater is He who is in you than he who is in the world "(1 John 4:4).