The Family Deals with Death Part 2
by John Lowe
(Laurens SC, USA)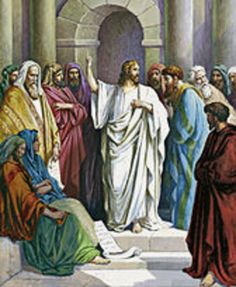 Death is not the end
The second truth is CHRISTIANS CAN HELP.


Jesus confronts the doubt of death with confidence.
He challenges the despair of death with hope.
He said to Mary, "I am the resurrection and the life. He who believes in Me, though he may die, he shall live. And whoever lives and believes in Me shall never die. Do you believe this?" (John 11:25-26).
He is saying, there is life on the other side of death.
He says that death will never have the final victory: "….whoever lives and believes in Me shall never die" (v. 25).
But do you notice the necessity of faith in this verse?
To believe in Jesus means that He becomes the Lord of your life.
When you surrender your life to Him in faith, trusting that He is indeed God's power to deliver us and God's grace to save us, you are delivered from the worst death can do.

The third truth is this, FRIENDS CAN HELP.

In John 11:31 it says, "Then the Jews who were with her in the house, and comforting her…."
Here we see a picture of the common experience of all people down through the ages.
We see Mary surrounded by friends from the village who are seeking to comfort her.
Friends know that even though they can't heal the pain, they can at least share in the grief.
But the friend the sisters really wanted to see was Jesus, because they knew He could have prevented their brother's death, and they still had hope in Jesus' power.
Jesus often brings comfort to a family through the love of those who come in His name and offer their hands and hearts on His behalf.
When a family has suffered the loss of a loved one, friends can help in many ways.
The things that help most are practical activities, such as cleaning the house, taking care of children, standing by to answer the phone or welcome visitors and accept food that is brought to the house.
The acts of service that mean the most to the bereaved are those that don't require know-how on the part of the volunteer, but simply a desire and a willingness to help.
In a caring church family, the pastor is never the only one who is able to help the family.
Indeed, the whole church body can, and should, offer help and communicate Christ's love.

The fourth truth is GOD'S HELP IS NEVER FAR AWAY.

God knows about death.
He warned Adam and Eve from the very beginning that disobedience would bring death.
Even after they sinned, God did not abandon them, nor has He abandoned us.
He shoulders our grief on His own back and bears the burden with us.
The cross on which our Savior died became God's bridge to draw us back to Himself.
When a mother lost her only son to a car accident, she cried out, "Oh, where is God when I need Him most?"
A friend close by replied, "I suppose He's in the same place He was when He lost His Son."
The reality of God's grief is nowhere made clearer than in the scripture we have before us.
"Therefore, when Jesus saw her weeping, and the Jews who came with her weeping, He groaned in the spirit and was troubled. And He said, "Where have you laid him?" They said to Him, "Lord, come and see." Jesus wept. Then the Jews said, "See how He loved him!" (John 11:33-36).
At this point, Jesus gives no words of explanation, no call to courage and great faith.
He simply shares in their grief as they walk to the place where they had laid Lazarus.
The Greeks would read John's gospel in disbelief.
To them, God is the Unmoved
Mover.
He is above our petty emotions.
He cannot be touched by our sorrow and pain.
But John's gospel is clear: God is not unconcerned; He is concerned for His people.
In these verses, John gave insight into the deep compassion of Jesus.
Even though Jesus knew He could restore Lazarus to physical life, He wept with sorrow and sympathy.
Here, the word "wept" did not refer to the wailing that customarily accompanied funerals in that day.
Funeral wailing ordinarily meant uninhibited loud crying, even screaming or shrieking.
This open display of emotion was often done by people who did not know or care about the dead person.
Many were paid to grieve openly.
The more dramatic the wailing, the greater tribute the Jews believed they paid to the deceased.
In Jesus' case, the word "wept" simply means "shedding tears."
Obviously, Jesus suffered a deep agony of spirit and was genuinely moved by Lazarus's death.
Jesus' tears provided remarkable insight into His true humanity.
We should never be ashamed or feel guilty when we mourn the loss of a loved one.
As Christians, however, we know that death is not the end.
Paul wrote, "But I do not want you to be ignorant, brethren, concerning those who have fallen asleep, lest you sorrow as others who have no hope. For if we believe that Jesus died and rose again, even so, God will bring with Him those who sleep in Jesus" (1 Thessalonians 4:13-14).
Those who have fallen asleep are believers who have died.
This phrase focuses on the status of the body at the time of death and suggests a temporary state of rest, from which the body will awaken at the Rapture.
At the moment of death, the believer's soul is immediately in the presence of the Lord, a truth which will be confirmed when Jesus brings with Him those who sleep in Him.
At the Rapture, believers who are still living are caught up.
The Lord will change their bodies into a glorified state.
That is according to God's Word, and it is our blessed hope.
Because of our Lords power over death, we don't have to grieve like those who have no hope.
The last truth is CHRISTIANS SHOULD BEAR WITNESS TO BOTH THE GRIEF AND VICTORY IN DEATH.
Dwight L. Moody once said that when he was called to preach his first funeral sermon, he searched the scriptures to find what Jesus said at funerals—only to discover that Jesus had no funeral sermons!
Jesus turned around every funeral he ever attended.
And Jesus still turns our grief into victory today.
Jesus' resurrection of others was a sign of the great resurrection that would soon come in His own life.
His own resurrection was the undeniable sign of God's victory over death, which He freely gives to those who trust Him.
Conclusion
The greatest help a family could have when dealing with the death of a loved one is a vibrant faith in God and a close relationship with Jesus Christ.
When the waves of grief threaten to engulf you, remember the words of Fanny Crosby, "Down in the human heart, crushed by the tempter, feelings lie buried that grace can restore; touched by a loving heart, wakened by kindness, chords that are broken will vibrate once more."
Today, we have funeral plans and Hospice to prepare us for death.
But the most important thing that any of us can do is to believe the gospel; that Jesus died for our sins, was buried, and three days later He rose from the grave.
The resurrection of the Savior is our assurance that He has overcome death.
Because of the resurrection, we will pass from death into life.
Even though we die, we will live again.
Amen.