THE GOSPEL IN A NUTSHELL
by CharlesRobey
(Trussville AL-USA)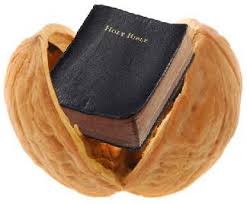 The Good News
Have you ever heard the old idiom "In a nutshell"? This old cliché was said to be a hyperbolic expression alluding to the Roman writer Pliny's description of Homer's Iliad being copied in so tiny a hand that it could fit in a nutshell.


So what about the scriptures ? Does the Bible ever sum up the gospel, in a one verse explanation ? I think yes. The scripture gives us many one verse accounts, as well as many detailed versions, such as in (1 Cor 15:1-4).

"Now, brothers and sisters, I want to remind you of the gospel I preached to you, which you received and on which you have taken your stand. By this gospel you are saved, if you hold firmly to the word I preached to you. Otherwise, you have believed in vain.

For what I received I passed on to you as of first importance: that Christ died for our sins according to the Scriptures, that he was buried, that he was raised on the third day according to the Scriptures," (1 Cor. 15:1-4).

Conversely, this message of the gospel is also given to us in the form of a one verse explanation, as in the most important quoted Bible passage (John 3:16).

"For God so loved the world that he gave his one and only Son, that whoever believes in him shall not perish but have eternal life" (John 3:16).

In this verse, we have the full gospel. It shows us the source of our redemption-God's love. It gives how God's redemption was accomplished-By the sacrifice of His beloved son Jesus Christ. It qualifies God's divine love- As He gave His only begotten Son. It tells us how we can be saved-By believing on the Son of God. It tells us who may be saved-Whosever believes on Christ. And it also defines salvation-As the deliverance from perishing by receiving the gift of eternal life. There you have it in a nut shell, the most important news ever told for ones eternal destiny.

The first mention of the " gospel" was in the one verse passage of
(Genesis 3:15).
"And I will put enmity between you and the woman, and between your offspring and hers; he will crush your head, and you will strike his heel." (Genesis 3:15)
This scripture passage is commonly called the "Protevangelium" — a term that essentially signifies the idea of "first gospel proclamation." The promise of a Savior, to be sacrificed for the redemption of mans sin.
An individual from the women's seed, Christ, would deal a death blow to Satan's head at the cross, while Satan would bruise Christ's heel (cause Him to suffer). This verse truly is fascinating, as it provides the very first biblical glimpse of God's plan of redemption.
So, let us recap, what is meant by "the gospel"? The gospel is the singularly most important communication of God to man. In Jesus, who is God the Son, we have the revelation of God's love and sacrifice that saves us from God's righteous judgment upon sinners.
The word gospel actually means "good news," so the gospel of Christ is the good news of His coming to provide forgiveness of sins for all who will believe (Colossians 1:14) (Romans 10:9). Since the beginning of time, and the first sin was committed in the Garden of Eden (Genesis 3:1-7), mankind has been under the condemnation of God (Romans 5:12).
And due to this inherited sinful nature (Romans 3:23), everyone is born guilty (Romans 5:18). The punishment for the crime of sin is physical death (Romans 6:23) and then an eternity spent in a place of eternal punishment separated from God (Revelation 20:15) ( Matthew 25:46). This eternal separation from God is also called the "second death" (Revelation 20:14–15).
However, God has made a way of escape, through His ever loving free grace. The one stipulation for us is to accept this free grace by our faith in Him. You see, we could never work our way, be good enough, or have a family member or friend, act as a substitution for salvation, by way of God's free grace (Ephesians 2:8-9).
What do you think? Do you have this "free salvation"? If not, why not!