The Great Conflict
by Dennis Michelson
(FaithBaptistOH.org)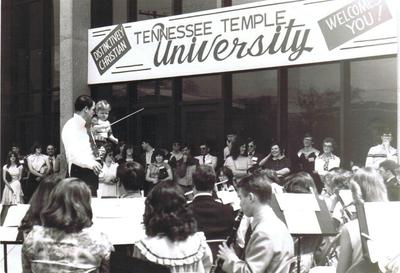 Revelation 12 (Part One of Two Parts)


This chapter explains why believers will endure so much difficulty in the present age. More particularly, the chapter highlights a time of unprecedented and intense persecution toward the end of the age.

Joh 16:33 These things I have spoken unto you, that in me ye might have peace. In the world ye shall have tribulation: but be of good cheer; I have overcome the world.
Act 14:22 Confirming the souls of the disciples, and exhorting them to continue in the faith, and that we must through much tribulation enter into the kingdom of God.
Mat 24:14 And this gospel of the kingdom shall be preached in all the world for a witness unto all nations; and then shall the end come.
Mat 24:15 When ye therefore shall see the abomination of desolation, spoken of by Daniel the prophet, stand in the holy place, (whoso readeth, let him understand:)
Mat 24:16 Then let them which be in Judaea flee into the mountains:
Mat 24:17 Let him which is on the housetop not come down to take any thing out of his house:
Mat 24:18 Neither let him which is in the field return back to take his clothes.
Mat 24:19 And woe unto them that are with child, and to them that give suck in those days!
Mat 24:20 But pray ye that your flight be not in the winter, neither on the sabbath day:
Mat 24:21 For then shall be great tribulation, such as was not since the beginning of the world to this time, no, nor ever shall be

1. WHERE DOES THIS CONFLICT TAKE PLACE?
The conflict takes place in heaven and on earth.

2. WHEN DOES THIS CONFLICT TAKE PLACE?
Preterist says between 66-70 AD
Historicist emphasizes ongoing conflict throughout the present age
Futurist emphasizes the culmination of the conflict in the Great Tribulation (1260 days)
Biblicist sees an interlude following the 7th Trumpet and before 1st Bowl of God's Wrath

3. WHO ARE THE MAIN CHARACTERS IN THIS CONFLICT?

(1) The Woman/Mother
This Woman is either Mary, Israel, or the Church (ideal people of God). Perhaps a symbolic picture of the struggle between Satan and the people of God in every age.

Gal 4:19 My little children, of whom I travail in birth again until Christ be formed in you,
Gal 4:20 I desire to be present with you now, and to change my voice; for I stand in doubt of you.
Gal 4:21 Tell me, ye that desire to be under the law, do ye not hear the law?
Gal 4:22 For it is written, that Abraham had two sons, the one by a bondmaid, the other by a freewoman.
Gal 4:23 But he who was of the bondwoman was born after the flesh; but he of the freewoman
was by promise.
Gal 4:24 Which things are an allegory: for these are the two covenants; the one from the mount Sinai, which gendereth to bondage, which is Agar.
Gal 4:25 For this Agar is mount Sinai in Arabia, and answereth to Jerusalem which now is, and is in bondage with her children.
Gal 4:26 But Jerusalem which is above is free, which is the mother of us all.
In the above, Paul gives a big hint as to the identity of the "mother."
The twelve stars may represent the 12 tribes –
Gen 37:9 And he dreamed yet another dream, and told it his brethren, and said, Behold, I have dreamed a dream more; and, behold, the sun and the moon and the eleven stars made obeisance to me.
Metaphor of Israel in travail:
Isa 26:17 Like as a woman with child, that draweth near the time of her delivery, is in pain, and crieth out in her pangs; so have we been in thy sight, O LORD.
Isa 26:18 We have been with child, we have been in pain, we have as it were brought forth wind; we have not wrought any deliverance in the earth; neither have the inhabitants of the world fallen.
Isa 66:7 Before she travailed, she brought forth; before her pain came, she was delivered of a man child.
Isa 66:8 Who hath heard such a thing? who hath seen such things? Shall the earth be made to bring forth in one day? or shall a nation be born at once? for as soon as Zion travailed, she brought forth her children.
Isa 66:9 Shall I bring to the birth, and not cause to bring forth? saith the LORD: shall I cause to bring forth, and shut the womb? saith thy God.
Mic 4:10 Be in pain, and labour to bring forth, O daughter of Zion, like a woman in travail: for now shalt thou go forth out of the city, and thou shalt dwell in the field, and thou shalt go even to Babylon; there shalt thou be delivered; there the LORD shall redeem thee from the hand of thine enemies
Mic 5:2 But thou, Bethlehem Ephratah, though thou be little among the thousands of Judah, yet out of thee shall he come forth unto me that is to be ruler in Israel; whose goings forth have been from of old, from everlasting.
Mic 5:3 Therefore will he give them up, until the time that she which travaileth hath brought forth: then the remnant of his brethren shall return unto the children of Israel.
Mic 5:4 And he shall stand and feed in the strength of the LORD, in the majesty of the name of the LORD his God; and they shall abide: for now shall he be great unto the ends of the earth.