The Great White Throne Part 2 of 3
by John Lowe
(Woodruff, S.C.)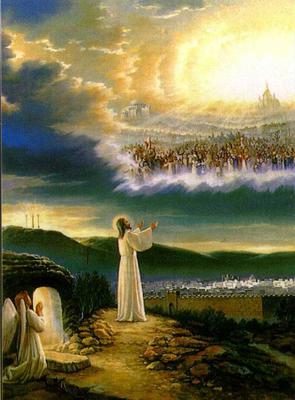 2. The Judge


Verse 11 also mentioned, "Him that sat on it." Who is this Judge of the Universe? It's not the Father. How do I know? Well, just listen to John 5:22: "For the Father judgeth no man, but hath committed all judgment unto the Son". This is the sweet Savior we read about in the gospels, the Lamb of God, but on this day He's no longer the Lamb, but the Lion of the tribe of Judah! The Redeemer is now the Ruler; the Savior is now the Sovereign! Acts 17:31 states that "Because he hath appointed a day, in the which he will judge the world in righteousness by that man whom he hath ordained; whereof he hath given assurance unto all men, in that he hath raised him from the dead." Allow me to interject a little irony at this point: some will only come on Easter, and think they're going to heaven, but it will be that resurrected Christ who will damn their soul to hell because they rejected His salvation.

A drowning man was saved by a fisherman in a boat. One year later the man got in legal trouble, and he found himself waiting for the judge in a courtroom. When he entered, he saw it was the man who had saved him a year before. "Boy am I glad to see you!" he told the judge. The judge replied, "It doesn't matter that I saved you last year, today I am your judge." This same Jesus who begs to be your Savior today will one day be your Judge if you reject Him as Savior!

We have seen The Courtroom and met The Judge, so now let's meet:

3. The Accused

They are mentioned in the first phrase of verse 12, "And I saw the dead, small and great." The big shots and the nobodies; the up and comers and down and outers; the CEO and lowest employee; the professors and uneducated; the kings and homeless. They are all accused on that day, if they die lost.

Verse 13 tells us that "the sea gave up the dead which were in it; and death and hell delivered up the dead which were in them." This is the 2nd resurrection; the resurrection of the lost. The 1st resurrection was of saints, and it took place more than 1,000 years before this. In other words, this isn't about whether they are guilty or innocent; it is clear that they are all guilty. This is not a trial to see whether they go free or not. This is not about allegations; this is making it clear WHY they ARE going to hell for all eternity. They have already been in hell, awaiting this judgment.

Allow me to digress for a moment. There are two words for hell in scripture; Hades and Gehenna, which can be likened to a local jail and prison…the one, Hades, is a temporary holding place, no less vile, just less permanent. Notice the words death and hell in vv. 13 and 14. Death gives up the body, and hell gives up the soul, and then both body and soul are cast into Gehenna, the eternal lake of fire.

There is no appeal and no parole. There will be four groups at the Great White Throne:

• First, the sinners, the ones who hate God and don't mind speaking out. They hate the Church, they don't believe the Bible, and they are in your face, like Madelyn Murray O'Hare.

• Second, the self-righteous, who think they will go to heaven because they lived a good life. They think the gospel is for perverts, thieves, murderers, and they don't see themselves as the real sinners.

A Pharisee and a publican, both prayed at the same altar. The Pharisee said, "Thank you God that I'm a good person and not like this sinner." The Publican said, "I'm a sinner, forgive me!" And only he got saved that day. There are no big and little sins and it takes only one sin to send you to hell! No one can get to heaven by good works. Isaiah 64:6 says, "But we are all as an unclean thing, and all our righteousnesses are as filthy rags.

• The third group is the slow deciders. They know they need to get saved, they want to get saved, and they're "gonna" get saved, someday. But they keep putting it off. "The road to hell is paved with good intentions." But the Bible makes it clear how important it is to deal with this immediately. Hebrews 3:15 says, "Today if ye will hear his voice,
harden not your hearts." And in 2 Corinthians 6:2 we read, "Behold, now is the accepted time; behold, now is the day of salvation."
The slow deciders need to know there's no second chance at the Great White Throne. Just as in Noah's day, there were years of warning and preaching, yet suddenly the door slammed shut, and the sky began to fall, and it was too late! This very well could be the last sermon you ever hear. "Ahh, you're just trying to scare me!" Yes, I'd rather scare you into heaven than lull you into hell.
• The last group is the Sunday Church Goers; the ones who have their name on the church roll but not in the Lamb's Book of Life. They'll go to hell with a Bible in their hand, so to speak. And the devil doesn't mind that at all; he'd just as soon send you to hell from the church house as the whore house! They may have a fancy suit or nice dresses, a Sunday School attendance pin or an offering statement, but they never truly accepted Christ for themselves! "Ye must be born again." How about you? Do you fit into one of these groups? You can be saved today and avoid this scene at the Great White Throne and all that follows it.
Now, for the second part of the message, we will consider The Evidence, The Defense, The Verdict, and The Sentence.
4. The Evidence
Verse 12 tells us that "The books were opened: and another book was opened, which is the book of life." It says the books were opened, that's plural. What are these books? I believe there are at least 3 books opened on that day.
The book of works will be opened, which contains a lost person's life "according to their works." Lost person, you need to realize that God is recording your works, and your sins; and on the day of judgment, nothing will remain hidden; the books will be open! How can God do this? He's omniscient and omnipotent! Here are some verses which bear that out.
Psalm 139:1-2 "O Lord, thou hast searched me, and known me. Thou knowest my downsitting and mine uprising, thou understandest my thought afar off.
Ezekiel 11:5: "And the Spirit of the Lord fell upon me, and said unto me…I know the things that come into your mind, every one of them."
2 Peter 2:14: "Having eyes full of adultery, and that cannot cease from sin."
Psalm 139:4: "For there is not a word in my tongue, but, lo, O Lord, thou knowest it altogether.
2 Chron. 16:9: "For the eyes of the Lord run to and fro throughout the whole earth…
Hebrews 4:13: "Neither is there any creature that is not manifest in his sight: but all things are naked and opened unto the eyes of him with whom we have to do.
Matthew 12:36: "But I say unto you, That every idle word that men shall speak, they shall give account thereof in the day of judgment.
Gossip, slander, criticism, lies, jokes, etc. We will have to give an account to the Lord.
Every word and deed will be answered for; God's candid camera is running!
Luke 12:2-3: "For there is nothing covered, that shall not be revealed; neither hid, that shall not be known. Therefore whatsoever ye have spoken in darkness shall be heard in the light; and that which ye have spoken in the ear in closets shall be proclaimed upon the housetops. Every word, every deed…also, every thought.
Jeremiah 17:10: "I the Lord search the heart…"
Matthew 15:19: "For out of the heart proceed evil thoughts, murders, adulteries, fornications, thefts, false witness, blasphemies."
For the LOST, the first book opened is your life…the book of works.
Eccles. 12:14: "For God shall bring every work into judgment, with every secret thing, whether it be good, or whether it be evil."
Romans 2:16: "In the day when God shall judge the secrets of men by Jesus Christ according to my gospel."
The homosexual crowd says, "What we do behind closed doors is nobody else's business." One of these days it will be God's business! Abortionists/feminists: "What a woman does with her body…" Teenagers: "What I do with my body is my business…" President: "What I do in my office…"
The first book opened is the book of works. Thank God, if you've been saved, your sins are under the blood. It's not a license to sin at all, and I'm not saying we won't have consequences for sin here on earth, but what I mean is, our sin has been judged!