THE HALLELUJAH BOX
by CharlesRobey
(Trussville, AL USA)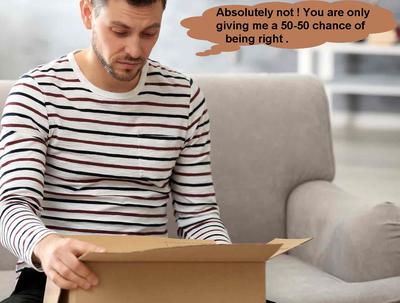 "And the Lord answered me: "Write the vision; make it plain on tablets, so he may run who reads it. For still the vision awaits its appointed time; it hastens to the end — it will not lie. If it seems slow, wait for it; it will surely come; it will not delay. (Habakkuk 2:2-3)

I had just finished my morning coffee when the front doorbell rang. "Now, who could that be, at this early hour?" I wondered.

"Good morning, Sir, did you get my package?" this kind gentleman asked.

"Why, yes! Was it from you? I've not opened it, as I'm at a loss as to what it is," I exclaimed.

"Well then, if you will allow me, we can talk about it. May I come in?" he asked.

As if by some sort of divine direction, my conscience prompted me to let him come in. After all, he seemed to be a nice enough distinguished elderly gentlemen. After asking to see the box, he then began to open it very cautiously, as if it were some fragile container. This was odd, as it was just an old cardboard box. Anyway, I let him continue.

Once the box was opened, not only was my curiosity inspired, but I was totally surprised. This box contained nothing other than two big, red buttons with an inscription that read "Push."

"What in the world is this?" I silently asked myself.

With a big grin, he started what at first I thought was just another of these door ringers sales pitches, until he starts referencing the Bible.

"Sir, this day is your lucky day, or maybe should I say your unlucky one. Providence is giving you a chance, if you push the right button that is. For you see there is a right and a wrong button. The right button will totally change your life forever, but the wrong button could possibly destroy your life."

"What do you mean?" I asked. "Then please give me a hint as to which button to push." By this time, I had become somewhat confused by this unknown gentleman's demeanor. He seemed to have a calm assurance about him, the like of which I had never before seen or experienced. It was almost like he was sent from God for a certain mission.

Responding to my request, he asked if I had a Bible, which I did. I had many different versions, as a matter of fact, as I was a dedicated Sunday School teacher at our local Bible Church.

He then asked me to turn to (Galatians 5: 16-17).

"What did you read?" he asked.

"Well, basically if you walk by God's Spirit you can have victory over the works of the flesh. These two factions are always in opposition to each other or at war with each other," I concluded.

"You are absolutely correct. Now you get the gist of it, or should I say the essence of the Christian life. Let's talk about these buttons. The one button represents the flesh (Galatians 5:19-210, while the other button represents the Spirit (Galatians 5:22-23). Are you ready to push? Are you ready to mature or digress?" he questioned.

"Absolutely not! You are giving me a 50-50 chance of being right or wrong. If this button is the real thing, I can't take that risk. I'll just remain in my current state of spirituality," I cried out.

Strangely enough, my sudden irate response didn't seem to shake this man at all. He seemed to know all about me; my quarks, my often uncontrollable temper, and most of all about my covert lifestyle. He just smiled and began what appeared to be a spiritually directed reaction.

He continued, "You say you're a Sunday School teacher, then where's your faith?"

Taking out an old tattered Bible, he began to read from the book of Hebrews. (Hebrews 11:1, 6-7) But He didn't stop there, as he continued searching the Scripture, "Do you not believe in (I John 1:9)? "Don't you trust me?" He then continued to read from (John 14:26).

"Wow, are you who I think You are?" again I cried out uncontrollably. (Hebrews 1:1)

Answering not a word, He continued by reading one Scripture after another, starting with (John 15:26), continuing in (Romans 8:26) and ending with (II Peter 1:21).

"Yes, You are Him, Hallelujah! Give me that box. Quick, let me push that button! I just know I'll push the right button, for I do want victory over the flesh."

Did I push the right button? You be the judge, for you see this unusual character had suddenly disappeared.

Fast forward now to next Sunday. "OK class, please turn to the Fifth Chapter of Galatians. While you're turning, let me tell you about my dream. And now that the Scripture has been fully and spiritually digested, especially the concluding remarks in (Galatians 5:24-26), let me ask you something. Please don't answer out, just think about it in your own mind. Are you living in the Spirit or the Flesh?" And do you know, suddenly and unexpectedly, there was not a dry eye in the class. To that, I say Amen!

Author's Postscript

Wow, can a dream be providentially instructional? Can a dream be a foreshadow or premonition of future events? Can a dream serve as a training tool? Can a dream be a warning of our disobedient behavior? Well, I think it can be all of the above, I suspect.

The Scripture gives a vivid definition of a true dream. In (Job 33:15) we see that a dream comes in the night when we are fast asleep. It is a dream of the night, as opposed to a vision, which occurs when one is awake.

However, we should always remember dreams, no matter how or when they may occur, should never take the place of God's Word. (II Timothy 3:16-17),

And the Scripture gives many examples of dreams, most of which are instructional or prophetic. So do you dream? If so, is God getting your attention? And do your dreams leave you speechless? I'll leave it up to you and to our all-powerful, all-knowing Creator. After all, what can we tell Him that He doesn't already know?