THE HOMECOMING
by Charles Robey
(Trussville AL)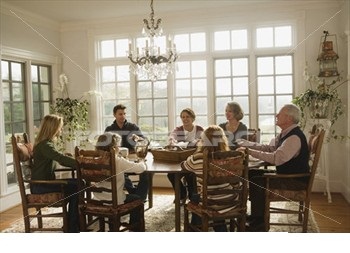 Homecoming, what a wonderful day
A time to meet, eat, sing and pray
The food was all set and the blessing given
The family all ready for food of their opinion
Now comes the dull talk of times gone by
Talk that makes some laugh while others cry
Grandpa Mac bestows his war stories again
Much to the displeasure of our Uncle Ben
Aunt May will bring out her homemade jelly
As she always says good medicine for the belly
Baby Jane will crawl under and pinch the knees
As Mother gives her endless drawn out pleas
Young Bob will tell of his last great homerun
While the other boys will just laugh making fun
Don't forget Cousin Jim as he bursts out in song
After all with his singing what could go wrong
We were all sorry Niece Sue could not come
For her leaving the Home was just to toilsome
And don't forget all those flashing camera lights
Capturing those unforgettable memory incites
Now it's time to get to the heart of the matter
As our pastor stands and begs to stop the chatter
It's devotion time Pastor John cheerfully claimed
The Bible is opened as the gospel is explained
The invitation is given to just accept God's grace
By our faith in the work of His cross to embrace
Now the homecoming would not be complete
If Gods great Salvation you failed to entreat

Homecoming, what a day. I still remember what great times we would all have, around that big table. Why, I can still taste that home style cooking. That country fried chicken and buttermilk gravy, those big Baptist biscuits, and oh yes, that homemade egg custard pie. Just a bit of heaven on earth, I might add.
Then, , there was the fellowship. A catching up on all the family gossip. If only Homecoming would come around every week.

Well, for those of us who love the Lord, homecoming is an everyday affair just feasting on God's faithful blessings. "For You, O LORD, will bless the righteous; with favor You will surround him as with a shield". (Psalms 5:12)

Amen.
Join in and write your own page! It's easy to do. How? Simply click here to return to Charles Robey Sermons.
© 2008-2028 - All rights reserved.

No content on preachology.com may be printed or

copied to any other site without permission.